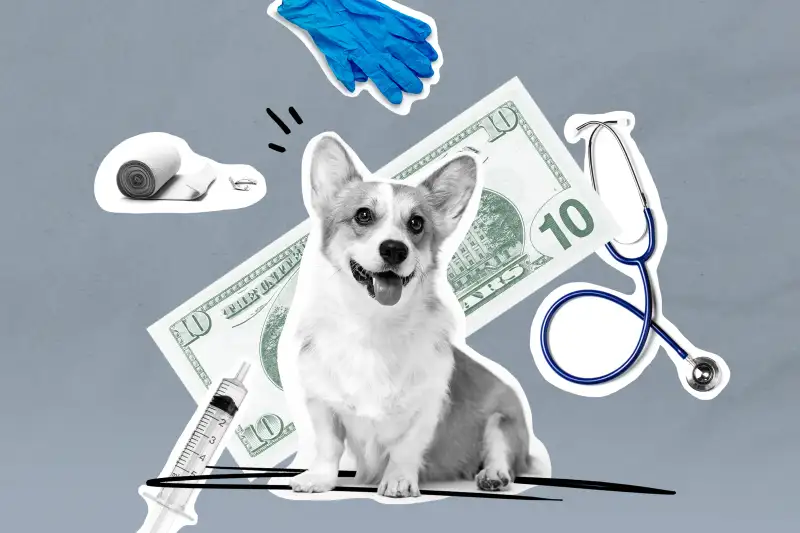 Many pet parents consider their dog or cat part of the family, and a growing number are choosing to take out a pet insurance policy that covers them.
Determining which pet insurance company is the best for you can be overwhelming, especially now that there are so many providers in the market. Our step-by-step guide walks you through the process so you know what to expect. Keep reading to learn more.
6 steps to buying pet insurance
We broke down the process of buying pet health insurance into six steps:
1. Research insurance providers
Just a few years ago, pet insurance wasn't a popular product, but a lot has changed in a short amount of time. Now you can enroll with established national insurers such as Nationwide, Progressive, Liberty Mutual and Allstate or check out a host of pet-only insurers such as Fetch, Trupanion, Healthy Paws and PetFirst. Animal advocacy group ASPCA also sells its own policies.
An excellent place to start your research is with our best pet insurance companies list. You'll find in-depth reviews of our top picks in the pet insurance market, including some of the companies mentioned above.
2. Get multiple quotes
After surveying the price of policies, we found that pet insurance premiums vary by breed, age and insurance company. Some companies may charge double the competitors' rate to insure pets of the same age and breed.
To get a pet insurance quote, visit the provider's website and enter your pet's information. The process shouldn't take more than a few minutes and you'll be able to compare several providers and find a price range that you're comfortable with.
If you have car or homeowners insurance, check if the insurance company also sells pet insurance. They may offer a bundling discount for enrolling your pet.
3. Compare coverage benefits
Once you have a shortlist of providers within your budget, it's time to take a closer look at the coverage.
Generally speaking, pet insurance plans cover most accidents and illnesses as long as the issue is diagnosed and treated by a licensed veterinarian. That said, a company may cover a little more than others in certain areas, and those minor differences in coverage may dictate which provider is your final pick.
Benefits that vary per provider include coverage for prescription food, alternative therapy, behavioral modification and dental illnesses. Some companies also offer coverage against the loss or theft of your pet (from $150 to $1,000 in reimbursement, depending on the insurer).
4. Pick the deductible
A deductible is the portion of the veterinary bill you must pay out-of-pocket before the pet insurance company begins making payments. Picking a deductible involves a bit of guesswork: if it's too high, you may not benefit from the insurance in a particular year, depending on your pet's health; if it's too low, your premium could increase exponentially.
Most insurers offer annual deductibles ranging from $100 to $1,000. With annual deductibles, if you don't reach your deductible before the end of the year, the insurance company will not reimburse you at all.
Another alternative — albeit not a very common one — is a lifetime deductible per condition, meaning there is a fixed deductible for each covered medical issue. Once you reach that figure for the particular condition, the insurance company will cover up to its reimbursement limit for the rest of your pet's life.
5. Select the reimbursement rate and limit
Reimbursement is the amount the insurance company will pay back after you file a claim. There are two reimbursement-related decisions you'll have to make:
First, you must decide the percentage. The higher the percentage, the more money you'll get in return, but the higher your premium. Most companies offer various reimbursement options ranging from 50% to 90%, with a few offering 100% reimbursement.
Second, you'll select a reimbursement limit. This is the maximum amount the insurance company will pay annually. The limit can be as low as $2,000 or unlimited — that is, without payout caps. The lower the limit, the less expensive the premium.
6. Enroll with the provider of your choice
The last step is to sign up. Fortunately, most insurers allow customers to complete the entire enrollment process online. If you've already requested a quote, there's a good chance that your application is still stored on the company's website, and all you need to do is decide on payment frequency and submit payment information.
As with other forms of insurance, you'll likely be able to choose whether to pay your pet's premium monthly or pay 12 months upfront at a slightly discounted rate.
What you should know before buying pet insurance
Pet insurance offers pet parents something that's hard to quantify: peace of mind. That said, policyholders might be blindsided when their insurer rejects a claim or when the premium rate increases year after year. The section below summarizes what you need to know before purchasing a pet insurance policy, from cost and coverage to the policy's terms and more.
Cost
An accident and illness policy can cost around $35 to $70 per month for a dog and $20 to $35 for a cat. However, the actual premium will vary by a host of factors. As a rule, dogs are pricier to insure than cats.
Within species, mixed breeds are typically the least expensive to insure. On the other hand, certain purebreds can cost more to insure because of their propensity to certain conditions or risky behaviors, such as swallowing foreign objects.
Scope of coverage
There are two primary types of pet insurance coverage: an accident-only plan and an accident and illness plan:
An accident-only plan covers accidental injuries like broken bones, cuts and toxic ingestions. Generally, accident-only plans are the most affordable, although not every insurance company sells these as stand-alone policies.
Comprehensive plans, which cover both accidents and illnesses, are the most popular. So-called "A&I" policies cover major diseases like arthritis and diabetes, as well as congenital and hereditary conditions like diabetes or hip and elbow dysplasia. Coverage includes diagnostic tests, surgeries, routine medication, hospitalization and even prescription food.
Another low cost alternative is known as a wellness plan. Sold both as a standalone product or as an add-on to an existing plan, wellness plans reimburse pet owners for routine expenses like vaccines, exam fees and parasite prevention. However, many pet owners opt out of this rider since it increases premiums and doesn't offer a good return on investment.
An accident-only plan is the most affordable but may leave your pet (and your wallet) vulnerable if they develop an illness that requires expensive treatment. On the other hand, an accident and illness policy, while comprehensive, doesn't offer unlimited coverage.
It's also worth mentioning that pet insurance won't cover checkups or pre-existing conditions, and some companies may limit coverage or reject pets after they reach a certain age.
The healthcare needs of your breed
The healthcare needs of your pet's breed serve as a good compass when purchasing health insurance. All cats and dogs get sick or injured but some breeds are prone to more issues. In such cases, the right pet insurance should have fewer restrictions on treatments such as prescription food, medication and physical therapy.
Consult with your vet to identify the major health concerns of your pet's breed. They know your pet's health best and can tell you what to expect further down the road regarding congenital conditions or preventive illnesses.
Policy terms
When shopping for pet insurance, read a sample policy to get familiar with the terms. Most terms are standard across the industry and don't vary much per company. These include the insurer's cancellation and refund policy, its claims process and the policy's coverage benefits and exclusions.
Generally, pet insurance policies will exclude pre-existing conditions, cosmetic surgery and alternative treatment from coverage (a few companies now accept some forms of alternative therapies like acupuncture). Insurers will also deny all claims if the injury or illness is caused by neglect, breeding, fighting, racing or using your pet as a guard.
Waiting periods
The waiting period for accident-only coverage can range from 24 hours to 14 days, while the waiting period for illness coverage is generally 14 days. A handful of insurers will make you wait an additional six to 12 months before reimbursing the cost of treating hip dysplasia and cruciate ligament issues.
The earlier you begin a policy, the lower the chance of the animal developing a serious pre-existing condition. Insurers could deny treatment for a specific illness like hip dysplasia due to something as minor as a subtle limp that started during the waiting period.
Payout caps
Unless you purchase a policy with 100% reimbursement and unlimited payout, insurance companies won't reimburse your pet's vet bills after the expenses exceed a specific dollar amount. Any medical cost exceeding that limit comes from the policyholder's pocket.
The most common payout cap is set as an annual limit, but some insurers limit reimbursements over the animal's lifetime or by the particular condition treated (known as per-incident caps).
Why get pet insurance?
Whether insuring your pet's health is worth it depends on how risk-averse you are as a pet owner and how much you're willing and able to spend. Pet insurance is a hedge against the unexpected. Statistically, most pets won't face a life-threatening medical emergency over their lifespan, but others aren't as lucky and may rack up four- and even five-figure bills at the vet's office.
It's impossible to know in which category your pet will fall, and pet insurance offers a safety net if you aren't willing to take that risk. For example, treating aggressive cancer in a 5-year-old purebred dog can cost around $14,000. Without pet insurance, the owner has to make a difficult decision based on their current financial situation.
With pet insurance, the outcome may be different. The owner can go through with the treatment, knowing that the insurance company will reimburse a large portion of the bill. After filing a claim, the insurer pays out $12,000, reducing the out-of-pocket cost to $2,000.
When to get pet insurance?
Not all pet owners may see the value in purchasing an insurance policy, but those that do should enroll their pets as soon as possible.
The younger your pet is at enrollment, the better (most companies accept kittens and puppies as young as six weeks). Monthly premiums increase significantly as the pet ages, as well as the chance of developing pre-existing conditions. If you enroll your pet at a later age, you risk paying expensive premiums in exchange for little to no benefits.