How to Find the Best Regional Bank for Your Needs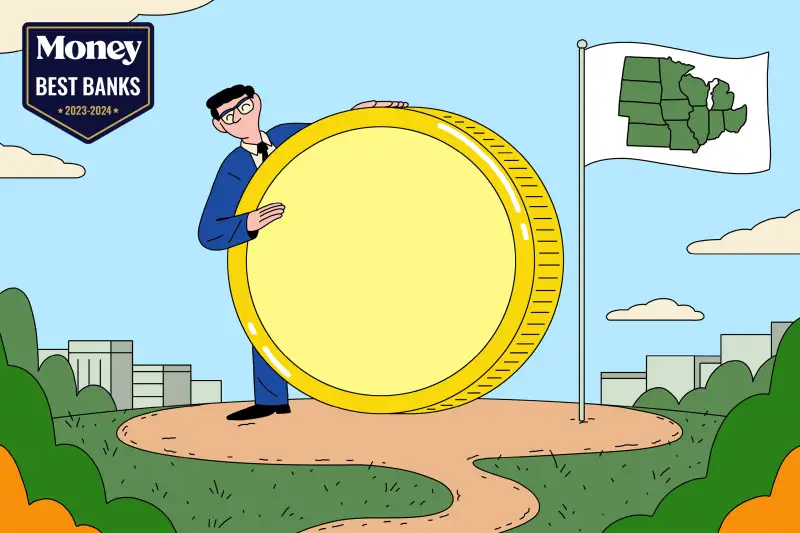 For a lot of folks, a bank is something you stick with through thick and thin, either out of loyalty or laziness.
That's beginning to change. By one measure, more than a third of Americans recently surveyed by Caliber said they are likely to change banks this year, a higher reading than in recent years. That's due, in large part, because of soaring interest rates and the banking industry's recent rough patch following the collapse of Silicon Valley Bank, Signature Bank and others.
Potentially, a lot of money is on the line when switching. According to the FDIC, the national average savings rate is 0.45%. Many major banks have rates even lower than that. (The APY for a savings account at Bank of America, for example, is 0.01%.)
To entice new customers, many regional banks are leading the way with attractive rates, both on savings accounts and certificates of deposit. By doing a little shopping, it's possible to land an APY much higher than the national average. In fact, the best savings accounts right now often offer 5% APY or more.
Regional banks also have the added perk of being more rooted in your community compared to the "too big to fail" chains that are seemingly on every street corner.
If you're considering making a switch, don't skip over regional banks.
What to consider when choosing a regional bank
For Money's Best Banks ranking, our staff combed through scores of regional banks and noticed several trends in interest rates, fees, perks and more. Based on our research, here's what we think you should keep in mind when choosing a regional bank.
1. Location, location, location
One of the biggest observable differences between national banks and smaller, regional banks is the number of bank branches.
National banks may have hundreds or even thousands of branches across the country. By contrast, regional banks may only have a couple dozen locations spread across a few states.
Just because a bank is located in the Southeast, for instance, doesn't mean it has a large footprint in every Southeastern state, so be sure to check how close the nearest branch is to you and whether that meets your needs.
Similarly, mind each regional bank's ATM presence. Several regional banks partner with nationwide networks (like Co-op and Allpoint) that give you access to thousands of fee-free ATMs, but not all smaller banks offer this.
2. Financial product offerings
Not every regional bank will offer every type of loan or financial service you may need.
Some may focus on the key deposit options, like checking, savings, certificates of deposit and money market accounts. Other regional banks could have additional offerings such as health savings accounts (HSAs), home loans or mutual funds.
When narrowing down your regional bank choices, think about what you need right now, yes, but also consider your future needs. For instance, maybe you'll soon want to buy a house or car, so having those loan options lined up could be important to you.
As mentioned in the pros and cons, regional banks may be more flexible when it comes to lending, since they tend to be more community focused institutions. While some national banks maintain very strict lending standards, a smaller bank may be willing to take other factors into consideration — like side hustle income — when lending to you that bigger banks might not want to look at.
3. Fees and penalties
It's very common for standard deposit accounts to have a service fee. This fee can range anywhere from $1 to $15 per month, and possibly higher, depending on the type of account.
These fees (and the ways in which you can get them waived) can vary widely from bank to bank. Sometimes getting a fee waiver is as simple as enrolling in e-statements — or as tough as maintaining a $2,500 daily balance.
When comparing banks, mind not only the maintenance fees, but also look at how easy it is to get them waived.
Here are some other key fees you should compare:
Overdraft and non-sufficient funds (NSF) fees: Depending on the bank, overdrawing your account could result in a hefty fee, usually $30 or more for typical regional banks. Some banks are starting to waive overdraft and NSF fees entirely, however, while others may give you an overdraft cushion of, say, $10 — meaning they won't charge you the fee if you overdraw your account by less than that amount.
Excess transaction fees: For money market and savings accounts especially, excess transactions fees are common. These types of accounts may come with a set number (usually six) of free transactions per month or quarter. If you exceed that limit, you could get charged a fee for every transaction thereafter. Thanks to a rule change at the Federal Reserve, banks are no longer forced to implement transaction limits on certain accounts. Still, many banks have them and aren't afraid to charge you for exceeding them.
ATM fees: ATMs that are in a bank's network are almost always free to use. However, if you use an ATM outside of the network, chances are you'll get hit with a fee from your bank — and possibly from the ATM provider too. Since regional banks tend to have a smaller network of ATMs, this fee is worth paying attention to. Typically, foreign ATM fees, as they're called, should run no more than a few dollars. In some cases, the bank may even reimburse the first few fees each statement cycle.
4. Online access and customer service
One of the biggest critiques of smaller banks is that they have fewer resources to dedicate to customer service and online banking access.
Of course, with any regional bank, you can always go in-person to your nearest branch for help, but not everyone enjoys making that trek.
If easy assistance and the ability to bank on your own time is a high priority for you, ensure the regional bank you choose invests in these areas. By definition regional banks are multi-billion dollar institutions ($10 billion to $100 billion in assets, according to the Federal Reserve), so it's definitely possible to find one with great online banking and customer service.
One simple way to gauge this is by visiting the bank's website.
As you poke around, you should note a few things:
Does the bank have a smartphone app?
Are rates and fees easily accessible online?
Is the bank trying to direct you to a branch or agent for basic information?
Is there chat, email or other assistance available besides phone and in-person customer service?
If a bank's website is extremely sparse or appears out-dated, that could be a big clue that their customer service and online banking capabilities are too.
5. The bank's financial health
The recent collapses of several banks have spooked many people, making them less trusting of banks.
Whereas consumers would pay little mind to their bank's balance sheet in years past, more folks these days may want the peace-of-mind to know that their bank is in good financial shape.
Instead of digging through quarterly reports, you can get a sense of the financial health of your short-listed regional banks by checking their ratings. For example, Weiss Ratings, a financial ratings firm, maintains a user-friendly database of a banks' safety ratings on a scale from A+ to F (and U for unrated). You can simply type the name of a few of the top contenders into the search box and compare their safety rating to see which ones stand out.
Then all that's left is opening the account with the regional bank that best meets your needs.
More from Money:
Is It Time to Switch Banks? What to Know About 'Neobank' Startups Like Chime®, Current and Varo
Are You Putting Too Much Money in Your High-Yield Savings Account?
You Don't Need a Credit Card to Have Good Credit