How to Open a Business Bank Account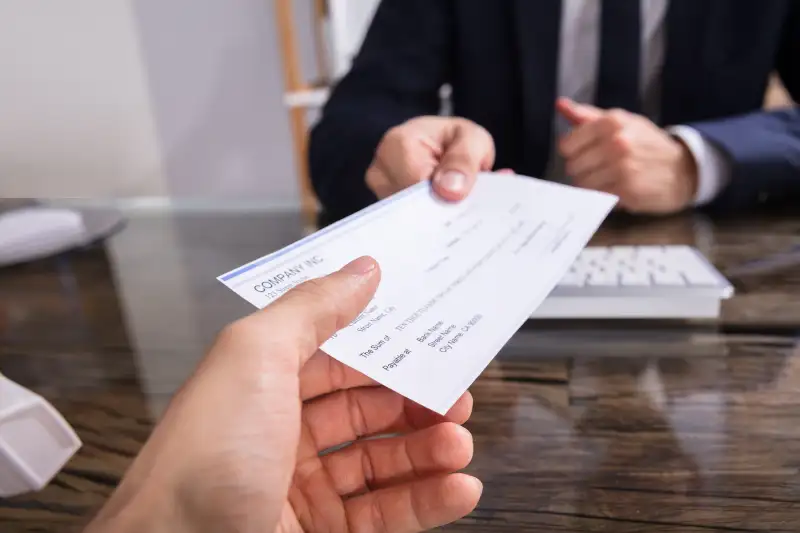 Business bank accounts make it easier to manage your company finances and file your business taxes. Opening one requires some important documentation and a basic understanding of the different types of accounts available to you. This guide will cover how to open a business bank account and the many advantages of having one if you're a small business owner.
What do you need to open a business bank account?
To open a business account, you first need to collect some information about yourself and your business. Then, you'll need to put down an opening deposit. Make sure you have the following available:
2-3 forms of personal identification
Banks require you to provide at least one form of personal identification when opening a business bank account. Some may ask for two or even three government-issued IDs. Acceptable forms of ID for opening a business bank account generally include:
Valid driver's license
Passport or passport card
Social security card
Birth certificate
Military ID card
Legal residency card
Your bank will also ask you to provide your mailing address, date of birth and contact information. If your company has multiple business owners, you will usually have to provide IDs and personal details for every owner that has a 25% stake or higher in the business.
Employer identification number or social security number
In addition to your personal proof of identification, you will also need your employer identification number (EIN). Some banks may allow sole proprietorships and single-member limited liability companies (LLCs) to use the business owner's social security number instead. If you don't have an EIN, you can fill out an online application with the IRS to get one immediately for free as long as your business is based in the U.S. and you have a valid taxpayer ID.
Business formation documents
When applying for a business bank account, you will need to provide your business name, your business address and, if applicable, your trade name or "doing business as" (DBA) name.
Your bank may also require you to state your industry and business entity type (corporation, LLC, sole proprietorship or partnership) and provide corresponding business formation documents and your business license.
Depending on how your business is set up, you may need to bring a partnership agreement and articles of organization or articles of incorporation, as well. To open a business bank account for an LLC, for example, you should bring both your business license and articles of organization.
Opening deposit
Most banks require customers to make an initial deposit when they open a new business account. The minimum amount you need to deposit varies from bank to bank and can be as low as $5 or as high as $1,000. Some banks may allow you to open a business bank account with no deposit, but you'll have to shop around to find one that offers this option.
How to set up a business bank account
Before opening a business bank account, research different banks and compare their account types to see what makes most sense for you and your business.
Choose the right bank for you
The first step to opening a business bank account is selecting your bank. Different banks offer different advantages, so knowing how to pick a bank that suits your business needs will go a long way.
For example, if you don't want to visit a physical bank, you might benefit from choosing one of the best online banks. You can open your business bank account online and do all your business banking from the comfort of your office or home.
When getting a business bank account, you don't have to choose the same bank that you use for your personal accounts. Having all your accounts with the same bank may be convenient, but you may find that a different bank is a better fit for your business.
Compare the perks and monthly maintenance fees of different accounts
Banks offer a wide range of perks on business bank accounts and some may be more valuable to you than others. Compare perks such as cash bonuses for new accounts, fee waivers and interest rate discounts on credit lines. Just don't let the perks distract you too much — make sure to look at monthly maintenance fees and other potential expenses.
Many banks will entice you with the offer to open a "free business bank account." However, almost all of these accounts come with fees. Monthly maintenance fees on business bank accounts generally range from $8 to $30 per month, though your bank may waive these fees if you maintain a balance requirement.
Submit an application for a business account
Depending on the bank you choose, you may be able to open a business bank account online. Most banks offer 24/7 live chat customer service if you run into any issues while filling out an online application. It's better to do everything correctly the first time to avoid issues with the bank or the IRS later.
If your bank doesn't offer online applications, you'll have to head to your local branch with your documents and fill out an application for a small business bank account in person. Applying shouldn't take very long provided you have all your documents and information ready to go.
Make your initial minimum deposit
Once you have selected your bank account and submitted an application, the final step is to make your initial minimum deposit to fund your account. You can make this deposit in cash, with a check or via a transfer from another bank account.
If you're funding your account with a wire transfer from an account at a different bank, expect to pay a fee. Outgoing domestic wire transfer fees are around $25 to $30, and some banks may charge you a fee on incoming wire transfers as well, typically $15 to $20.
To avoid these fees, fund your account via cash or check instead. Your new business bank account should be ready to go once the funds are in your account.
The advantages of having a business bank account
There are several reasons why every business owner should consider opening a business bank account. Doing so will help you separate your business and personal finances, establish business credit, accept various forms of payment and show professionalism.
Separate your business and personal finances
Combining your personal and business funds can make for a difficult situation come tax season. Without a separate business bank account, it will be hard to distinguish your business expenses from your personal expenses. Opening a business bank account allows you to easily separate your business and personal finances.
Establish business credit
Having established business credit will be valuable if you ever need to apply for a business loan or work with a supplier on credit. Your history on a business bank account serves to establish your business credit.
Accept credit and debit card payments
A personal bank account will not allow you to accept debit or credit card transactions. You need a business bank account to handle these types of transactions. Without one, your payment options are limited to cash, check or virtual payment platforms like Venmo and PayPal.
Project professionalism
Writing a check out to your vendors using a business bank account makes your business appear much more professional than if you used a check linked to your personal bank account. Your customers will also find your business to be more legitimate if the transaction includes your business name rather than your personal name.
Grant business associates access to the account
If you have business partners, you probably don't want them digging into your personal account. A business bank account allows for multiple people to access the company funds in a safe and efficient way.
The types of business bank accounts you can open
There are three main types of business bank accounts to help you run your business: business checking accounts, business savings accounts and merchant accounts.
Business checking account
A business checking account, also known as a business operating account, is the most versatile type of business bank account. You can use these accounts to withdraw and deposit funds through a variety of methods, including checks, ATMs, wire transfers and electronic transfers. Banks also offer business checking account holders a variety of online tools to make managing funds even easier, such as cash flow tools and integration with your business accounting software.
A key difference between personal checking accounts and business bank accounts is that many business checking accounts place limits on the number of transactions you can make each month, such as withdrawals, deposits and transfers. If you exceed this limit, you could be subject to per-transaction fees that add up quickly. The best business checking account for your business is one that offers enough free transactions each month to meet your needs.
If you need to process many transactions monthly, an online business bank account may be the way to go. These accounts generally do not have transaction limits, but keep in mind that depositing money online can be more difficult than doing so at a physical bank, especially if you run into any issues.
Business savings account
A business savings account functions much like a personal savings account. You can use a business savings account to put away operating profits for your business to use down the line. Business savings accounts accrue modest interest, but the drawback is that your access to the account is limited.
Generally, you can only withdraw from your business savings account six times per month without having to pay fees. You also probably won't be able to use an ATM card to access the funds or write checks from this account. In terms of deposits, banks often limit how many times per month you can make cash deposits into your business bank account, too.
Merchant account
If you have a business checking account, you can also open a merchant services account which allows you to accept payment from credit and debit cards. When your customers pay your company with a credit or debit card, the money gets deposited into your merchant account first before automatically transferring to your business checking account. It may take one or two days for the funds to appear in your business checking account.
Some banks also offer business credit cards, but you don't need to have a business bank account to apply for one of these cards.
Do you need a business bank account if you're a sole proprietor?
You are not legally required to have a separate business bank account if you're a sole proprietor without a DBA. Only sole proprietors with a DBA, LLCs, C-corporations and S-Corporations are required by law to have a business bank account. As a sole proprietor, you have the option to use your personal checking account for your business transactions.
However, sole proprietors can still open business bank accounts and experts recommend that they do so. Having a separate bank account, even as a sole proprietor, will offer some asset protection and simplify matters during tax season. Additionally, if you want to apply for one of the best small business loans, you will need a separate business bank account.
Compare the nation's top banks for business banking
Opening a business bank account is an important part of starting a successful business. To find the best bank for your business account, compare offerings from the nation's top banks. Be sure to look at factors like deposit requirements, account perks, maintenance fees and other potential monthly fees when choosing the right bank and business account for your business.