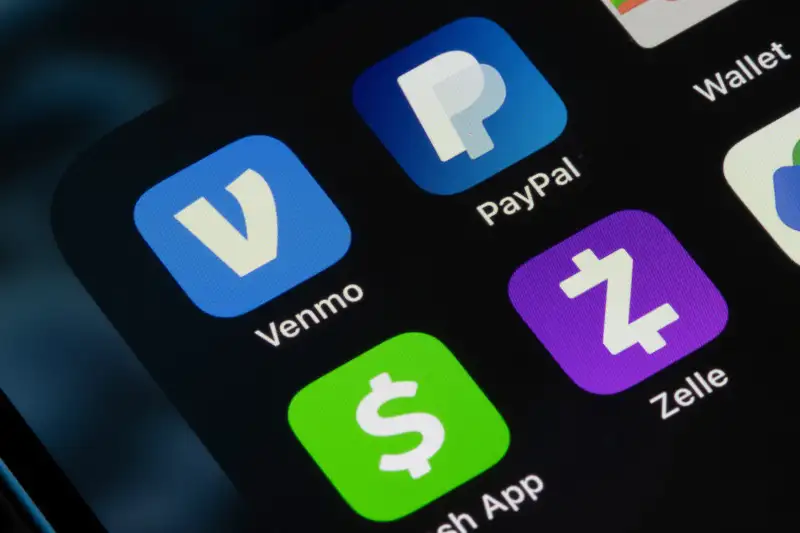 Venmo and PayPal are two popular services for sending and receiving digital payments. They have a lot in common — PayPal even owns Venmo — but there are also some key differences between them. Depending on your needs, one app may be a better fit than the other.
Use this Paypal and Venmo comparison to decide which money transfer app is best for you.
What is PayPal?
PayPal is a giant in the payment processing technology space. The company has been around since the late 1990s and now owns several other financial technology brands, including Venmo and Honey. It offers a convenient and secure method for sending and receiving payments, either between peers or between consumers and businesses.
There are now more than 400 million active PayPal accounts, and that number grows each year. Beyond facilitating peer-to-peer payments and online purchases, PayPal offers a Cash Back Mastercard and a debit card. You can also buy cryptocurrency directly through PayPal.
How PayPal works
PayPal is an intermediary between you and the people or companies you want to send or receive money from. After connecting an external bank account, credit card or debit card to your PayPal account, you can easily send and receive money. You also have the option of carrying a PayPal balance and using it like a bank account.
All you need to send money to another PayPal user is your own account and the other person's email address. You can even send one-time payments without a PayPal account. PayPal keeps both parties' financial information private and secures the transaction. The company also provides protection against fraud and offers 24/7 account monitoring to users for greater security.
Key features
PayPal's key features include:
Secure transactions and account protection
Wide range of payment options, including PayPal Credit and debit cards
Fraud prevention
No fees for sending or receiving money from people you know
In-person and online payments
Access to all your preferred payment methods from one place
PayPal pros
There are many benefits to using PayPal over other payment processing companies. PayPal is available in more than 200 countries and you can send money in 25 different currencies on the platform. PayPal also has high transaction limits compared to Venmo, allowing you to send up to $4,000 without an account.
If you want to pay for goods or services using PayPal, you're in luck. Millions of merchants accept payment through PayPal. As for businesses, PayPal offers a variety of options for accepting payments from customers be it in-person or online. PayPal is the clear winner over Venmo in terms of conducting business on the platform.
PayPal cons
PayPal transaction fees can be complicated and higher than those charged by competitors. Most fees are only relevant for merchants — fees for QR code transactions, card payments, checkout, etc. — but consumers may also bump into some of them, like currency conversion and international transaction fees. It can be difficult to predict exactly how much you or the other party will pay in fees during any given PayPal transaction.
PayPal's user interface is also more complex than Venmo's, with tabs and important tools nested under buttons that do not describe what they are going to reveal to the user. You may need to spend some time getting used to the platform before you can navigate it quickly.
Another drawback to Paypal is that it can hold the funds in your account balance if the company flags suspicious activity. This is particularly annoying because it can take up to 21 days to regain access to your funds.
How to sign up for a PayPal account
To sign up for a personal PayPal account, go through these steps:
Download the PayPal app or visit the PayPal website.
Click "Sign up."
Choose a personal account.
Create your PayPal login details including your email address and password.
Enter additional details like your address and date of birth.
Link a credit or debit card as your payment method.
Verify your email address.
(Optional) Enter your mobile number and input the verification code sent to your phone.
The steps to sign up for a PayPal business account are slightly different:
Click "Sign up" in the PayPal app or on the website.
Select a business account.
Fill out your legal first and last name, email address and desired password.
Add some basic details about your business like whether it is registered, the type of business it is and your business address.
Select goods, services or other to indicate what your business sells.
Choose how you'd like to sell. Options include "on a marketplace" and "take payments on your website or in your app."
Check the applicable boxes to indicate whether your customers buy in a single transaction, make subscription payments or both.
Choose your PayPal integration depending on the setup experience that works best for you.
Once you complete these steps, your PayPal business account will be ready.
What is Venmo?
Venmo — now a subsidiary of PayPal — is another popular payment app. Venmo users typically use the app to send money to friends, thereby avoiding the hassle of exchanging cash or checks.
While PayPal has expanded into a wider variety of payment-related services, Venmo is still mostly a peer-to-peer payment app. The app is known for its social feed which shows transactions that your contacts complete (unless users opt out). To keep things friendly, you can personalize your payments and payment requests in Venmo with emojis and notes.
How Venmo works
After you connect your debit card, credit card or external bank account, you can use Venmo to send and receive payments. You only need the other person's Venmo username to connect with them. Like PayPal, Venmo serves as a digital bank account where you can accrue an account balance and apply that balance to purchases or transfers.
Sending or receiving payments from friends and family is free on the Venmo app. For instance, you can easily split a restaurant bill or pay half the rent using Venmo. However, be aware that Venmo transactions are subject to weekly limits depending on whether or not you have a verified account.
Key features
Some of Venmo's key features include:
Easy mobile payments
Strong app security features
Social feed with emojis
Optional Venmo debit and credit cards
Venmo pros
Venmo is very user-friendly: You can send and receive payments with just a few clicks. The app will even automatically sync the contacts in your phone to make sending money to people you know easier.
Compared to Paypal, Venmo charges fewer fees. There are no fees for debit card purchases, for example. You can also now use Venmo to make purchases on Amazon — a feature that PayPal does not offer directly.
Venmo cons
Currently, Venmo is only available to U.S. users. Though you can access Venmo from a computer, it's still primarily a smartphone application. This means you can't make payments from the Venmo website, only the mobile app.
The number of businesses that accept Venmo payments is much smaller than those that accept payment through Paypal. Venmo also has lower weekly spending limits than PayPal. Moreover, if you don't adjust your privacy settings, your Venmo transactions may be visible to other Venmo users, which may be a privacy concern for some.
How to sign up for a Venmo account
To sign up for a Venmo account, follow these steps:
Download Venmo for iOS or Android. (There is no Venmo app for Windows.)
Open the app and choose a registration method — either "Sign up with email" or "Sign up with Facebook."
Enter the necessary information. If you choose email sign-up, you must provide your email, your first and last name, and the password you want to use for your Venmo login. If you select Facebook to sign up, you just have to click continue and agree to the requested permissions in Facebook.
Read the introductory information about Venmo's terms and how the app works.
Enter your mobile number and the four-digit verification code sent to your phone.
Your new Venmo account will be ready once you complete these steps. You can create a username and choose a profile image at this point or skip this step until later. You'll also need to link a bank account to your Venmo account to receive payments.
PayPal vs Venmo: How they compare
If you're stuck between choosing PayPal or Venmo, it may help to compare them head-to-head on some key metrics:
Transaction fees
Both companies charge users fees on some transactions, and both PayPal and Venmo fees increased recently. Paying with PayPal is free if you're drawing from your bank account, but PayPal charges $0.30 plus 2.9% of the value of the payment if you use a credit or debit card.
Payments from your bank account or debit card are free through Venmo. However, you do have to pay 3% in Venmo fees if you use the app to pay with a credit card.
If you want to make an instant transfer from your PayPal or Venmo account to your bank account, both PayPal and Venmo charge a 1.75% fee with a $0.25 minimum and a $25 maximum. A 3- to 5-day transfer to your bank is free with PayPal, while Venmo offers free transfers within 1 to 3 business days.
Venmo does not allow international transactions; PayPal does and charges an additional percentage-based fee on these transactions. International PayPal fees range from 3% to 5%. PayPal and Venmo crypto fees are identical, ranging from $0.49 for crypto purchases or sales between $1.00 and $4.99 to up to 1.5% for crypto transactions over $1,000.
Daily and monthly transfer limits
The daily transfer limit in PayPal for debit card payments is $5,000, and the monthly limit is $15,000. You're also subject to a per-transaction limit of $25,000 for instant transfers to linked bank accounts.
Venmo limits bank account transfers for unverified accounts to $999.99 per week. If you verify your identity in Venmo, this limit increases to $19,999.99 per week. Each Venmo bank transfer transaction must stay within a minimum of $0.26 and a maximum of $5,000.
In addition to transfer limits, PayPal and Venmo each have payment limits, which depend on whether your account is verified. Verifying your PayPal account is as simple as adding and confirming a bank account or credit card. You won't have any daily or monthly limits on the amount you can send from a verified PayPal account, but you still can't send more than $60,000 in a single transaction.
If you don't have a verified account, your maximum transaction amount is $4,000. This is also the maximum that people without PayPal accounts can send. In the case of those without PayPal accounts, they must receive an email with an invoice or money request before they can send a one-time payment.
Venmo also uses identity verification to determine your payment limits. You can verify your account by clicking "Identity Verification" in the settings of the Venmo app and following the steps. If you are not verified in Venmo, your weekly spending is initially capped at $299.99. That limit increases to $60,000 per week if your account is verified.
Withdrawal speed
If you want to withdraw funds from your PayPal or Venmo account, you can do so instantly for a 1.75% fee. Free bank transfers take 1 to 3 days through Venmo and 3 to 5 days through PayPal.
Customer support
PayPal and Venmo do receive negative customer support reviews, but they offer comprehensive customer service. You can reach Venmo customer service directly via the app, phone, or email. Venmo also has an online help center that answers common customer concerns.
To contact PayPal customer service, you can message a PayPal Assistant online or call or email the support team. Like Venmo, PayPal has a help center with solutions for common issues that PayPal users encounter.
User reviews
Both companies receive mostly strong third-party reviews from customers. Paypal reviews praise the ease of depositing and withdrawing money through the platform, the integration with other websites and the ability to buy and sell cryptocurrencies.
Venmo reviews highlight how convenient the platform makes requesting and sending money and the app's low fees and user-friendliness.
PayPal or Venmo: Which is the better money app?
Both PayPal and Venmo are practical, convenient tools for sending and receiving money online. PayPal is more suitable for businesses looking for a convenient way to accept customer payments, while Venmo is ideal for exchanging money between family and friends. If you're trying to complete international transactions, PayPal is the way to go since Venmo is limited to the U.S.