How to Remove 09 Tempoe LLC from Your Credit Report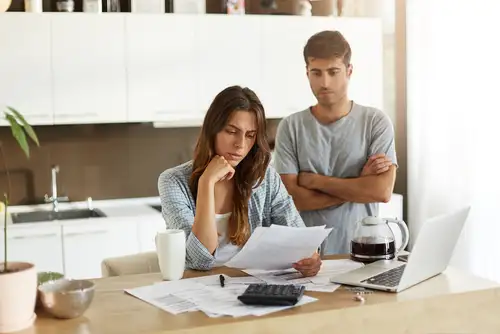 Has a company identifying itself as 09 Tempoe LLC contacted you? It's probably because you forgot to pay a bill, and it's coming back around to bite you.
It's an alternative lender to traditional financing options that can help you fund large purchases, such as jewelry, electronics or automobiles. However, you can run into major trouble if you default on your loan.
When you fail to make payments on your loan, 09 Tempoe LLC will move the bill to collections. This means that it will open a collection account on your credit report and begin to report the unpaid bill to the major credit bureaus. When this occurs, you'll see a major drop in your credit score and may have trouble qualifying for loans and credit cards in the future.
What is 09 Tempoe LLC?
Also known as Tempoe Financial, 09 Tempoe LLC is a nontraditional lender that offers no-credit-required leasing options for personal and automotive loans. Its loans have a five-month minimum loan period, and you can use them to finance a variety of purchases. Its headquarters are in Cincinnati.
Like many companies that collect debts in-house, it's had a number of complaints filed against it over the years with the Consumer Financial Protection Bureau (CFPB) and the Better Business Bureau (BBB). Customers complain that it's violated many of their Fair Debt Collection Practices Act (FDCPA) rights, including failing to validate debts and harassment from customer service representatives. If you're having problems with it as well, you should consider filing a complaint.
How to Get 09 Tempoe LLC off your credit report
Here are the best steps to take to remove the collection from your credit report.
Know your rights

Request debt validation

Negotiate a settlement

Ask for help
Understand your FDCPA rights
Many people assume that dealing with abuse from debt collectors is all part of the process. However, that couldn't be further from the truth. You may not realize this, but there's a federal law in place that protects you from abuse and deception from debt collectors like 09 Tempoe LLC. The FDCPA protects consumer's rights from debt collector abuse and lays out ground rules for proper engagement.
The FDCPA prohibits 09 Tempoe LLC from engaging in the following tactics:
Calling you before 8:00 a.m. or after 9:00 p.m.

Calling you multiple times a day

Talking to anyone besides you about your debt

Using profanity or abusive language

Threatening legal action that they don't intend to take

Failing to notify you of your right to dispute the debt

Trying to collect more than legally allowed
Understanding your rights under the FDCPA is very important for debt consumers. It allows you to keep 09 Tempoe LLC in check throughout your correspondence with it. It can also help you understand what rights you have under the law, even if the company fails to inform you.
If you're having trouble with any of the above, you should consider filing a complaint with the oversight bureaus or perhaps pursuing legal action. The FDCPA may award you up to $1,000 per infraction if you work with the right representation.
Ask for debt validation
A particularly important right that's granted to you under the FDCPA is the right to request debt validation from a debt collector. This can help you determine if 09 Tempoe LLC is reporting false information about your debt or if they're trying to collect payments from you on someone else's debt.
Even if you know that the debt is yours, you should still take advantage of your right to request debt validation. This is because you can get the debt removed from your record if they're reporting any information about your debt inaccurately.
This means that the credit bureaus will void the debt without you having to pay a cent. To formally request debt validation, you need to write 09 Tempoe LLC a debt validation letter.
It should ask it to confirm certain details about your debt, including the date of last account activity, the total balance and the account number. If you're having trouble writing a debt validation letter, a template can help you begin.
09 Tempoe LLC should respond to your request within 30 days of receiving your letter. They should send you documents to prove that the debt belongs to you and that they're authorized to collect it.
Go through each page and mark any information that doesn't match what you have. If you find any outright inaccuracies on your credit, you can submit a dispute with the major credit bureaus.
This will cause each bureau to conduct its own investigation into the matter and come to its own conclusions. Then, if they agree that 09 Tempoe LLC is reporting inaccurate information about your debt, they will delete the account from your record.
You can write to 09 Tempoe LLC at the following address:
7755 Montgomery Road
STE 500
Cincinnati, OH 45236
Email: info@tempoe.com
Phone number: 844-483-6763
Work out a pay-for-delete
Getting your debt removed through debt validation can be a long shot. If 09 Tempoe LLC is able to prove that the debt belongs to you, your next step will be to work out a pay-for-delete agreement with it.
A pay-for-delete agreement hinges on your ability to leverage your payments in exchange for account deletion. In other words, you need to be able to negotiate with 09 Tempoe LLC to get it to delete the entry from your credit report.
This isn't always easy, but you may be successful if it's desperate enough for your money. To begin, offer to pay around half of what you owe. Work with it to come up with reasonable terms that include a full deletion in exchange for your payment.
Once you've reached an agreement with the company, have 09 Tempoe LLC send you the full contract with the agreed-upon terms in writing. Make sure that you only make your first payment after you receive the contract and review the terms in their entirety.
It usually takes about a month for debt collectors to remove a collections account from a credit report. Monitor your report to ensure that 09 Tempoe LLC upholds its end of the bargain. If it doesn't, reach out and remind it.
Hire a credit repair company
If you're unable to make headway with 09 Tempoe LLC, you should consider hiring a credit repair company to remove the account for you.
Credit repair companies are professionals that can use their industry knowledge to remove damaging accounts from your credit report. They can help you clean up your credit history so that you'll have an easier time applying for loans and credit cards down the line.
For instance, one of the most reputable credit repair companies out there is Credit Saint. It has experience dealing with 09 Tempoe LLC and removes millions of accounts from customers' credit reports each year.
Final words
Dealing with 09 Tempoe LLC can be a real headache, but it doesn't have to be. If you follow the steps above, you can have negative entries removed from your credit report and begin rebuilding your credit history.
Update: This article has been updated to remove unverifiable information.
Disclaimer: This story was originally published on November 24, 2020, on BetterCreditBlog.org. To find the most relevant information concerning collections or credit card inquiries, please visit: https://money.com/how-to-remove-collections-from-credit-report/ or https://money.com/get-items-removed-from-credit-report/