Is 560 a Good Credit Score?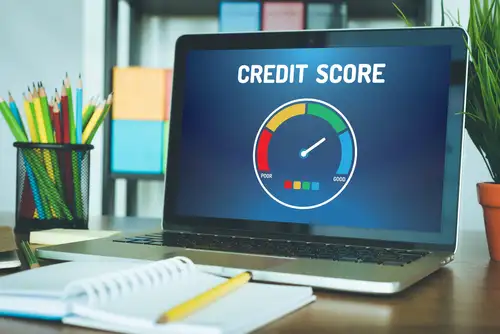 A good credit score is essential for borrowers looking to get approval for products such as a rewards credit card or mortgage. But what score will put you in the range that lenders/issuers consider good? If you have a 560 credit score, your loan approval odds are low, and your credit rating with the three credit bureaus, Equifax, Experian and TransUnion, is pretty poor. Fortunately, you can fix a FICO score in this range and get access to more funding with better rates. This post will cover factors that influence your credit score, how to improve your credit and loan options for your current score.
Table of contents:
Is 560 a good credit score?

How to improve a 560 credit score

Can you get a loan approved with a 560 credit score?
Is 560 a good credit score?
A FICO credit score of 560 falls below the consumer average, and lenders consider it very poor. For reference, credit reporting bureaus consider 670 a good credit score, which means 560 falls just over 100 points below a good score. There are several factors affecting your credit score, with some carrying more weight than others. Some of the most common contributors to a very poor score include:
Late payments

Liens

Judgments

Bankruptcy

Repossessions

Debt collections

Foreclosures
These can hinder your access to both revolving lines of credit and installment loans. With a 560 credit score, you'll have very limited loan options and find it difficult to get approval for unsecured credit cards. If your score is 560 or below, consider ways to repair your credit. This post gives you some helpful pointers.
How to improve a 560 credit score
Some aspects of repairing your credit score take time, while others will yield quick results. If you're sick of your credit score bringing you down, the following are some tips to help you improve your credit score.
Focus on your payment history
Your monthly payment history constitutes 35% of your credit score, so making payments on time is key to gaining a higher credit score, and automating payments is ideal. The longer you leave your debts unpaid, the more damage they do to your score. Don't let your loans become delinquent or default on them.
Pay down your debts
Credit utilization is the second most important factor affecting your credit score, making up 30% of your overall score. Paying off debts can yield quick and impressive results and demonstrate that your borrowing and payments are under control. If you have any collections accounts on your report, consider negotiating a pay-for-delete agreement.
Limit credit applications
With a 560 credit score, your chances of getting approval for many types of loans and credit cards are slim. Applying for new lines of credit also decreases your score. Do your research, limit your credit applications and only apply if you feel confident that you'll get approval.
Use a secured credit card
Secured credit cards are ideal for people with subpar credit scores or short credit histories and can make it possible for you to get approval with a credit score of 560. If you use them responsibly, these cards can help you to build your score quickly. To maximize results, try to only use 10% of the available credit each month.
Become an authorized user
Ask a partner or relative with a solid credit score to add you as an authorized user on one of their credit cards so your score can benefit from their timely payments. This is especially beneficial when you have new credit and need to show a good length of credit history.
Use a credit repair company
If repairing your credit seems like an overwhelming task, you may want to pay for a credit repair service. They can contact debt collectors, dispute claims and provide other services to boost your score quickly.
Can you get a loan with a 560 credit score?
The lower your credit score, the harder it is to get loan approval. Some types of loans are more accessible than others in this credit range, but in general, loans for applicants with poor credit scores come with extremely high interest rates.
Mortgage options with a 560 credit score
Getting a home loan or refinance with a score of 560 is easier said than done, but you do have a few options. The table below shows the minimum credit score requirements for each type of mortgage to give you an idea of whether you qualify.
| | |
| --- | --- |
| Mortgage Type | Minimum Credit Score |
| VA loan | No minimum from VA; lenders may require a 580 or 620 |
| FHA loan | 500 with 10% down, 580 with 3.5% down |
| USDA loan | No minimum from USDA; lenders will likely require 640 |
| Traditional home loan | 620 - 640 |
If you're an active-duty member of the military or a veteran, a VA loan is your best bet. Otherwise, your only likely option is an FHA loan. These loans are ideal for low-to-moderate earners and allow for both a low down payment and a low credit score.
Auto loan options with a 560 credit score
Cars are riskier to finance for lenders than houses. To compensate for that risk, lenders charge higher interest rates. If your credit score is lower than 700, you'll find it difficult to qualify for a car loan. Although you may qualify with a score of 560, it'll come with extremely high rates. You can also expect more scrutiny when lenders assess your application, especially when it comes to your payment history.
While the average credit score for both new and used car loans is at least 100 points higher than 560, you may get loan approval, but it will depend on the vehicle and your income. Also note that you're more likely to get approval for a used car loan than a new car loan with a score of 560.
Personal loan options with a 560 credit score
You may qualify for a personal loan with a 560 credit score, but you can also expect high rates. In some cases, working with a local credit union can help you to get approval and slightly better rates than a bank, as federal credit unions have a lower maximum APR. If applying with a credit union fails, you have access to several online lenders who specialize in offering personal loans to people with bad credit.
In addition to a personal loan, with a score of 560, you may secure an emergency loan, debt consolidation loan or installment loan.
What is the best credit card for a 560 credit score?
Most people with fair or good credit opt for unsecured credit cards. With this type of card, your credit report and income determine your credit limit. If you get a better score, you can expect a higher credit limit. Because your credit score largely determines your credibility, approval for these cards is usually difficult with a poor credit score. However, there are some unsecured cards with low credit limits that are ideal for individuals with low credit scores.
An alternative you may want to consider with a 560 credit score is a secured credit card. With these cards, you put down a security deposit that acts as your credit limit. Secured cards are ideal for building your credit score and can help with your credit mix, payment history and credit utilization.
Whichever type of card you apply for, consider the APR and fees, as some are higher than others. Once again, it's advisable to limit your applications, as most will require a hard credit check that can further lower your score. It's usually possible to research your approval odds for most cards before applying.
Boost your 560 credit score today
While a credit score of 560 does fall into the poor range, there are worse results. If you feel defeated after having your application for a loan or credit card denied due to your score, there's no time like the present to start working to repair your credit score.
You may find it surprising how quickly you can take your score from poor to fair, which can give you access to better lending options and put you on the path to a good credit score. Look at the factors influencing your credit score, come up with a plan to improve it and stick with it. And don't forget that you have access to tons of great online resources and credit repair professionals if you need assistance along the way.
Disclaimer: This story was originally published on August 21, 2020, on BetterCreditBlog.org. For more information on credit scores please visit: https://money.com/what-is-a-credit-score/