How to Remove Assetcare LLC from Your Credit Report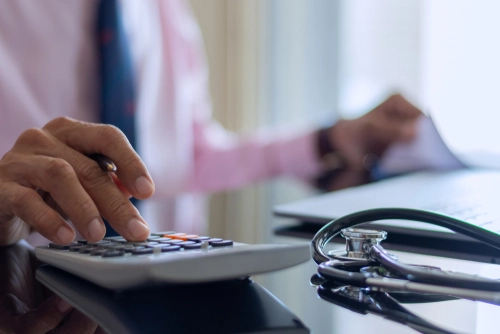 Medical debt is one of the most common types of debt in the U.S. In recent years, credit reporting agencies have started limiting how much this kind of debt can hurt your credit score. But it's still a concern, especially if your original creditor sends your account into collections.
If you have an old medical bill that is worrisome, and your insurance company isn't helping you pay off the balance, you might start hearing from a company called Assetcare LLC.
What is Assetcare LLC?
Founded in 2016, Assetcare LLC is a small debt collection agency headquartered in Sherman, Texas. This agency also conducts business under the name CF Medical VI LLC. Under either name, the company collects exclusively on behalf of medical and health care providers.
Like so many debt collectors, Assetcare LLC is not popular among consumers. The Consumer Financial Protection Bureau hears regular complaints about Assetcare. The Better Business Bureau (BBB) gets a fair share of complaints, too.
To its credit, Assetcare responds to many of its complaints. It has a B-rating from the BBB, which means the agency at least attempts to resolve problems when they occur.
Assetcare is not a scam. Most of its agents respect your consumer rights under the Fair Debt Collection Practices Act (FDCPA). But there are always exceptions, especially when you don't know your rights.
The discussion about the FDCPA below will help you understand your consumer rights before dealing with Assetcare LLC. If you think it has violated your rights, consider filing a complaint.
Why am I hearing from Assetcare LLC?
Assetcare LLC is a Texas-based debt collector that works exclusively with medical debt. If Assetcare is asking you for money, it has likely bought your old medical debt from the clinic or hospital that treated you — or it has partnered with your health care provider to collect money from you. Either way, you probably won't be happy to hear from Assetcare.
Along with its phone calls and letters, Assetcare will add a collections account to your credit file, potentially risking the health of your credit score. Removing this negative entry ASAP can prevent long-term damage to your credit score, but simply paying off the account won't solve the credit issue.
Read on for an in-depth guide on what Assetcare LLC is and how you can remove it from your credit report with or (in some cases) without paying off the debt.
How to remove Assetcare LLC from your credit report
Here are the three essential steps to get Assetcare LLC to remove the collections account from your credit report:
Education

Debt validation

Debt settlement
Educate yourself on the FDCPA
Federal law protects you from abuse from debt collection agencies like Assetcare LLC.
But what exactly is the FDCPA?
The FDCPA, enacted in 1978, works to prevent debt collectors from intimidating consumers into paying off debt. It also helps consumers delete inaccurate information from their credit files.
Before the FDCPA, debt collectors could get away with scaring debtors by threatening violence, legal action and further credit destruction — all in pursuit of payments on old debts.
Thanks to the FDCPA, debt collectors must operate within the parameters of respect and professionalism as they seek to collect debts. But if you don't know your rights, you won't always know when a collection agency violates them.
For example, one of Assetcare's agents may use your existing fear and frustration against you, letting you think you will face dire consequences if you don't send a payment right away. Technically, the agent wouldn't be breaking the law, but you may still feel threatened, and this feeling may prompt you to send a payment prematurely. So, it's up to you to learn your rights.
Assetcare LLC cannot:
Call you at unusual times

Contact you at work if you've asked its agents to stop

Call you at all if you've asked for only written communication

Call other people about your debt

Threaten legal action it has no intention of taking

Garnish your wages without filing (and winning) a lawsuit first
The law also prohibits debt collectors from using profane or abusive language when they contact you. Additionally, the FDCPA grants you certain rights, such as the right to request debt validation or only written communication from Assetcare LLC.
Be sure to read your rights under the FDCPA so that Assetcare LLC can't take advantage of you throughout this process.
Write a debt validation letter
One of the FDCPA's most important provisions gives you the right to request debt validation from a debt collector. You will need to act fast, though. Assetcare LLC only has to validate your debt within 30 days of its first contact with you.
Debt validation lets you confirm that a debt collection agency is calling you about the debt you actually owe and not someone else's debt or debt you've already paid. Inaccurate information appears on credit reports more often than you might think, especially when third-party debt collection agencies get involved — and especially when insurance companies muddy things up even more.
Debt validation helps ensure that Assetcare LLC isn't hounding you for money you don't even owe. Even if you're certain that the debt belongs to you, you should still seek debt validation.
Why? Because it's possible Assetcare LLC mixed up some details and is reporting false information to the credit bureaus. If this is the case, you could file a dispute and have the debt removed from your record without making any payments.
To begin, mail a request to Assetcare LLC for validation of the debt. You don't need to provide a specific reason that you would like debt validation. You can simply state that you dispute the debt and would like to see proof that it belongs to you.
Assetcare LLC should respond to your request within 30 days of receiving your letter. If the agency can't validate the debt, it must contact the major credit bureaus and remove the collections account from your record.
Assetcare LLC mailing address
Where should you send your debt validation letter? Here's the address for Assetcare LLC:
Dept. 0540
P.O. Box 120540
Dallas, TX 75312-0540
Work out a settlement
Debt validation is useful, but it doesn't always fix your credit. Assetcare LLC may be able to prove you owe the money by providing account numbers, payment histories and statements from your medical provider.
But this doesn't mean you should pay Assetcare LLC outright. If you pay off the balance, the negative entry will remain in your credit history.
Instead, you should use your payment to leverage getting the agency to remove the collections entry from your credit report. Assetcare wants your payment, and you want to get Assetcare off your credit report. It's time to make a deal known as a pay-for-delete agreement.
In this agreement, you'll make your payment contingent upon Assetcare removing its negative information about you with all three credit bureaus and stopping its attempts to collect on the debt. It can be tricky to negotiate a pay-for-delete agreement, but Assetcare LLC may be willing to work with you. After all, the agency makes money when you pay, so it has a motive to work with you.
Start negotiating
Start by offering to pay a portion of the debt to set the bar low. Work your way up until Assetcare LLC agrees to delete its entry from your credit report.
Don't settle for less than full deletion of this negative item from all three credit bureaus. Simply switching from an "unpaid collection" to a "paid collection" status will not help your credit score — it's still a collections account either way.
Get your deal in writing or don't make a payment. If Assetcare LLC won't put the pay-for-delete agreement in writing, you can't assume the agency will hold up its end of the bargain after you make your payment.
Once you've got your written agreement, send in your payment via check or money order. Expect a month to pass before the collections account vanishes from your credit history.
Carefully monitor your report to make sure that Assetcare LLC follows through on its agreement. If the negative item is still there after 45 days pass, reach back out and remind Assetcare of its promise.
Hire a professional
Assetcare LLC can be difficult to negotiate with, especially if you're short on time. If you're having trouble or don't have time to jump through all these hoops yourself, you can always hire a credit repair company to do the hard work for you.
Credit repair companies work on your behalf to remove inaccurate information from your credit history. They can also send goodwill letters, write debt validation letters and negotiate pay-for-delete deals. This could save you time and even money, although credit repair companies charge monthly subscription fees for their services.
One of the best credit repair companies out there is Credit Saint. It's a credit repair company with an A BBB rating.
For more tips on how to improve your credit, check out more popular articles. Everyone has the power to improve their credit and achieve their financial goals.
Update: This article has been updated to reflect current BBB ratings. Contact information for Assetcare LLC has been updated and unverifiable information has been removed.
Disclaimer: This story was originally published on November 25, 2020, on BetterCreditBlog.org. To find the most relevant information concerning collections or credit card inquiries, please visit: https://money.com/how-to-remove-collections-from-credit-report/ or https://money.com/get-items-removed-from-credit-report/