How to Remove Belk/Synchrony Bank from Your Credit Report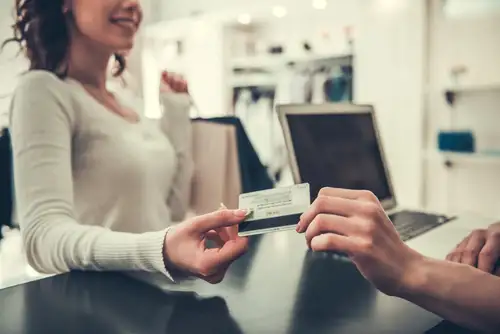 Is Belk/Synchrony Bank on your credit report as a hard inquiry? The most likely reason for an entry from Belk/Synchrony Bank is a credit card application. A hard inquiry could lower your credit score and stay on your report for two years.
If you didn't apply for a Belk credit card, you should take the steps necessary to get it deleted from your credit report. In the guide below, we'll break down hard inquiries and give you a few tips for getting Belk Synchrony off your report if it's there by mistake.
Belk/Synchrony Bank on my credit report
Belk/Synchrony Bank may show up on your report if you apply for a Belk retail credit card. Synchrony is the bank that issues these rewards cards. It has partnerships with dozens of retailers, including Belk.
They also offer cards for shoppers at:
ABT

Badcock

Banana Republic

BP

TJ Maxx

Toys R Us

And several more
How long will a hard inquiry stay on your credit report?
The amount of time an inquiry stays on your report and the level of damage it does to your credit score depends on a few factors. First, you should understand the difference between soft and hard credit checks.
A soft credit pull is a less invasive inquiry that doesn't impact your score. It happens when you:
Access your credit score

Get preapproved for a loan offer or credit card

Submit to an employer's credit check
It differs from a hard inquiry, which goes on your credit report for two years. Hard pulls happen when you apply for funding such as a mortgage, car loan or credit card. They allow lenders to access your credit reports from any or all of the credit bureaus.
While one hard pull should only have a small effect on your credit score, numerous inquiries can suggest to the credit bureaus that your finances are unstable, leading to a steeper drop in your score. That's why you should apply for new credit prudently. Check into the approval requirements before you apply for a credit card or loan to save yourself from an unnecessary inquiry.
You can also lower the effects of a hard inquiry by limiting your applications to a small window of time when you're comparing multiple offers. For instance, if you're looking for a mortgage, complete all your applications within 14 days of one another. That way, each application and inquiry won't penalize your score.
How to get Belk/Synchrony Bank off your credit report
A single hard inquiry from Belk/Synchrony Bank should have little impact on your score, but there are a few instances that could warrant a hard inquiry's removal from your credit report. If you applied for a Belk card, the inquiry on your report is legitimate and you probably won't be able to have it removed from your report. However, if you did not apply for a retail credit card, you could be the victim of identity theft or faulty reporting.
Either way, here are two approaches you can take to right the situation.
Dispute the hard inquiry with Synchrony Bank and the bureaus
You should never leave an inaccurate entry undisputed on your credit report. If something is amiss, and you have no idea why Belk/Synchrony Bank showed up on your report, it's important to dispute the debt.
You can start by contacting Synchrony Bank to get answers about the entry and close out a fraudulently opened credit account.
In this case, you should dispute the entry with the affected credit bureaus as well, by calling to dispute the entry, filing a dispute online or sending a letter, which should right the situation, removing the entry from your credit report altogether. Time is of the essence with disputes, so it's important to stay alert to new entries on your report.
If you haven't already, consider registering for a free credit monitoring service, such as Credit Sesame or Credit Karma. They will send you updates on your score and any new entries on your report. You'll also find helpful resources for improving your score. Additionally, you can grab a free copy of your credit report each year at annualcreditreport.com for a more in-depth look at what lenders see when you apply for credit.
Pay for professional help
Whether you suspect fraud or a reporting error, you don't have to confront the credit bureaus or Synchrony Bank on your own. A credit repair company can help you look into Belk/Synchrony Bank's entry and dispute it if it's inaccurate. It can also manage more challenging credit issues, determining the factors that are bringing down your score and helping you to improve them.
If you're facing the problems below, credit repair services can be a great asset:
Bankruptcy

Charge offs

Collections-stage debt

Foreclosure

Judgment

Poor payment history

Liens

Repossession
Repairing your credit can be a time-consuming hassle. It can also feel completely overwhelming when you're facing serious issues like the ones above.
Calling on experts can eliminate the stress and get your score back on track, fast. If you're not sure where to start looking for help, we've curated a list of the best credit repair companies on the market.
Getting Belk Synchrony off your credit report
If you haven't applied for a Belk credit card and have come across Belk/Synchrony Bank on your report, you should dispute it quickly or get a credit repair company to help.
However, if you did apply for a card, you can relax. While it can be painful to see your score drop, even though you've used credit responsibly, credit inquiries are a necessary part of getting new credit. Moreover, a credit inquiry will be off your report in two years, becoming less impactful as the months go by.
If you received a Belk Synchrony card, the best way to make up for the points lost in the application process is to use the card to your benefit. Additionally, keep your overall credit utilization under 30%, or under 10% if you really want to improve your score, and make timely payments.
Disclaimer: This story was originally published on December 9, 2020, on BetterCreditBlog.org. To find the most relevant information concerning collections or credit card inquiries, please visit: https://money.com/how-to-remove-collections-from-credit-report/ or https://money.com/get-items-removed-from-credit-report/