How to Remove Direct Recovery Services from Your Credit Report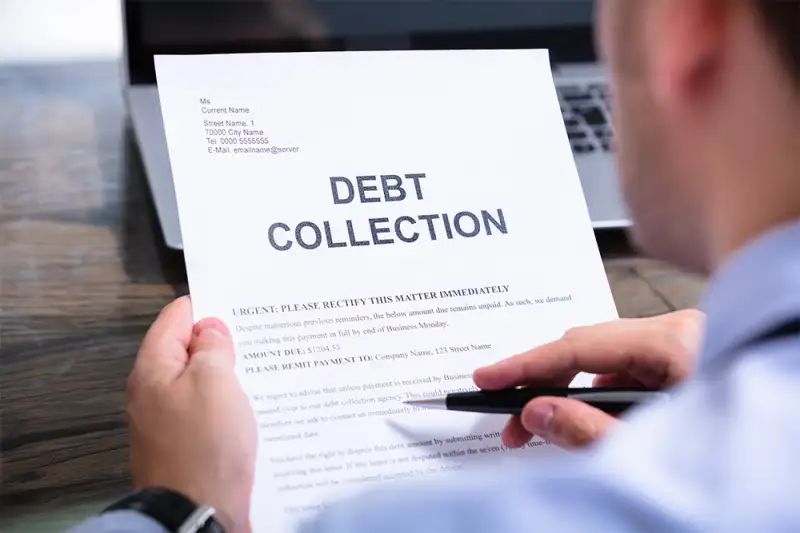 It's tempting to ignore phone calls and letters from Direct Recovery Services (DRS). It's easy to block the agency's phone number and toss the unopened letters into the recycling bin. However, regardless of whether you owe this debt collector money, the voicemails and robocalls won't stop until you deal with the problem. More importantly, your credit score will suffer for years if you don't remove Direct Recovery Services from your credit history.
This article will provide you with important information about DRS, your consumer rights and the steps you can take to remove it from your credit report for good.
What is DRS?
It is a legitimate company. It's a member of the American Collectors Association and profits by collecting debts for service providers. Direct Recovery Services, LLC, Inc. originated in 2015 and has its headquarters in Two Harbors, Minnesota.
How DRS works
If a service provider, such as a cable TV, cellphone or credit card company, is unsuccessful collecting unpaid debts from its customers, it often gives up and turns to third-party agencies for help. Many debt collection agencies buy old debt for pennies on the dollar and profit from the money they earn collecting the debt. Others, like DRS, don't buy old debt; they partner with service providers and earn a percentage of the proceeds they collect from consumers.
DRS, which may also appear on your credit report as Direct Recovery Associates, collects both consumer and business debts. If you owe a debt to a collection agency, it can call you and send letters and text messages until you pay the debt or make other arrangements. It will also appear on your credit report as a collection account, which can significantly damage your credit score. The account can remain on your report for up to seven years, even if you make payments, unless you remove it.
3 ways to remove DRS from your credit report
If you have the money, you may think that paying Direct Recovery Services is the easiest way to go. This is the quickest solution, but it's not necessarily the best. Instead, consider one of the following strategies to stop the phone calls, letters and damage to your credit score:
Request debt validation

Make a payment

Get help from a credit repair company
1. Request debt validation
If you act quickly, you can get DRS out of your hair with a simple debt validation request. Under the Fair Debt Collection Practices Act (FDCPA), collection agencies must show sufficient evidence that you owe the debt they're claiming. However, you must request validation within 30 days of your initial contact with a debt collection agency, or they don't have to respond. Often, agencies don't have the proof they need, and they must remove the collection account from your credit report.
If you think DRS is contacting you in error and you don't owe anything, you should dispute the claim. Even if you miss a payment on an account, there's still a chance DRS won't have the documentation to verify the debt. As soon as a collection account appears on your report, you should send a debt validation letter. Online samples are available if you need help writing one.
2. Make a payment
If DRS remains on your report for more than a month or the agency validates your debt, you may want to consider a partial payment. Agencies will often negotiate the terms of your debt, as any payment you make translates into profit. For example, if you move house and cancel your cable service but forget to pay the final balance and end up owing $120, you might start negotiations at $60.
During this process, it's important to communicate by mail so that you have the terms of your agreement in writing. Your letters should clearly confirm that your payment will ensure the removal of the collection account from your report. Once you agree on an amount and make a payment, your credit report should reflect this.
If the collection account still appears after 30 days, contact DRS and make sure they update it immediately. You can send a copy of your written agreement if necessary.
3. Get help from a credit repair company
You don't have to confront DRS on your own. Regardless of your situation, a credit repair expert can help. Credit repair companies can dispute the claim, stop the agency from calling you and ensure the removal of DRS from your account ASAP.
Credit repair companies, such as Credit Saint, provide professional help to consumers who want to restore their credit score. Its experienced agents will fight for quick and thoroughly documented results. Whether you hire the pros or use the strategies above, it's important to start immediately. The longer you wait to deal with DRS, the fewer options you'll have.
Tips for dealing with DRS
Collection agencies generally attract numerous consumer complaints, and DRS is no exception. It doesn't have Better Business Bureau (BBB) accreditation, but the organization awarded it a D+ rating. There are records of class-action lawsuits against DRS on file; you can search for the company in Public Access to Court Electronic Records to find out more.
The Consumer Financial Protection Bureau (CFPB) also receives regular complaints concerning DRS. Common issues refer to:
Failure to respond to debt validation requests

Inaccurate debt reporting

Harassing phone calls

Contact with family members regarding debt

Threats of illegal actions
The law allows them to contact you until you make payment, but the agency must abide by the FDCPA rules and regulations. For example, under the FDCPA, debt collectors can't call you at unreasonable hours or harass you at work. In fact, you can choose when and on what phone number an agency calls you.
If you deal with DRS, cite the FDCPA so it knows you're aware of your consumer rights, and remember to request all communication in writing. This will stop the frustrating phone calls and ensure you have documentation for your case.
What can DRS legally do?
DRS hopes that your apprehension about a collection account will encourage you to pay off the debt. Some agents try to scare you by insinuating prosecution under the criminal justice system or wage garnishment. If you receive an intimidating phone call, hang up. Before you have another conversation with the debt collector, take note of what the company can lawfully do.
The FDCPA allows a debt collection agency to:
Contact you via phone, email, text message or letter

Take legal action against you in civil court (if the court agrees with the debt collector, a judge can approve a wage garnishment).

Report your debt to the three major credit reporting bureaus

Sell your debt to another debt collector

Negotiate with you for payment
What DRS can't legally do
Under no circumstances can a debt collector:
Visit you in person to collect the debt

Harass you with repeated phone calls that violate the Telephone Consumer Protection Act

Threaten you with violence or to publicly shame you

Seek criminal charges against you

Call you outside of normal business hours

Talk to your co-workers or family members about your debt

Share your personal information with other companies
Contact the CFPB if DRS, or any other debt collector, violates your rights. It might entitle you to $1,000 in fines for each violation, although you may require the help of a law firm to secure this money. You also can post reviews on the BBB website.
How to contact Direct Recovery Services
You can contact the agency at:
Mailing address:
Direct Recovery Services, LLC
P.O. Box 14
Two Harbors, MN 55616.
Website: http://www.directrecoveryservices.com/
Phone number: 855-269-9628
Make sure you include your account number in all written correspondence with DRS.
Update: This article has been updated to reflect the current BBB rating for Direct Recovery Services and their current contact information.
Disclaimer: This story was originally published on July 7, 2020, on BetterCreditBlog.org. To find the most relevant information concerning collections or credit card inquiries, please visit: https://money.com/how-to-remove-collections-from-credit-report/ or https://money.com/get-items-removed-from-credit-report/