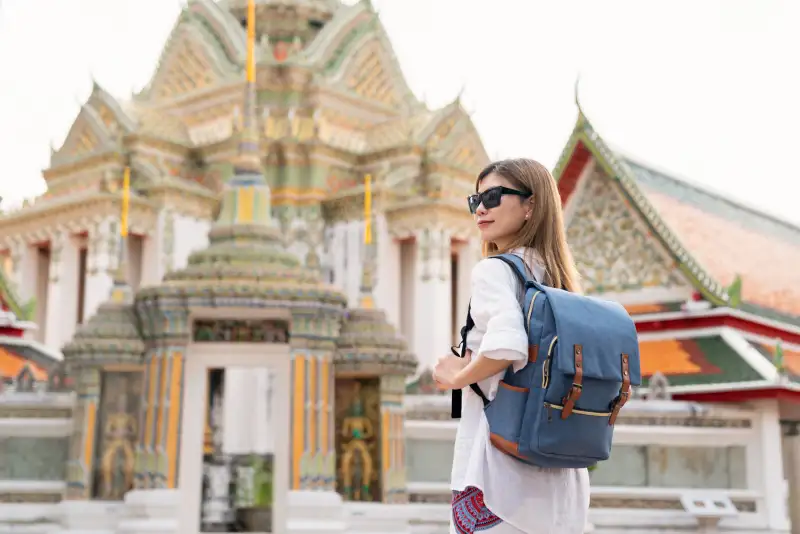 Traveling alone can be an incredibly liberating experience. It allows you to immerse yourself in the culture of a new place, discover its hidden gems and connect with like-minded people. However, it can also be intimidating if you're not prepared.
Before embarking on your next solo trip, read our guide to traveling alone for safety tips and recommendations.
How to travel alone for the first time
If you're ready to embark on your first solo journey, it's imperative that you do your homework. From researching the local customs and culture to making hotel reservations and ensuring you have all the necessary documents, every bit of prep is invaluable when traveling alone for the first time. To guide you in planning, here are some helpful tips on traveling alone.
Pre-travel preparation
There are several pre-travel preparations to consider before embarking on your solo journey. This time spent preparing will allow you to relax and better enjoy your trip.
Start planning well in advance
Give yourself ample time to consult relevant destination guides and travel blogs while making necessary arrangements. From booking flights with the best airlines to applying for visas, the more time you allow yourself for planning the trip, the better.
If you're looking to save money, look into the best airline credit cards and best travel credit cards to take advantage of exclusive offers and discounts.
Research your destination country extensively
Before you leave, familiarize yourself with the culture and customs of the country you're visiting. Research local laws and societal conventions and verify whether any visas or permits are required for crossing international borders.
Keeping up with news related to your destination is key for a safe and stress-free trip. With that in mind, don't forget to check your government's travel warnings, which will provide you insight into any safety concerns and health hazards that may exist at your intended travel destination.
Register for STEP and make a list of emergency contacts
The Smart Traveler Enrollment Program (STEP) offered by the U.S. The Department of State is a must-have for all solo travelers leaving the U.S. This program allows you to register your trip with the nearest American embassy or consulate. It will also provide you with up-to-date travel advisories and other pertinent information from the U.S. government about your destination country.
You should also prepare a list of emergency contacts to help you with unexpected issues such as medical emergencies or lost passports. You'll feel more confident traveling alone if your government and loved ones know your travel plans and can help you in a pinch.
Book accommodations in safe locations and flights arrive in the daytime
When booking flights and accommodations for your solo trip, keep your safety in mind. This can mean booking flights that land during the daytime and accommodations in safe, central areas.
Before booking your accommodations, look for hotels or hostels that are trusted for their safety ratings and read reviews by other travelers. Standard risks are typically amplified when traveling alone, so be vigilant when deciding where to stay.
Consider purchasing travel insurance
Travel insurance covers various losses incurred while traveling. This can include medical expenses, lost or stolen luggage, and flight delays or cancellations. Purchasing travel insurance before embarking on a solo trip can provide you with financial protection and peace of mind.
It's important that you consider only the best travel insurance companies, as they don't all offer the same level of coverage. For example, some (but not all) companies offer comprehensive cancel-for-any-reason travel insurance. This type of policy allows you to cancel your trip and be reimbursed for a portion of your pre-paid, non-refundable travel costs.
During your trip
With all the pre-travel arrangements out of the way, it's time to consider all the things you can do during your trip to get the most out of your solo journey.
Converse with the locals
Though it can initially seem intimidating, conversing with locals is one of the best ways for a traveler to find great things to do and places to visit. It's also a way to learn more about local customs and forge meaningful connections that could last a lifetime.
When engaging with locals, be mindful of cultural differences and stay alert to your surroundings. As long as you're respectful and communicate clearly, taking the initiative to start conversations with locals could be incredibly rewarding.
Connect with fellow travelers
Traveling alone can lead to occasional feelings of loneliness, especially when one is exposed to unfamiliar cultures and languages for long periods of time. An easy solution to this is to connect with like-minded travelers.
There are plenty of online forums, apps and social media groups that cater to solo travelers. In addition, many hostels and hotels have communal spaces where you can meet other travelers and some even organize social activities where you can meet people with similar interests.
Taking advantage of such opportunities can be a great way to make lifelong friends and create cherished memories.
Eat local cuisine
Taking time to explore local food is essential to any solo journey, as it can give you a unique insight into the history and culture of the place you're visiting.
If you're eager to try traditional dishes, consider asking locals for restaurant recommendations and dare to try food from frequented street food vendors. You can keep an open mind and be adventurous with your food choices while still being mindful of your dietary restrictions or food allergies.
Sign up for tours and classes
Tours and classes are another great way to explore and truly experience your destination. From wine tastings and cooking classes to guided hikes and historical tours, there are countless opportunities for solo travelers to join organized activities and learn about the place they're visiting. These activities can also be a perfect opportunity to meet potential travel companions in a safe and enjoyable environment.
Take your time
One of the luxuries of traveling alone is doing what you want when you want. While you might be tempted to pack as many experiences into your trip as possible, taking the time to thoroughly appreciate each activity can create better memories and be far more rewarding than merely rushing through an itinerary.
Trust your gut
This is perhaps the most important tip for traveling alone: Trust your gut. If something feels off, trust your intuition and take a step back. After all, no one knows you better than you know yourself. You can prioritize safety without sacrificing your sense of adventure by taking simple precautions and using common sense.
Places to travel alone
Whether you're seeking secluded beaches or an exciting cityscape, the world is brimming with fascinating solo travel destinations. If you're looking for some reliable and captivating destinations for a solo adventure, take a look at our list of the best places to travel.
Best places to travel alone
With so many destinations to choose from, it can be difficult to narrow down your options. Here are some good places to travel by yourself:
Iceland: This enchanting country is known for its breathtaking glaciers, beautiful coastline and breathtaking natural wonders. But what sets it apart as a solo traveler's paradise is its friendly locals, a sense of safety and abundant outdoor activities. Iceland is a great choice whether you're after solitude or looking to create new connections.
Japan: From the neon-lit streets of Tokyo to the tranquil temples of Kyoto, there's something for everyone in Japan. Moreover, solo travelers will find an incredible sense of hospitality and safety here alongside unique cultural experiences and mouth-watering cuisine.
Vietnam: This vibrant Southeast Asian country has captivating street scenes, lush jungles and stunning beaches. It's also incredibly budget-friendly, making it a great option for those looking to stretch their dollar. With a strong tourist and ex-pat presence, solo travelers looking to meet new people will not be disappointed.
Safest places to travel alone
Many regions of the world are relatively safe for solo travelers, but some stand out above the rest regarding security. Here are some of them:
Singapore: Boasting a powerful infrastructure and renowned for its incredibly low crime rates, this Southeast Asian city-state promises travelers an unforgettable journey in one of the safest destinations on Earth. With a wide range of thrilling attractions and bustling nightlife, you can rest assured that your exploration of this stunning destination will be both safe and enjoyable.
Norway: With its breathtaking natural beauty, Norway is a perfect spot for those seeking safe solo adventures. The locals here are known to be warm and inviting, and the crime rate is remarkably low — an ideal destination for those wanting peace of mind abroad.
New Zealand: This small island country is full of stunning landscapes and outdoor activities, perfect for solo travelers. New Zealand is considered an exceptionally safe place to explore, with a local population that is friendly and hospitable.
Best places in the US to travel alone
Because of the vast array of amazing destinations available, it can be challenging to narrow down the best places to travel in the U.S. The following constitute just a few of the many places that any solo traveler should consider visiting:
Hawaii: From its beautiful beaches to its unique culture, Hawaii is a serious contender for the best solo traveler destination in the U.S. Windsurfing, snorkeling, diving and indulging in local cuisine are just some activities to enjoy.
New York City: The iconic Big Apple is a great place to go solo, with something for everyone. Spend the day exploring Central Park, walk along the High Line or catch a Broadway show — all without the need for company.
Austin, TX: This vibrant city boasts an eclectic mix of culture, music, art and food. With its laid-back vibe and abundant attractions, Austin is a great place for solo travelers.
How to travel alone FAQ
How old do you have to be to fly alone?
If flying domestically, many airlines allow children as young as 5 to fly alone following special procedures for unaccompanied minors. These procedures apply to children up until age 11 or 14, depending on the airline, and there's typically a fee associated with them. For international flights, many carriers require unaccompanied minor procedures through age 17.
How old do you have to be to travel alone?
In general, minors under the age of 18 traveling internationally without an adult need to have parental consent, and minors under the age of 16 may require additional documents. It's important to check the foreign travel advice for the country you plan to visit before booking solo trips for underage travelers.
How to travel alone as a woman
When it comes to solo travel for women, safety is paramount. Many of the previously mentioned tips for travel apply, such as being aware of your surroundings and trusting your instincts.
Here are some additional safety tips for traveling alone as a woman:
Stay in safe, well-lit areas: Stay in well-lit and populated areas during your travels, especially at night. Avoid secluded streets and alleys.
Be discreet: Look into what's deemed culturally appropriate in your intended destination so you can blend in with the locals. You should also avoid sharing too much personal information with strangers, especially the address where you'll be staying.
Be prepared: Carry a charged cell phone with you at all times, and know the number of the local police station or embassy. In addition, stay alert and don't be afraid to ask for help if needed.
Summary of Money's How To Travel Alone
Whether you're searching for the best places for international travel or ready for an enchanting domestic exploration, plenty of destinations are suitable for solo travelers. But while traveling alone can be an exciting experience, it also requires careful planning and preparation to ensure a safe and enjoyable trip.
From researching your destination and pre-booking the best hotels to purchasing travel insurance and having a list of emergency contacts, there are many important steps to take before embarking on your solo journey. During your trip, follow basic safety tips, engage with the locals, connect with other travelers and soak up your surroundings. With the right knowledge and mindset, solo travel can be an unforgettable experience.