How to Watch the 2019 MTV VMAs Online for Free Tonight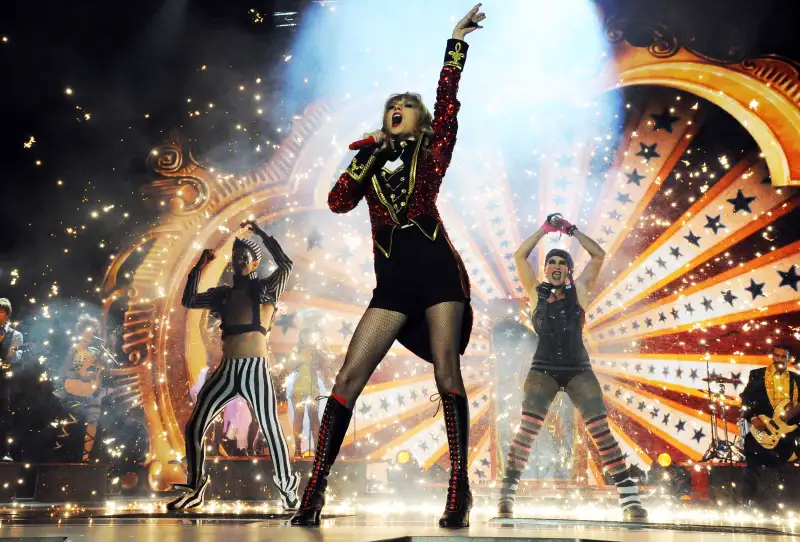 The 2019 VMAs air tonight on MTV, with a top-notch list of performers that includes the Jonas Brothers, Taylor Swift, Missy Elliott, Queen Latifah, Shawn Mendes, Camila Cabello, and Lil Nas X.
The big show, being held on Monday, August 26, at the Prudential Center in Newark, New Jersey, is the 36th edition of MTV's Video Music Awards. Standup comedian Sebastian Maniscalco is serving as 2019 VMAs host. Taylor Swift will be on stage to kick off the festivities, and a special performance of New Jersey hip-hop icons including Naughty by Nature, Queen Latifah, and Redman will close out the awards show.
This year, Ariana Grande and Taylor Swift lead the pack with most most VMA nominations (10 each), while Lil Nas X and Billie Eilish are close behind with eight and nine nominations, respectively. Missy Elliot is being honored for her body of work with the 2019 Video Vanguard Award.
Here's all the info you need for how to watch the 2019 VMAs — online or on TV, for free.
When Do the VMAs Start?
The 2019 VMAs broadcast starts on Monday, August 26, at 8 p.m. ET.
What channel are the VMAs on? Well, naturally, the awards show is being broadcast on MTV, which created the ceremonies more than three decades ago, during the heyday of music videos.
But in addition to MTV, the 2019 VMAs are airing live on Monday at 8 p.m. ET on several other Viacom-owned pay channels, including VH1, BET, CMT, and Comedy Central.
If you have cable TV, satellite TV, or another pay TV package, it probably includes one or more of these networks in the bundle of channels. You can tune in to any of these channels to watch the 2019 VMAs tonight live on TV. MTV and VH1 are also rebroadcasting the 2019 VMAs right after the original airing ends, starting at 10:45 p.m. ET tonight.
How to Live Stream the 2019 VMAs for Free
The 2019 VMAs are being live streamed at MTV's website and the MTV app. But to get access to the VMA live stream, you will have to log in with the account and password from a participating pay TV service.
If you don't have cable or another pay TV subscription, it's still possible to watch the 2019 VMAs online (for free) by way of a free trial of a streaming TV service. These services work similarly to traditional cable, with a bundle of channels included for one monthly fee, only the viewing takes place online via any device you like (including a smart TV), and they generally come with free trials for new subscribers.
Streaming TV services such as AT&T Now (formerly DirecTV Now) and Philo come with MTV, and if you're a new subscriber you can try out either service during a free seven-day trial. Registering for a free trial would allow you to watch the 2019 VMAs online for free tonight — and afterward you'd have several more days to try out the service and see if you want to become a paying subscriber.
If you only want to live stream the 2019 VMAs for free and don't want to become a paying subscriber, remember to cancel before the free trial ends. If you miss the deadline, you'll be charged in full for the first month. Philo's base streaming service normally costs $20 per month, while AT&T's more robust packages start at $50.
Yet another option is available through the live streaming service Sling TV's "Blue" package. It comes with Comedy Central, which as mentioned above is broadcasting the 2019 VMAs. Sling TV packages have special introductory rates starting at $15 per month for new subscribers.