H&R Block Giving Free Tax Software to Disgruntled TurboTax Users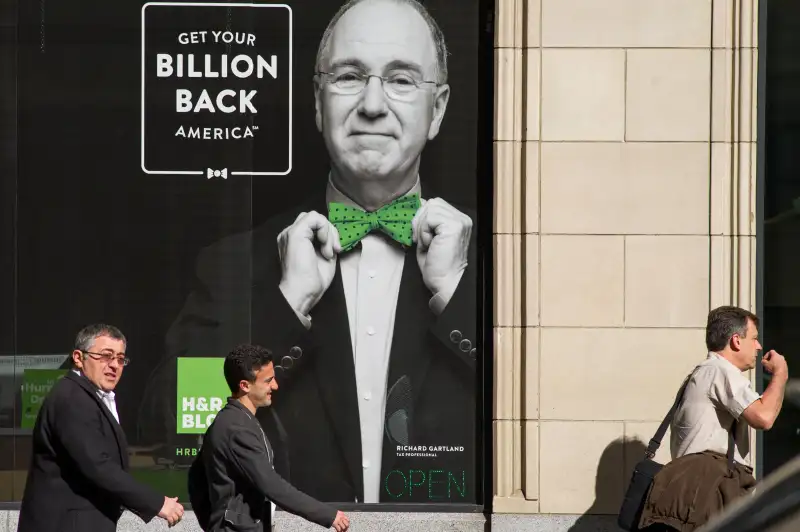 David Paul Morris—Bloomberg via Getty Images
War is never fun, unless it's between corporations—and results in freebies for you.
This time, tax preparation giant H&R Block is going guerrilla on competitor TurboTax by spreading news through the media—but leaving it off their website, for some reason—that they will give free "deluxe" tax prep software to anyone who has already bought TurboTax Basic or Deluxe for 2014.
Why would you want free software when you've already bought some?
Well, as evidenced by nearly 500 scathing one-star reviews on Amazon, many TurboTax customers have grown furious upon discovering that this year's Deluxe edition is missing features that they got used to in previous years. Those include options for filing Schedule C and D forms, which let you report investment and small business income. Customers are describing the move as a covert price hike, since accessing the missing features requires upgrading to a more expensive version of the software.
Enter H&R Block, offering a similar deluxe program—but without the abridgements—for anyone who emails SwitchToBlock@hrblock.com with their name, address, phone number, operating system (Mac or Windows), and a scan or email showing proof of TurboTax Basic or Deluxe purchase.
Unsurprisingly, TurboTax is going into crisis mode, with vice president Bob Meighan attempting to appease angry reviewers on Amazon; the company is now suggesting that Deluxe customers who feel they have been misled might be eligible for a free upgrade after all.
"We know it's a competitive environment, and we will do whatever we can to keep our customers happy," says Meighan.
Given that literally anything else would be more fun to shop around for, it makes sense that choosing tax software has a lot to do with brand loyalty. Once you get used to software, the psychological cost of switching feels high.
But this opportunity is a good one for TurboTax customers who want to take a peek at what the competition is offering in terms of speed and ease of use. Those who paid only $20 for TurboTax Basic would get a $55 value from H&R Block—though the difference in price is probably not as important as user experience.
After all, the average tax refund is about $3,000, and—as both TurboTax and H&R Block software will tell you—the money you spend on tax software is often deductible if you itemize your deductions.