Hurricane Harvey: Where the Money Goes When You Donate to the American Red Cross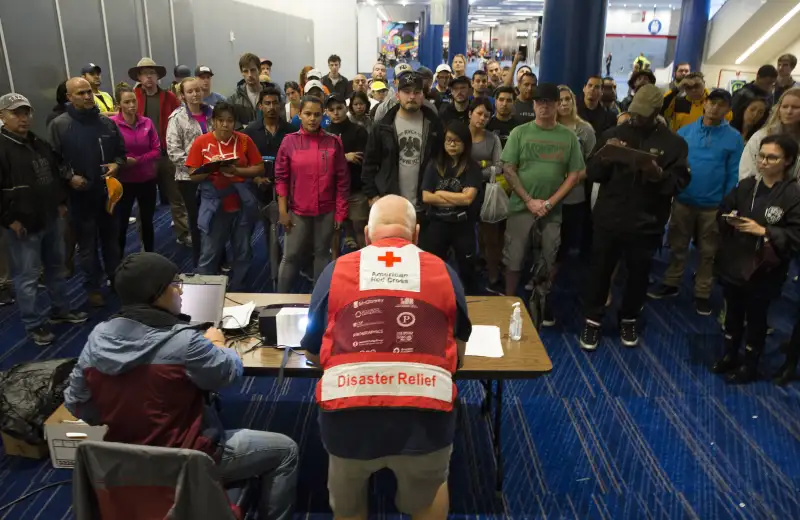 Erich Schlegel—Getty Images
Tens of millions of dollars in donations are pouring into organizations helping the relief efforts in Houston, Texas, and the surrounding areas in the wake of Hurricane Harvey, one of the most destructive storms in U.S. history.
For many, one of the most visible and obvious places to give is the American Red Cross, which has advocates including former President Barack Obama, actress Sandra Bullock, and comedian Kevin Hart, among others, urging people to give to the nonprofit. But the Red Cross has long been the center of controversy. While the organization undoubtedly does good work, it has also been heavily criticized for repeatedly botching relief efforts in major times of crisis, and for its administrative and fundraising costs.
"It's heartbreaking because I know how seriously the Red Cross takes its responsibility," Red Cross spokeswoman Bristel Minsker told The Washington Post about criticisms of the organization. The Red Cross did not immediately respond to an email asking how donations would be used, but a look at the organization's response now and their past can offer some clues.
How the Red Cross Is Responding to Hurricane Harvey
With so much destruction, there are few organizations that can mount full-scale relief efforts. "National and international organizations deal with disasters at a large scale, with an established infrastructure and coordinated teams that specifically hold a skill-set for responding to crises," says Sara Nason, a spokesperson for Charity Navigator.
It's true that local organizations are also providing food, shelter, and other emergency services, and need donations. But when small organizations unaccustomed to dispersing large amounts of funds are suddenly overrun with money, that can lead to trouble. This is particularly true for foundations and other organizations that pop up in the immediate aftermath of a disaster.
However, Nason adds that local organizations will be in the community doing the work, long after the media spotlight leaves Houston. "At the end of the day, if it's a highly-rated charity and you've done your research, then you know it's reliable and can donate to what you feel is right," she says. (Read more on how to avoid scams here.)
Money advises giving to charities that spend no more than 20% of their revenue on overhead costs, which can be easily found on Charity Navigator. In the case of the American Red Cross, it spent 10.4% of its revenue on administrative costs and fundraising efforts in the fiscal year ending in June 2015, per Charity Navigator.
That said, it is completely appropriate to ask the charities and nonprofits you donate to how the funds will be used. In some cases, you can also earmark your funds for specific causes (i.e. disaster relief) so you know they won't go to the charity director's half-million-dollar salary.
According to press releases, so far the Red Cross has:
Delivered "80 tractor-trailer loads of cots, blankets, ready-to-eat meals, comfort kits, kitchen supplies and cleaning supplies"
Deployed 200 emergency vehicles
Prepositioned extra blood supplies before the storm hit, and is working with local authorities to deliver blood to hospitals
Opened 34 shelters across Texas
Sending enough shelter supplies for 50,000 people
Has hundreds of volunteers on the ground helping people
Why People Are Telling You Not to Give to the Red Cross
Reports obtained by the New York Times detailed at length how the organization had failed to help victims of Hurricane Katrina in 2005. Examples include volunteers arriving with only bleach when people had no food or water, and donations that were of little use. "A truck load of Danish pastries and cinnamon rolls...arrived moldy because they were shipped without refrigeration."
Internal changes after Katrina did little to help the organization's performance. In the wake of a devastating earthquake in Haiti in 2010, the Red Cross raised almost half a billion dollars to help in relief efforts in the country. Five years later, a damning exposé by NPR and ProPublica showed that the organization had done little with the money except squander it. One example: According to the story, the organization had at that point claimed that it had built enough homes to provide shelter for 130,000 people—but it had actually only built six.
And, according to NPR and ProPublica, about one-third of the $500 million raised went toward administrative costs, "program costs incurred in managing" other charities in Haiti, and the other charities' own administrative costs.
Another investigation by ProPublica and NPR found that the Red Cross's response to Super Storm Sandy and Hurricane Issac, in 2012, was just as fraught. In one instance of mishandling of funds, empty trucks were reportedly driven around in the wake of Issac to make it appear as though the organization was doing more.
People who expected their money to go toward relief efforts were, rightfully, outraged.
Where Else to Give
If you're uncomfortable giving to the Red Cross, there are plenty of organizations that need your help.
Finally, if you feel you're being scammed, Business Insider reports you can go to the Texas attorney general's hotline at 800-621-0508 or via email at consumeremergency@nag.texas.gov.