How to Help Hurricane Laura Victims: 15 Places to Donate to Disaster Relief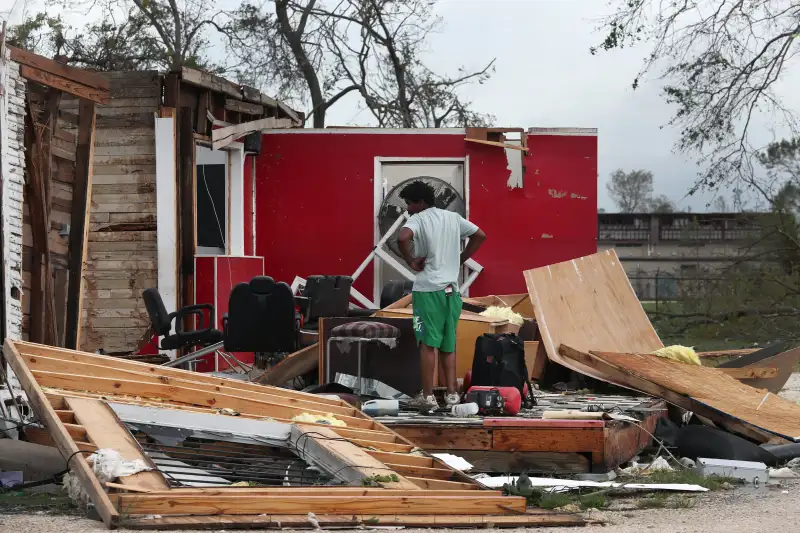 Hurricane Laura crashed into the U.S. Gulf Coast overnight, battering parts of Louisiana with winds up to 150 mph and extreme rainfall. The "catastrophic damage" and "life-threatening" storm surge predicted by the National Weather Service came to pass: Devastating photos show ripped-off roofs, downed trees, blown-out windows and more.
Laura was the strongest hurricane to make landfall in Louisiana in over 150 years, according to NBC News. It's been compared to 2005's Hurricane Katrina. The storm is weakening, but the threat isn't over — Laura is expected to travel up through Arkansas and across the eastern U.S. in the next couple of days.
The extent of the damage is to be determined. But if the heart-wrenching footage from Thursday morning has you looking for ways to help Hurricane Laura victims, there are steps you can take.
If you're nearby...
First of all, please stay safe. Second of all, consider donating blood.
Local TV affiliate ABC13 reported that the Gulf Coast Regional Blood Center already encountered shortages because it had to close early on Wednesday. The Coffee Memorial Blood Center in Amarillo, Texas, has been similarly struggling amid the pandemic. In Tupelo, Miss., the nonprofit blood service provider Vitalant also called for donations Thursday morning.
If you want to donate money...
The Red Cross has already mobilized in the area. In a news release, the organization said it was "ready for a large response effort in Louisiana and Texas with nearly 600 trained workers helping communities threatened by Hurricane Laura," along with "pre-positioned shelter and relief supplies along the Gulf Coast."
You can donate to the Red Cross here. In the drop-down menu, choose "Hurricane Laura" to direct your gift directly to those relief efforts. The minimum online donation amount is $10, and the website accepts PayPal, Visa, MasterCard, American Express and Discover.
The Salvation Army has disaster teams on the ground in Texas, Louisiana and Arkansas with some 30 mobile feeding units stocked with equipment. You can donate online; your money will go toward "buying meals, drinks, snacks and other critical commodities desperately needed by survivors and rescue workers."
The Houston Food Bank is also accepting donations. It distributes boxes of food to people in need across 18 counties, and your money can make a big difference. According to its website, the food bank can "turn $1 into providing someone with access to three meals."
Check out Imagine Water Works' Mutual Aid Response Network, too, which vows to send donations directly to southwest Louisiana and "prioritize the funding, leadership, and safety of BIPOC (Black, Indigenous, People of Color)."
If you don't have much time...
That's fine. All you need to do is text LAURA to the number 90999 to make a $10 donation to the Red Cross through AT&T. You can also send the word FOOD to 80100 to support the World Central Kitchen, which intends to "provide meals to families in this time of need for Hurricane Laura," or REBUILD to 501501 to give $25 to SBP's homebuilding efforts.
If you want to donate in kind...
The Louisiana Red Cross has said that it cannot accept donated supplies like food or clothes because of the pandemic. But other places will take them. The United Cajun Navy, a nonprofit volunteer group, said on its website that it has an "urgent need for water by the case, gasoline and generators."
There are several Hurricane Laura relief drives underway in other parts of the country, too.
In Waterville, Ohio, Impact With Hope is collecting items like diapers, formula, tarps, canned food and sunscreen to be transported down to Lake Charles, Louisiana. In Panama City, Florida, Bay High School is rounding up gloves, paper plates, trash bags, batteries and bug spray. Mississippi's Eupora High School is gathering water, sanitation goods and health supplies.
If you're worried about the animals...
Consider giving to Austin Pets Alive!, a nonprofit shelter and rescue group currently caring for more than 70 cats and dogs that were in Hurricane Laura's path. Urgent needs include laundry detergent, dry cat food, pet carriers, pee pads, leashes and latex gloves. You can apply to be a foster parent, as well.
It's not just Louisiana and Texas — there are shelters in states like Tennessee and Virginia that have also taken in animals affected by Hurricane Laura. Consider adopting or giving money. The Richmond SPCA in particular has a fundraiser right now that matches donations up to $7,500.
Even small donations can help with cleanup and recovery after Hurricane Laura.
More from Money:
Coronavirus and Charity: How Can I Make the Most Impact with My (Kinda Small) Donation?
How to Decide Where to Donate Money and Make an Impact Right Now
Bethenny Frankel on Why You Should Approach Giving to Charity Like InvestingHurricane-Laura-Makes-Landfall
Rates are subject to change. All information provided here is accurate as of the publish date.