It's National Ice Cream Day!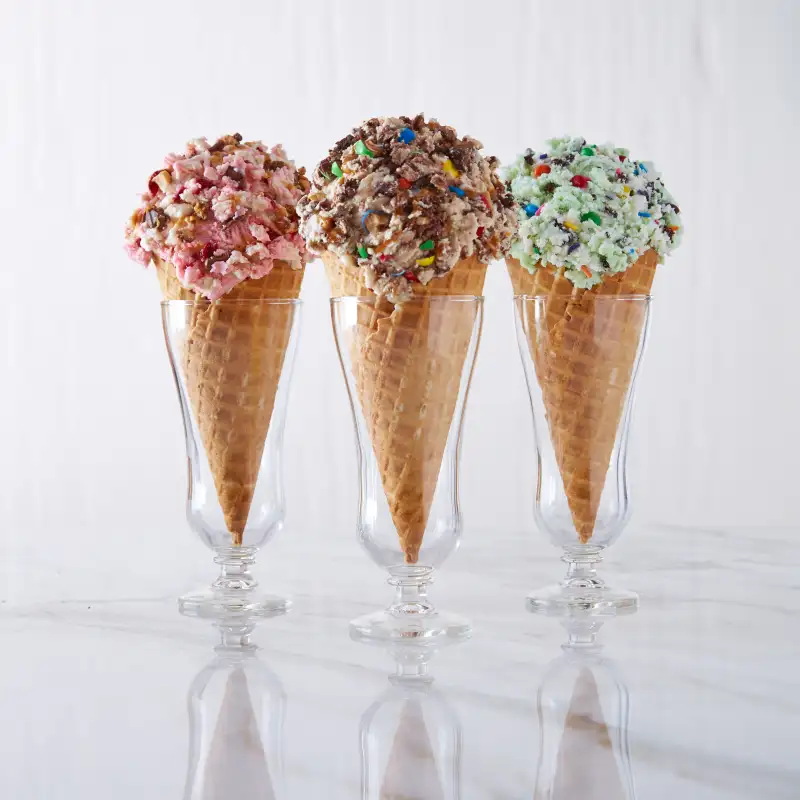 courtesy of Maggie Moo's and Marble Slab Creamery
Earlier this summer, our intrepid ice cream reporter, Brad Tuttle, brought you news of developments in the world of frozen confections. In honor of National Ice Cream Day on Sunday, we're bringing back his post to help you celebrate by getting the most calories for the least amount of money.
As if developments in the world of ice cream could possibly be uninteresting or unexciting! Among other things, going out for ice cream this summer will be a bit …
Cheaper and Easier After realizing that consumers had begun to think that charging extra for "mix-ins" was a rip-off, sister ice cream chains Maggie Moo's and Marble Slab officially introduced a new pricing structure this past spring, and as a result customers are a lot less likely to be surprised with a bill for $8 or $9 for a cup of ice cream. According to the new system, prices are set strictly by the size of the cup or cone (generally $3 to $6), and customers can request as many "mix-in" ingredients they want to be mashed into their personalized order, at no extra charge.
Swankier and Pricier Godiva stores recently began selling soft-serve ice cream in a choice of White Chocolate Vanilla Bean, Dark Chocolate, or a Swirl of the two, sold in a crunchy Belgian Waffle cone available with rimmed melted milk or dark chocolate, with or without pralines, or just plain. Along with the upscale cone comes an upscale price: About $6.
Slushier and Nerdier Sonic Drive-in, which is in the midst of a huge expansion around the country, has rolled out 50 special ice cream shake and slush flavors for the summer season. The shakes, made with real ice cream, come in flavors like Oreo Peanut Butter, Salted Caramel, and Chocolate Covered Jalapeno, while several new super sweet slush varieties are on the menu this year, including Polynesian Punch and Blue Raspberry—made with classic Nerds candy. Bonus: At participating locations, from 2 p.m. to 4 p.m., slushes are half-price, and shakes are half-price after 8 p.m. every day this summer.
Weirder and … Sandier? Included in the summer 2014 lineup at Baskin-Robbins are curious flavors such as State Fair Fried Dough (cinnamon caramel ice cream with pieces of funnel cake and fried dough) and the Sand Pail Cake, which thankfully only looks like something you'd dig up at the beach: It's a cake featuring crushed graham crackers as the sand, along with icing decorated to look like sea creatures.
Deliciously Gayer After years of successfully operating ice cream food trucks and two New York City shops, Big Gay Ice Cream—home of a rainbow-unicorn logo, flavors like the Salty Pimp and the Bea Arthur, acclaimed as the best ice cream parlor in the U.S.—is expanding in a big gay way in 2014. Its first non-New York shop will be open this summer, in downtown Los Angeles.