IDShield Identity Theft Protection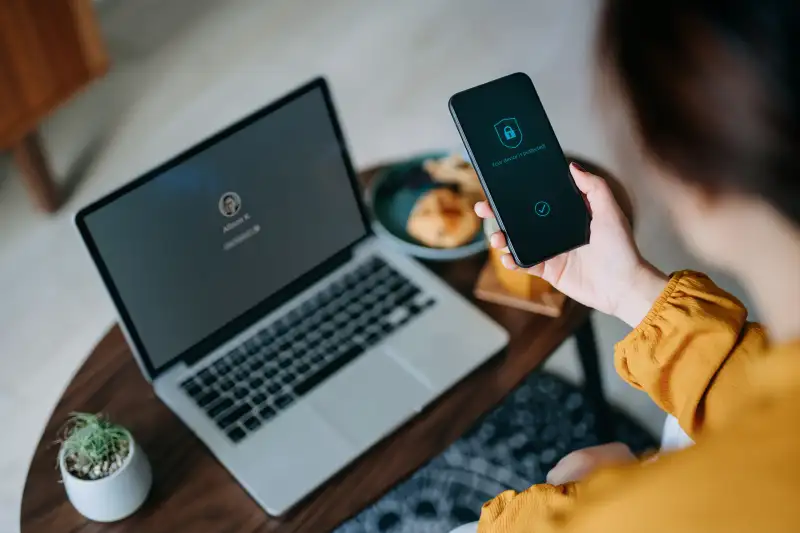 As cybercrime evolves and data breaches continue to happen, protecting your identity is more important than ever. The Insurance Information Institute reports that there were 5.1 million cases of identity theft and fraud in 2022. These crimes can potentially wreak havoc on your credit score and reputation with lenders, making it challenging to secure financing in the future.
IDShield checks whether your financial information is compromised and sends real-time notifications about possible or confirmed fraud events. Learn more about IDShield's identity theft protection and monitoring services below.
Best for identity restoration
After a fraud event, restoring your identity and creditworthiness can take months. Identity restoration involves painstakingly checking credit reports for inaccurate information and reporting identity theft to law enforcement and credit bureaus.
IDShield's restoration specialists can repair your identity quickly and help you solve the problem of account takeovers. Unlike other identity protection companies, IDShield connects you with licensed private investigators and consultants who can restore your identity and repair your credit if you become the victim of identity theft.
IDShield identity theft protection pros and cons
Pros
Identity restoration guarantee
Access to licensed private investigators
Real-time notifications on all plans
Credit monitoring with one or the three credit bureaus, depending on the plan
Cons
Somewhat more expensive than other services
No annual plan available
Pros explained
Identity restoration guarantee
IDShield's identity protection product comes with an unlimited restoration guarantee. This means that the company is committed to restoring your identity to its pre-fraud status for an indefinite period of time. IDShield's guarantee proves valuable for fraud events that require a specialist for longer periods.
Access to licensed private investigators
Many times, law enforcement can't or won't investigate identity theft because they lack the resources or jurisdiction (power) to do so. In this situation, a private investigator is a valuable resource for victims of identity fraud.
Unlike other identity theft protection services, IDShield provides you with a licensed private investigator who might track down who's stolen your financial information or uncover information relevant to the identity fraud case. For example, an investigator can find out how someone obtained your Social Security number before opening a credit card with a lender. This information can help you take steps to prevent future fraud events from occurring.
Real-time notifications on all plans
While some identity theft protection companies limit fraud event notifications to their premium plans, IDShield stands out as one of the best credit monitoring services by offering real-time alerts on all its plans. These alerts allow you to respond promptly by informing lenders and safeguarding your identity from cybercriminals.
The company notifies you about data breaches where your data's been compromised and when someone opens a credit account in your name or uses one of your existing accounts for fraud.
Credit monitoring with one or the three credit bureaus, depending on the plan
IDShield offers two pricing tiers with a different credit report monitoring option. The most affordable plan allows you to monitor your credit report from one of the three credit bureaus — TransUnion, Equifax or Experian. Customers who want even more protection can purchase the second plan, which lets you track credit information from all three bureaus for a higher monthly rate.
Cons explained
Somewhat more expensive than other services
IDShield's pricing plans are on the higher end of the scale when compared to other identity protection services. Individual plans start from $15 per month, while family plans start from $30.
Some identity protection companies charge as little as $7 to $10 a month for individual plans and $15 to $20 for family plans, so if budget is your priority, IDShield may not be for you.
No annual plan available
Annual plans for an identity protection service tend to offer slight monthly discounts when paid upfront. However, IDShield doesn't offer any annual plans — monthly payments are the only option.
IDShield identity theft protection plans
Below, we take a closer look at IDShield's plans.
Individual
IDShield offers credit monitoring with one or three bureaus for individuals, depending on the pricing tier you choose (pricing explained more below). Both tiers include the following identity theft services:
SSN monitoring
Identity threat alerts
Dark web monitoring
Social media monitoring
Public records monitoring
Lost wallet assistance
Live member support
Restoration verification
24/7 emergency assistance
Guaranteed identity theft restoration
Dedicated licensed private investigators
Identity theft consultation services
$1 million identity theft insurance
VPN protection
Password manager
Personal internet monitoring
Continuous credit monitoring
Monthly credit score tracker
Credit threat alerts
Alerts about suspicious activity
Credit freezes
Family
IDShield's family plans include all of the features available in individual plans, including credit monitoring according to the pricing tier. Family plans cover you, your spouse or partner and any dependent children under 18.
Credit monitoring services aren't available for dependents aged 18-26, but dependents in this age group have access to consultation and restoration services.
Business
IDShield's business plan works a little differently than individual and family plans. The company has partnered with Guard Street Cybersecurity to offer a comprehensive cyber protection plan that places less emphasis on identity fraud and more on resolving problems associated with cybersecurity.
Unlike individual and family plans, IDShield's business plan only offers one pricing tier, which includes:
Cyber vulnerability alerts
Device endpoint protection
$1 million ransomware warranty
Live cyber support
Remote IT and compliance support
Cybersecurity policy support
IDShield identity theft protection pricing
Both of IDShield's plan options offer the same features, apart from the credit monitoring option.
| | |
| --- | --- |
| Plan | Price per month |
| Individual | $15 for one credit bureau monitoring/$20 for three credit bureau monitoring |
| Family | $30 for one credit bureau monitoring/$35 for three credit bureau monitoring |
| Business | $90* |
*At the time of writing this review, IDShield is offering a $20 discount coupon (code: IDS20) that brings down the monthly price of its business plan to $70. Money couldn't find information about whether this coupon code is a limited-time offer or an ongoing discount.
IDShield identity theft protection financial stability
Checking the financial stability of a service provider like IDShield is essential before signing up for a paid plan. IDShield is part of a company called LegalShield Official, which generates an estimated annual revenue of $2.6 billion yearly. The company has 6,786 employees and has been operating since 1972.
The company is not accredited by the Better Business Bureau (BBB), but it has a B+ rating.
IDShield identity theft protection accessibility
To evaluate IDShield's accessibility, we looked at its customer support, available communication channels and user experience.
Availability
IDShield provides services to consumers and businesses in the United States only.
Contact information
You can call IDShield at 1-866-987-4745. Lines are open Monday through Friday, 8 a.m. to 6 p.m. CST.
Alternatively, email IDShield@LegalShield.com and expect a response within 24 hours, or contact the company through its live chat option. IDShield also communicates with customers via its Twitter, Facebook and Instagram pages.
User experience
IDShield's identity protection provides a good user experience with its multiple customer service options, easy registration process and user-friendly interface. A personalized dashboard displays monitoring insights about your online identity, helping you learn how IDShield protects you from fraud events.
You can also access various resources on IDShield's website to learn more about the company's services and fraud topics, such as how to keep your bank account number a secret. These resources include a blog and FAQ page.
IDShield identity theft protection customer satisfaction
IDShield has an average user score of 4.5/5 stars on TrustPilot, based on 126 reviews at the time of writing. That suggests most customers are satisfied with the company's service.
Most users (84%) rated IDShield 5/5, while only 9% gave the company one star. Many customers praise the company's customer service, accurate notifications and easy-to-use dashboard.
IDShield identity theft protection FAQ
Should I monitor one or all three major credit bureaus?
IDShield's provides individual and family plans that allow you to monitor one or three credit bureaus, namely TransUnion, Equifax and Experian, depending on the pricing tier you choose.
While tracking credit information from a single bureau can be useful in detecting fraud, monitoring all three major bureaus is a more effective way to protect against identity theft.
Does IDShield have a free trial period?
IDShield doesn't currently offer a free trial. However, if you want to test out the service, you could sign up for a monthly plan, sample IDShield's features and cancel your subscription before the company charges you for a second month.
Can I cancel my IDShield membership at any time?
Yes, you can cancel your IDShield subscription whenever you like. All plans are paid on a monthly basis, meaning you don't enter into a long-term contract. Cancel your membership at any time by calling IDShield customer service at 1-866-987-4745.
Is IDShield worth it?
If you're looking for a way to protect your online identity, IDShield offers a good range of features that help you achieve this goal. You'll receive real-time notifications about possible or confirmed fraud events and unlimited identity restoration services to rebuild your credit history and improve your reputation. That said, IDShield is more expensive than some competitors, meaning you need to weigh the pros and cons of using this service to justify its price.
How we evaluated IDShield identity theft protection
We considered these factors when reviewing IDShield:
Product features
Identity theft protection insurance
Terms and conditions of use
Pricing information
Accessibility
Customer service options
Third-party reviews
BBB accreditation
Summary of Money's IDShield identity theft protection review
IDShield's product might not be the cheapest on the market, but it offers comprehensive protection and a high level of identity restoration support that other services don't have.
IDShield's service offerings include unlimited identity restoration, access to a dedicated and licensed private investigator and a generous $1 million in identity theft protection insurance.
Overall, IDShield boasts very high customer satisfaction, with online reviewers remarking on the quality of IDShield's customer service. If you encounter problems, you can contact a customer representative at IDShield via phone, email or live chat.