Here's Why IHOP Is Changing Its Name to IHOb (for Now)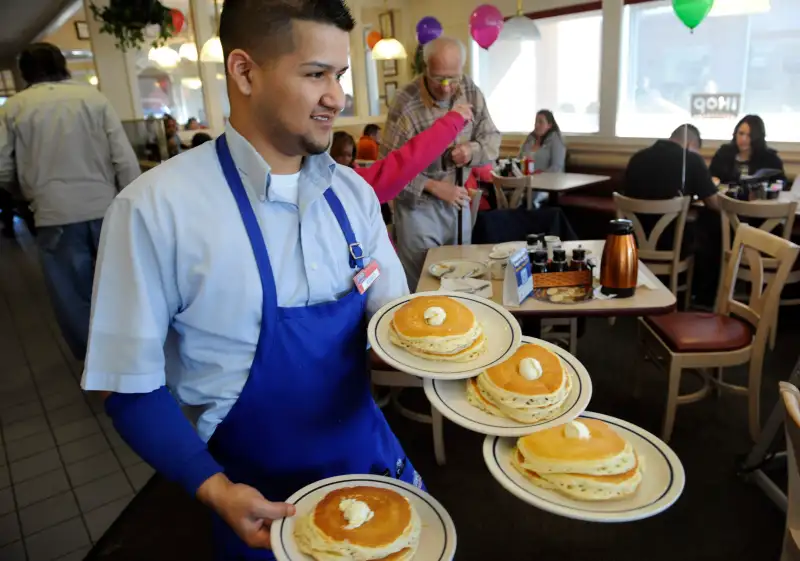 Kathryn Scott Osler—Denver Post via Getty Images
The International House of Pancakes is no more. (At least for the time being, anyway.)
IHOP changed its name to IHOb this week as the company aims to advertise for its new selection of burgers – a shift for the sit-down chain known for its breakfasts. The pancake house is now selling what it calls "Ultimate Steakburgers" — a menu item so monumental, it seems, that it warranted a name change "for the time being," the company said in a statement.
"Burgers are a quintessential, American menu item so it makes perfect sense that IHOP, one of the most iconic, all-American comfort-food brands in the world, would go over the top to create a delicious line-up of quality burgers that hit the spot any time of day," said Chef Nevielle Panthaky, Head of Culinary at the restaurant chain, in a statement about the name change.
IHOP — er, IHOb — has gone all-in on the name change in terms of its online marketing platforms before the "b" in the new name was revealed. On social media, the brand ditched the @IHOP twitter handle for @IHOb. On its website, the company featured a countdown clock for when the "b" would be revealed. Twitter users also shared images of the signage changing at locations around the country to "IHOb." "They weren't playing," one Twitter user wrote.
(To be clear, the lower-case "b" is used instead of a capitalized one to elicit the image of a "P" flipping over and turning into a "b.")
It's hard to imagine the new name could be permanent, as the nearly 60-year-old restaurant chain is best known for its pancakes and breakfast menu items. And, for what it's worth, the company is still publicly traded under IHP. The promotional tactic, as the company said, is used to draw attention to the new burgers (which, for $6.95, can come with unlimited fries and soda).
Pancake patrons need not worry, however. It doesn't seem like any of the restaurant chain's original items will be changed or replaced as a result of the new burgers.