How to Make an In-N-Out Burger at Home from Scratch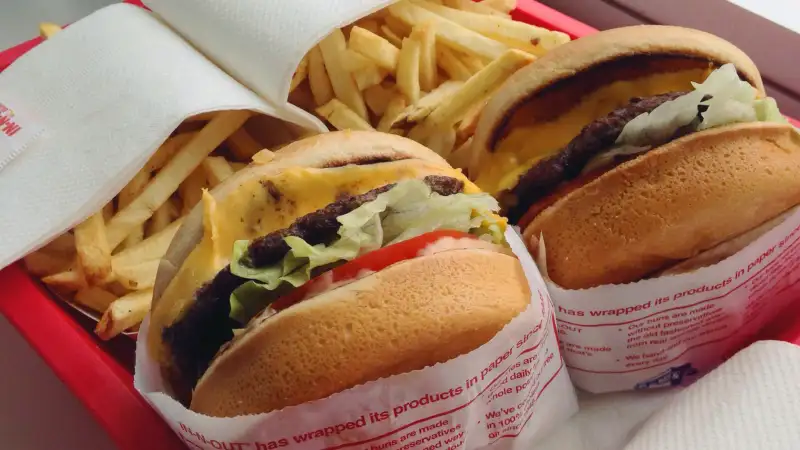 As convenient as the fast food drive-thru window is, it's not as convenient as not leaving the house.
That's the rationale behind the three new recipes released by the L.A. Times this week, approximating three popular fast foods: the Taco Bell Crunchwrap Supreme, the Panda Express Orange Chicken, and the In-N-Out Double Double.
On the one hand, this important humanitarian service will help Angelenos avoid having to put on pants and leave the house to get their grease fix. Perhaps it will even help folks save some money, assuming the cost of groceries is lower than the bill at the fast food register.
For the millions of Americans who don't live in proximity to an In-N-Out location--which are limited to the West Coast--the release of a recipe for a homemade Double Double burger removes the necessity of a plane ride, or perhaps very, very long drive. While the Panda Express Orange Chicken can be found in airports and strip malls around the country, and Taco Bells are geographically distributed, it would take a 1,600-mile road trip to taste an authentic Double Double if you're living in New York City.
The L.A. Times approximation of the In-N-Out burger is very simple: buns, American cheese, yellow onion chopped into rings, iceberg lettuce, and beefsteak tomato, and 80/20 ground chuck pounded into 1/4-inch patties and cooked for about a minute on each side. The real genius—and allure of the chain—is in the special sauce.
Here's the paper's reverse engineered formula, which must be refrigerated:
1/2 cup mayo
3 tablespoons and 2 1/2 teaspoons ketchup
1 teaspoon yellow mustard
2 1/2 teaspoons sweet pickle relish
2 1/2 teaspoons dill pickle relish
1 teaspoon Worcestershire sauce
1 teaspoon white wine vinegar
1/2 teaspoon salt
1/2 teaspoon sugar
Throw some of that sauce on the buns and assemble lettuce, tomato, cheeseburger patty, lettuce, tomato, cheeseburger patty, and you're good to go.