An Indiana Ghost Town with a Fascinating History Is Up for Sale — And It Costs Less Than Some Houses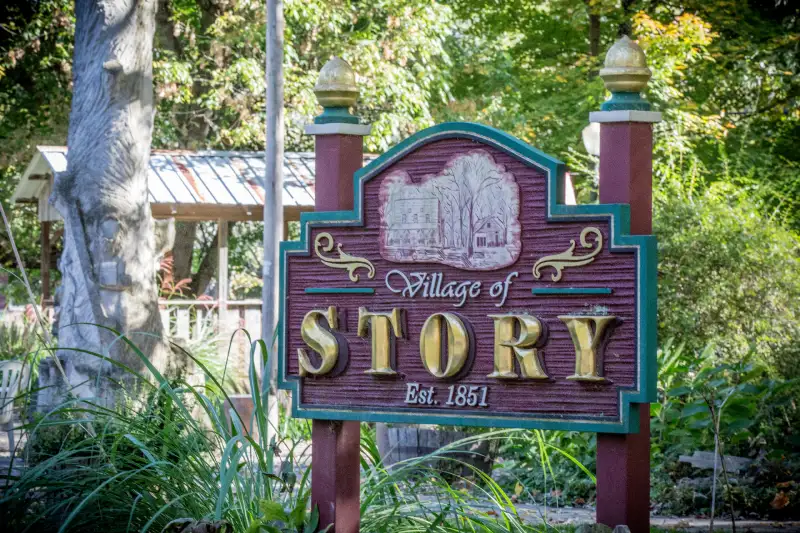 For less than the asking price of Indianapolis's most expensive house, you can own an Indiana entire town, just an hour's drive to the south.
Story, Ind., an abandoned-19th-century-village-turned-21st-century-wedding destination is on the market for $3.8 million.
It's not every day that a village hits the market, but Story isn't exactly your average village. Now recognized as the "Story Historic District," the unincorporated community originated in the mid-1800s, when Dr. George Story was granted 173 acres by President Millard Fillmore, according to Atlas Obscura.
In the following years, businesses sprouted and Story's population grew, though it never topped 175 residents, according to The Chicago Tribune. Things were good for several decades, but the village hit hard times after the turn of the last century. The town's post office closed in 1909 and Story "slowly faded" in the 1920s, according to its National Register of Historic Places Registration Form. Access was limited with the advent of the Brown County State Park in 2019 and all but cut off when the Monroe Reservoir was created in 1960, according to the registration.
For some ghost towns, that's where the tale ends. But Story's luck changed in the late '70s, when a couple first bought the general store, and then the whole town, according to the Tribune. They left in the early '90s and Rick Hofstetter, an Indianapolis lawyer, bought the town several years later, the Tribune says.
Today, the 14 buildings that stand on Story's 17.4-acre property are centered around tourism — and its remoteness is something of a draw. "One Inconvenient Location Since 1851," advertises the homepage of the Story Inn, the rustic retreat co-owned by Hofstetter that hosts guests and weddings. The rest of the settlement's century-old buildings — from the saw mill to the guest cabins — add to the experience of daily life in a 150-year-old village. As for residents, the town's population stands at three humans — Hofstetter and his co-owners at the inn, Jacob and Kate Ebel — and four dogs, according to the Northwestern Indiana Times.
While the land is for sale, Hofstetter says the Inn will continue to operate independently on a lease. "Macy's doesn't own the mall," he said to the Hoosier Times, explaining his decision to separate the bed and breakfast from the town. "The Story Inn will continue in operation as it has in the past, but as a lessee/tenant," Hofstetter told the paper.