New iPhones Sell for $2,000 on eBay, Asking Prices Hit $6,000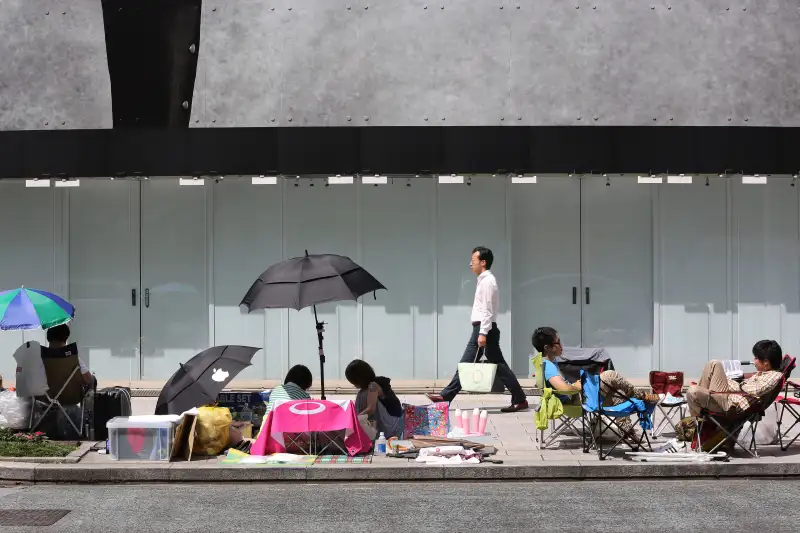 Yuriko Nakao—Bloomberg via Getty Images
At around 11 a.m. EST Monday morning, 19 bids had been submitted to an eBay auction of an iPhone 6 Plus Space Gray 128 GB. It was unlocked (so the owner wouldn't necessarily be tied into a two-year contract), and it was confirmed to be shipped on the first day the new iPhones are available for purchase, Friday, September 19.
With about 30 minutes left in the auction, the price for the phone hit $1,900, which wound up being the winning bid. That's astronomical compared to what most people think of as the list price for such a unit, $499. But the $499 price tag is a subsidized rate you get in exchange for being locked into a two-year contract with a wireless provider. The true retail price for an unlocked version of this unit is $949, which makes the premium bidders were willing to pay seem slightly more reasonable. Still, $1,900 is double the list price!
And what does the buyer get for paying such a premium? Essentially, all the buyer gets is his hands on the phone a few weeks earlier than he would otherwise. Apple pre-orders for the new iPhones broke records, with some four million orders placed during the first 24 hours they were accepted.
Because of the early surge in demand, consumers who haven't already placed their orders are now typically being forced to wait at least until October to possess the new iPhone 6. And the wait for the new gadget's big brother, the larger-screen iPhone 6 Plus—which measures 5.5 inches, compared with 4.7 inches for the regular iPhone 6 and 4 inches for the 5S—is even longer. Apple is warning that shipping on new orders will be delayed three or four weeks, and CNBC reported that certain orders (specifically, the iPhone 6 Plus from AT&T) won't be available for shipping for five or six weeks.
For some people, that's just too long to wait. So they're turning to eBay and Craigslist, where there are plenty of eager sellers willing to part with their freshly ordered gadgets if doing so means quick and sizable profits. The Wire noted that last Friday, when iPhone preorders were first being accepted (and were apparently difficult to place due to strong demand), eBay listings for the devices hovered up around $2,000. One 64GB iPhone 6 Plus appears to have sold on eBay last Thursday for $3,950.
As of Monday at midday, a search for "iPhone 6" at eBay returned more than 130,000 results. The variety of listings, including locked and unlocked models featuring different permutations of colors, memory, and wireless providers, generally ranged in price from $700 to $1,500. One bold seller had a flat asking price of $6,000 for a gold unlocked 64 GB iPhone 6—the regular one, not the larger 6 Plus.
To some consumers, paying a handsome premium for a hot new device is no crazier than waiting in line overnight, perhaps for weeks, to get one. In both cases, there's a price being paid, either in one's time or one's actual money.
Speaking of waiting in line, that apparently is still a feasible strategy for those who "need" a new iPhone this week and don't want to pay through the nose for one via eBay. "Additional supply of iPhone 6 and iPhone 6 Plus will be available to walk-in customers on Friday, September 19 at 8:00 a.m. local time at Apple retail stores," explained an Apple statement about pre-orders issued on Monday. "Both models will also be available on Friday from AT&T, Sprint, T-Mobile, Verizon Wireless, additional carriers and select Apple Authorized Resellers."
How many "walk-ins" will be able able to buy new iPhones on Friday? That remains unclear. Certainly, at the busiest, highest-profile Apple Stores like the one on Manhattan's Fifth Avenue, you probably don't have a prayer unless you're already camped outside the store. For quieter locations selling the iPhones starting on Friday, it appears possible that you'll be able to walk in and buy one, though it's advisable to get on line early and expect big crowds. Also, the pickings may be slim, so you might not get the exact model or color you want.
Alternately, you could do the sane, mature, and responsible thing and deny yourself immediate gratification. Just order exactly what you want and wait a few weeks for it to arrive, without paying a premium to sketchy online sellers, and without losing any sleep waiting outside for a store to open. Or, God forbid, stick with the phone you have.