Iris Apfel is 96 and Will Never Retire. Here's What She's Learned From a Life of Work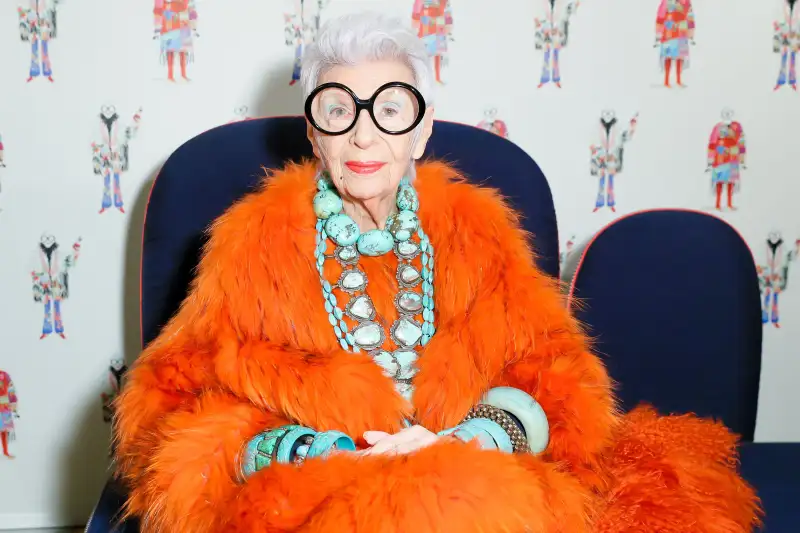 Matteo Prandoni—BFA/REX/Shutterstock
Iris Apfel doesn't own a computer, so if you want to get in contact with her, you have to pick up the phone and call. Several times.
And don't mistake that for some sort of crotchety aloofness. Apfel might be 96, but she's not out of touch. She's just busy. Really, really busy.
Apfel is supposed to be resting, by the way. Works too hard. Doctor's orders.
"I don't have any time to waste," she says, speaking from her always-buzzing cell phone in Palm Beach—ostensibly on a "break" from noisy New York.
Apfel's new book, Accidental Icon, hit shelves in March, and the roll out hasn't slowed down. Now, when she isn't working on her line of apparel, jewelry, and shoes for the Home Shopping Network (HSN), she has a book signing to run to, or a press call to hop on. This spring, she partnered with Bergdorf Goodman on a clothing pop-up—a floral and feather affair, trumpeted by a brigade of Apfel-inspired mannequins in the store's famed window displays. Next up: a collection of jewel-toned linens and tableware for the home furnishings company Grandin Road, and some porcelain jewelry for the French luxury store Bernardaud. The list goes on.
She lovingly refers to herself as a "geriatric starlet" and rightfully so. Her look is like a walking kaleidoscope, or a Picasso painting, dipped in a barrel of costume jewelry. But a relentless work ethic is as much an Iris Apfel trademark as her oh-so-oversize glasses.
Shane Drummond—BFA/REX/Shutterstock
Apfel started her career in the 1940s as a "copy girl" at Women's Wear Daily, a $15 a week job where her only task was to carry stacks of paper from one person's desk to another.
Shortly after, she landed a gig as an assistant to the interior designer Elinor Johnson. In 1948, she married Carl Apfel, and the two launched their own luxury fabric and design business, Old World Weavers, in 1950. The company was a massive success; nine U.S. First Ladies tapped the couple for White House interior design projects. After its sale in 1992, Apfel continued working for herself, picking up apparel, jewelry, and home furnishing commissions at what most people would consider a breakneck pace.
But Apfel isn't like most people. She stumbled into fame in her golden years and seems genuinely mystified by her late-in-life celebrity. It found her just the same: When Apfel was 85, the Metropolitan Museum of Art dedicated an entire exhibit in its costume wing to her personal apparel and jewelry collection. 2014 saw the release of Iris, a documentary from the late director Albert Maysles. And earlier this year, Apfel became the oldest person to have a Barbie doll fashioned in her likeness.
After nearly 80 years in the workforce, her tenacity defies most twilight-year ideals. But as worries of an impending retirement crisis threaten to plague the workforce—just 23% of baby boomers think their savings will last through retirement or that they've adequately prepared for it, according to a 2017 survey from the Insured Retirement Institute—Apfel's way of life is something any worker has to think about these days.
.
She's still in a league of her own—about half of Americans retire between the ages of 61 and 65, according to the Census Bureau. Studies show that the average age of retirement is rising, though, mostly owing to longer life expectancies, changes in Social Security benefits, and rising health care costs. Some people are working longer because they want to—they love their job, or they like it more than a life-of-leisure alternative. And a few years shy of her 100th birthday, Apfel is their poster child.
"For me, retirement is a fate worse than death," she says. "I've seen so many people, especially in a place like Palm Beach, who worked so hard in their lives, and they come down here cold turkey, and then one day wake up and they realize how vacuous their lives are now. I mean it isn't funny, I've seen it with my own eyes!"
There are tons of photos in Accidental Icon—mostly shots of Apfel, sometimes at work, huddled over antique textiles (and always in her couture best). But the most powerful images are of her and Carl together. Sepia-toned photos of the two—dancing at black-tie events, traveling in the Middle East, London, and Italy, and sifting through flea market fabric—document a beautiful partnership, both inside and outside the office.
After Carl died in 2015, Apfel says her work took on new meaning.
"He really pushed me into this," she says. "So I decided I wouldn't just stay at home and cry all day. I'm working harder than I ever did in my life."
Apfel doesn't talk about her story like it's a hero's journey. She insists she never had a big, life-affirming goal, or even a business plan. If you spend too much time analyzing things, she says, it "takes the juice out of it." She always just did what interested her, and stopped when it didn't.
Sometimes, well-intentioned people tell Apfel she should try to relax a little more—maybe put her feet up, or consider living in Palm Beach full-time.
Her response?
"I learned a long time ago that I can't live in somebody else's image," she says. "If I want to live my life my way, why shouldn't I? I don't give a damn. They can go peddle their papers."