Did Ivanka Trump Just Shift the Republican Stance on Parental Leave and Equal Pay?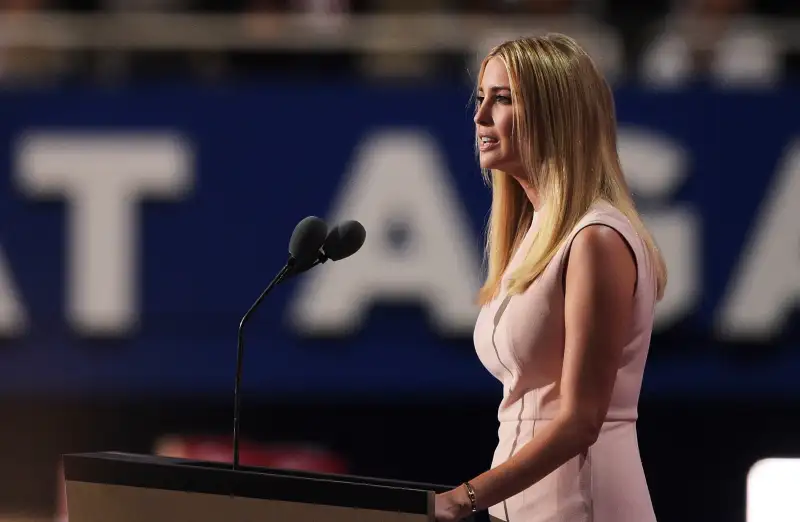 Jeff Swensen—Getty Images
As one of the headliners on the last night of the Republican National Convention, Ivanka Trump, the daughter of Republican presidential nominee Donald Trump, delivered a speech that seemed aimed at humanizing her billionaire father while firing up support among voters who are still unsure who to vote for in November.
Ivanka Trump used her national platform to depict her father as a boss who has routinely empowered and advocated for his female workers. As an executive vice president of the Trump Organization, she says, she knows this better than anyone. "At my father's company, there are more female than male executives, women are paid equally for the work that we do, and when a woman becomes a mother she is supported, not shut out," she said.
The speech, which addressed many important topics for women, was crucial for the Trump campaign, given the candidate's dismal support among female voters. And it was consistent with the younger Trump's long-publicized support of working women and mothers.
But it was also at odds with positions expressed by many Republican politicians, and included arguments that have failed to make it into the official GOP platform. Donald Trump himself has said that "putting a wife to work is a very dangerous thing" and that "My big mistake with Ivana" -- his ex-wife, and Ivanka's mother -- "was taking her out of the role of wife and allowing her to run one of my casinos in Atlantic City, then the Plaza Hotel."
His pick for vice president, current Indiana governor Mike Pence, has said working mothers emotionally harm their children.
Read Next: Why Dads Should Care About Mike Pence's Comments on Working Moms
Stressing Equal Pay?
One of her key points was on equal pay. Donald Trump "will fight for equal pay for equal work, and I will fight for this too, right alongside him," Ivanka Trump said.
And yet nowhere in the GOP's official platform is there support for closing the wage gap (or even acknowledging it). In fact, the wage gap is often derided as a myth by Republican politicians. (If you are a wage gap "truther," here are several excuses you can stop using to explain why women still make, on average, 79 cents for every dollar earned by a white man.)
The Republican party has also routinely blocked the Paycheck Fairness Act. "At a time when the Obama economy is already hurting women so much, this legislation would double down on job loss, all while lining the pockets of trial lawyers," then-Senate Minority Leader Mitch McConnell -- a Republican from Kentucky -- said in April 2014, one of the times the Senate voted on the Paycheck Fairness Act.
Affordable Childcare
Ivanka Trump also advocated making "quality childcare affordable and accessible for all." Indeed, subsidized childcare does enjoy wide support from experts who believe it would help bridge the gender wage gap and help women -- who often stay home after giving birth, due to the high costs of childcare -- reenter the workforce. And Donald Trump said last fall that providing affordable childcare for workers "is not a hard thing to do."
Read Next: How the Election Will Really Help Your Investments
But again, there is nothing about subsidized childcare in the Republican platform. And the GOP typically opposes other family-friendly work policies that would benefit workers, claiming they would hurt companies.
Virtually every Republican member of the House voted against granting paid parental leave to federal employees in 2009. Research has shown that paid leave "raises the probability that mothers return to employment later, and then work more hours and earn higher wages." It also does not seem to hurt businesses -- the GOP's primary objection -- according to the New York Times.
Read Next: 7 Ways for New Dads to Man Up on Paternity Leave
That Republican politicians oppose paid parental leave is surprising, considering it's perhaps one of the least controversial benefits for Republican voters: According to a Fortune-Morning Consult poll from April, "74% of registered voters said they supported requiring employers to offer paid parental leave for new parents." That's across party lines. Former presidential candidate Marco Rubio supported paid leave, but that didn't get him very far with GOP voters.
"Policies that allow women with children to thrive should not be novelties, they should be the norm," Ivanka Trump said last night. At least for now, her political party doesn't seem to agree.