James Shaw Jr. Stopped the Waffle House Shooter. Now He's Raising Thousands for the Victims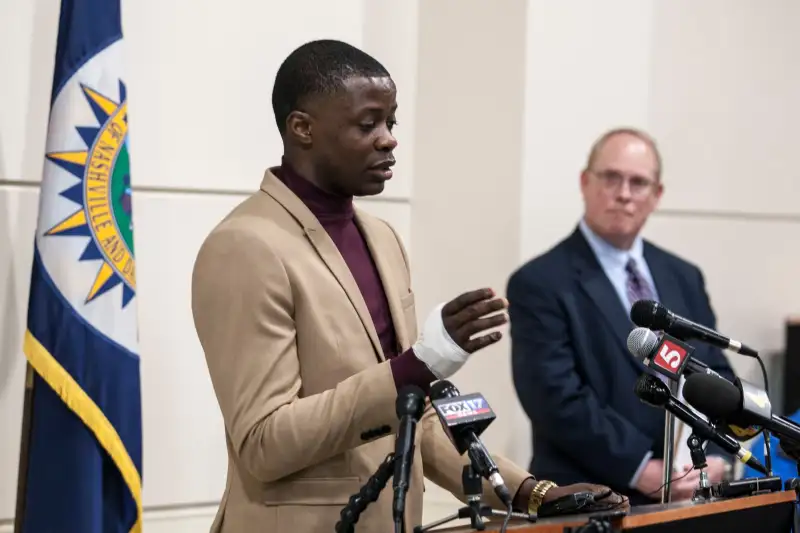 Rick Musacchio/EPA-EFE—REX/Shutterstock
Roughly 12 hours after it was created, a GoFundMe campaign to help the victims of this weekend's Waffle House shooting exceeded its initial $15,000 fundraising goal. By Monday afternoon, donors had brought the fundraising total to over $32,000.
Donors seem to have been particularly quick to contribute to the cause based on who created the fundraising campaign: James Shaw Jr., the 29-year-old hero who wrestled the Waffle House gunman's weapon away from him and stopped the killing. (Four people died and two others were wounded during the shooting, which took place in Antioch, in the Nashville metropolitan area of Tennessee.)
According to the Tennessean, James Shaw Jr. is the father of a 4-year-old daughter named Brooklyn, and an electrician technician who works for AT&T. He was dining at a Waffle House after 3 a.m. early on Sunday when the gunman, who was wearing only a green jacket, started shooting customers with an AR-15 rifle.
Shaw Jr. was unarmed, and initially hid in the Waffle House restroom's area. The gunman shot through the door, and Shaw Jr. was injured when a bullet grazed his arm.
"I think that's when I became alert about the situation and was like, there's kind of no running from this. Kind of like a fish in a barrel type thing and I'm going to have to try to find some kind of flaw or a point in time where I can make this work for myself," Shaw Jr. explained on "Good Morning America" on Monday morning.
During a pause in gunfire, Shaw Jr. charged the shooter and grabbed the gun's barrel, burning his hand in the process. He wrestled the rifle away before the shooter fled, naked.
"I was completely doing it just to save myself," Shaw Jr. told reporters at a news conference, the BBC reported. "I did save other people, but I don't want people to think that I was the Terminator or Superman or anybody like that. I figured if I was going to die, he was gonna have to work for it."
On Sunday night—technically the same day the shooting took place—Shaw Jr. created the GoFundMe campaign to help the Waffle House victims and their families. The fundraising page, which GoFundMe verified for Money as legitimate, says simply:
He originally set a fundraising goal of $15,000. By 9 a.m. ET on Monday morning, that goal had been reached. The total surpassed $16,000 by 9:30, and was nearly at $18,000 by 10 a.m. As of 3:30 p.m. it was over $32,000.
At the original time of publication, a massive manhunt was underway to find the alleged Waffle House gunman, Travis Reinking. Police said that Reinking may have "mental issues," and that anyone who sees him should assume he is armed and dangerous.
UPDATE: Police say that the suspected Waffle House shooter was captured on Monday afternoon.