JetBlue Lures Fliers with New Value-Priced Business Class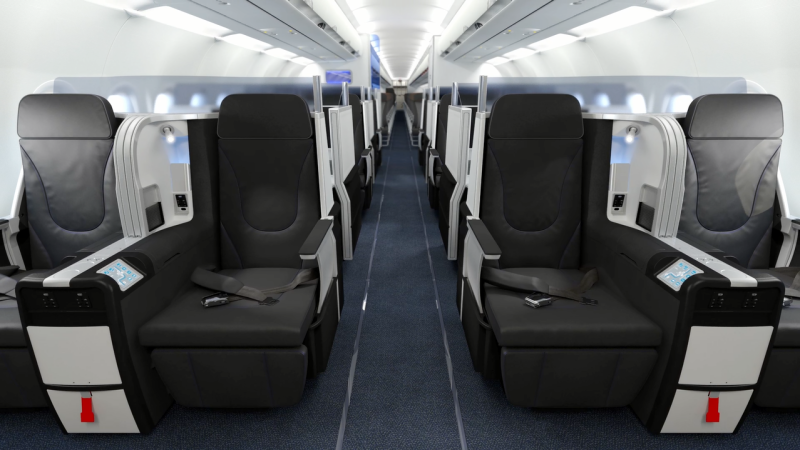 The once one-size-fits-all carrier JetBlue is introducing a value-priced business class service called Mint this week. The goal is to retain the more monied travelers who haven't been loyal to the airline on transcontinental routes between New York and Los Angeles or San Francisco. "We are introducing Mint, which is JetBlue's take on the premium product, and we hope that will help us win back those customers," says Jamie Perry, head of product development.
Mint will compete for business and high-end travelers with United's p.s. Premium Service and American's overhauled front cabin, which includes new A321T jets and a first-class section as well as business class. The new Mint section includes 16 lie-flat seats that have the longest beds in the U.S. market, says JetBlue. The seating arrangement is 2x2 and then 1x1, which allows for four private "suites" that each have a sliding door, giving you the option of closing yourself off from the other mortals on the plane.
The transcon market is worth perhaps $5 million a day industrywide. For years, JetBlue was leaking passengers because it lacked WiFi and posh seats on those six-hour flights—standard requirements for the Silicon Valley and Hollywood set.
JetBlue got wired last year, introducing Fly-Fi, which is being extended fleet-wide. Now it's taking care of the posh part. Service begins this week from JFK to Los Angeles, with JetBlue increasing frequency to seven flights a day from five; service between JFK and San Francisco begins in October, with frequency increasing from three times a day to five. "From a product and service perspective," says Perry, "we want to come in with something that we thought was head and shoulders above what everybody else is offering."
And for less. JetBlue figures that its lower fares (compared to other airline business class, that is) can lure a lot of new passengers up front. The target market is the traveler who is willing to pay a premium over coach, but not the 8x or even 10x that the majors now command. JetBlue's business class fares between JFK and LAX and SFO start at about $1,600 round trip, compared with $2,433 to $4,573 quoted by Kayak for similar flights on the major carriers.
After a firsthand look, I can certainly say that JetBlue's business cabin is as good as anything I've flown. There's a ton of storage in the seats (made by Northern Ireland's Thompson Aero) in the form of nooks everywhere—on the floor for your shoes, a little closet over your left shoulder for handbags or gadgets. And if you can't get comfortable in this chair, you need to push the Xanax button. The seat control has a Relax position that slides the chair halfway down, and there's a massage function, too—Magic Fingers in the sky. Converting the seat to lie-flat mode takes a little getting used to; you have to scootch up a bit, especially if you are 6'2".
JetBlue offered no fresh food until recently, so it had to up its game to play in the business section. Meals are provided by New York City's Saxon+Parole, a chichi locavore specialist. My sampling of three entrees included an excellent Portobello mushroom mousse, a rich shrimp and mascarpone grits, and a bland Long Island duck & pistachio galantine. The wine list is All American. There's Blue Marble ice cream for dessert and a little pastry box on your way out.
Perry told me that Mint is part of the company's effort to "grow up" as it approaches its 15th year in business. The simple approach that was once its centerpiece doesn't work as well as the company has expanded. The airline now flies everywhere from Lima, Peru, to Anchorage, Alaska.
Above all, JetBlue's entry into business class is good news for passengers. The intensifying competition signals lower prices for the most elite seats in the sky, and who couldn't use a little more luxury for less?