How a Gift From Kate Spade Helped This Young Woman Succeed at Her First Big Job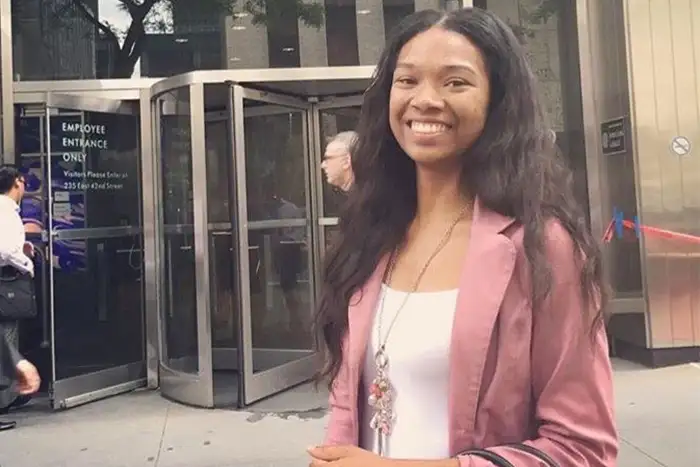 Tassion Minor was gearing up for her upcoming summer internship in New York City when she realized she didn't have many office-ready outfits in her closet at home in New Orleans.
"I was being exposed to different professional opportunities, many of which required me to dress in business attire, but at the time my wardrobe was lacking in that," Minor, who was 19 at the time, said. "And money was also tight."
But Kate Spade helped her change that. Thanks to the fashion designer, she had a small collection of designer clothes — colorful dresses, blazers and a statement-making red purse — by the time she started her internship at the pharmaceutical company Pfizer in New York. Spade, who committed suicide in her Manhattan apartment earlier this week, had donated to the PoweHERful foundation, a non-profit founded by journalist-turned-CEO Soledad O'Brien that helps young women graduate from college through mentorship and financial assistance.
Minor and the other PoweHERful scholars were treated to a shopping spree during a weekend trip to New York in 2015 to get them ready for their internships the following summer. They arrived at O'Brien's Manhattan apartment to find it had 30 boxes filled with Kate Spade clothes and accessories. "There were just so many clothes, and they said "OK shop, ladies!" Minor recalled. "I was just so thankful and grateful for that."
Her new wardrobe, filled with Kate Spade's signature pops of color, helped Minor's confidence at work grow "astronomically."
"I was always taught that first impressions are formed in an instant before you even open your mouth," Minor said. "I was being presented with all of these amazing opportunities, but I didn't have any business clothes and I wouldn't have been able to have been as successful as I was if I hadn't been able to dress professionally."
That self-esteem boost was common for PowHERful interns who got the special Kate Spade treatment and meant more to the girls in the program than the designer and her staff initially realized, O'Brien said.
"The idea that one of our girls could walk into an office situation at a big company that offered her a great internship and look like every other young woman, and be perceived and valued as much as every other young woman who walked in the door was not a small thing," O'Brien told Money. "It gave them a real sense of evening out the playing field they were walking into in their internship. I don't know that there's a lot of ways you can do that for a young person, and she did that. Kate did that."
Getting ready for the first day of her internship at Pfizer, Minor said she looked in the mirror wearing her new Kate Spade outfit: white capri pants with bows tied at the bottom, a white dress shirt and a pink blazer for a pop of color, topped off with a cream-colored Kate Spade bag, and thought to herself, "I look great."
"So when I walked in, I wasn't really nervous anymore," she said. "Being able to dress nicely and look presentable helps with the nerves. People even complimented my outfit and my bag, and it was like 'Wow, thank you Kate. Thank you Kate.'"
The New Orleans native has now dedicated the entire top shelf of her closet to the Kate Spade bags and accessories she brought home with her from New York summer.
And she learned that she wasn't the only one who cherished her Kate Spade bags. At one of her internships, Minor put her bag on the floor when she sat down at her desk. Her supervisor told her it was a great bag, and looking closer said, "Oh my god, it's Kate Spade! Don't put that on the floor. It deserves to sit on the table."
Since then, Minor said she's never placed any of her Kate Spade bags on the floor.
"Any other handbag, but not Kate Spade," she said.