How This Instagram Influencer Made More Than $4 Million in Sales — In Just One Day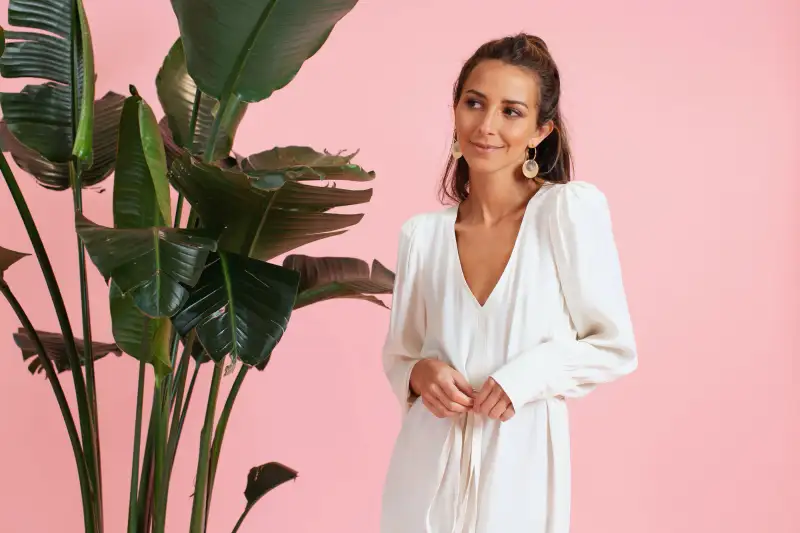 Anna Chudnovsky—Courtesy of Something Navy
Each product we feature has been independently selected and reviewed by our editorial team. If you make a purchase using the links included, we may earn commission.
The woman who's been called the "future of fashion" has advice for aspiring Instagram influencers: Stop with the staged photos posing with croissants or balloons against a beautiful backdrop.
"My advice is to not do that," she says.
If you know what's good for you, you'll listen. Arielle Charnas, 31, went from working retail to becoming a powerhouse fashion influencer in a few short years. Her Instagram account, @ariellecharnas, boasts 1.1 million followers, and her popularity extends offline, too. At a recent event at Manhattan's 92nd St. Y featuring Charnas and Eva Chen, head of fashion partnerships at Instagram, young women dressed from head-to-toe in her clothing brand, Something Navy, formed a line that stretched down the block.
Charnas' outsized popularity can be attributed to her stylish yet attainable aesthetic and her honesty with followers, but there's something to be said for being in the right place at the right time. As a millennial blogger in Instagram-friendly New York City — which also happens to be the fashion capital of the world — Charnas almost immediately made a splash on social media. Before others had grasped the power of the platform — and it wasn't yet saturated with thousands of similar accounts — Charnas was gaining 100,000 followers every few months.
One of those followers was Karen Rabinovitz, co-founder of the Digital Brand Architects agency, one of the first social media consulting companies to tap into the power of bloggers and their potential for brand building. Rabinovitz began bringing Charnas to photo shoots to snap behind-the-scenes images to bring her online content to the next level.
Since then, she's grown her style blog Something Navy into an actual business with a clothing line, opened her own office and hired a staff of five young women, engaged in more than 300 paid social media partnerships, and is exploring TV opportunities. But her most impressive feat may be her record-breaking Something Navy collection, which crashed Nordstrom's website when it launched in September. The launch reportedly raked in more than $4 million in sales in less than 24 hours, according to fashion news site Business of Fashion.
The collection of elevated basics, which featured pieces ranging from $19 to $349, sold out in hours. Pete Nordstrom, the retailer's co-president, called it the most successful launch Nordstrom has ever had, and Charnas has a multi-year deal to design additional collections. Her next (actually the fourth) Something Navy line comes out in February and the highest price point is $250.
Despite her success, Charnas remains relatable to her fans by sharing everything about her life on her Instastories and blog, from postpartum anxiety (she has two daughters) to her thoughts about CBD oil.
Charnas talked with Money about not disappointing her followers, her biggest early purchase, and building a brand from the ground up.
When did you first start making money?
When it was 2010, brands didn't understand what influencers were, so no money was going toward what we were doing. If it was, it was like $300 or $500 [to sponsor] a full blog post. That obviously wasn't enough for me to sustain a lifestyle in New York City, so I worked as a salesgirl at the Theory store in the Meatpacking District for like a year and half.
I was doing these small little blog posts on the side. I got a job [with Rabinovitz' help] at a shopping website based in Long Island called Singer22. They hired me to be their model, style the outfits, and do blog posts on their website for a couple thousand dollars. I was able to quit Theory and do that for eight months, and while I was doing that the whole [influencer] industry started building and I was able to do this full time.
What happened after Instagram took off?
It was like a quick fix. Everyone was able to see your pictures and what you were wearing and doing in real time, and everybody obviously fell in love with that. The first three years went pretty fast because Instagram wasn't so saturated yet. I was going up like 100,000 followers every few months — it was wild. It grew slower when so many more girls started joining Instagram and becoming bloggers, and I think that's when people started to realize influencer marketing was a huge asset to a business.
Fans were upset after Something Navy's collection crashed Nordstrom's site and the sizing of items was off. How did it feel getting harsh feedback from your followers?
It's hard to see some people unhappy with sizing, but we don't have anything to do with that aspect. When that happened, we immediately called Nordstrom and had a three-hour call with them regarding fit. They fit everything on a sample model and I fit everything on myself beforehand, but their small is considered a size 4-6, which is very different than most contemporary brands. So that's something we've been working on with them.
On the Something Navy Instagram, we're constantly letting people know what specific items to size down in, what's true to size and what's more oversized, because we don't want them to feel like they have to return something. For the February launch we've made edits to the fit to make sure it's more true to size.
What did you learn from that unexpected bump in the road?
My whole goal is to create products that my followers want and they're happy with and can wear every single day. If something isn't fitting and they're not happy, it's the first thing we're going to fix.
Are there challenges to having an all-female workplace?
Things can get argumentative, but at the end of the day we all have the same end goal. I don't want to toot my own horn, but I think I have a really good judge of character, I found a really great group of women. The reward is disrupting the fashion space as a team of five.
What's the first big item you ever splurged on?
I used to always shop at H&M, Forever 21, and Aldo, and then my older sister said you need to stop spending your money on clothing like this, you have to start investing in pieces you can have forever. She said to go a couple of weeks without going to H&M and Forever 21 and instead buy a pair of shoes that you can really invest in that you can one day hand down or sell.
We went to the store Kirna Zabête in Soho and I bought a pair of Proenza Schouler snake skin pumps (which cost upwards of $1,000). That was a huge deal for me and that was my first designer shoe.
Any advice for people who want to be influencers?
Bring something different to the table by being yourself. Drop all the fancy edited photos and show the realness. That's honestly my best advice if you want to have a following and do this for a living.