5 Amazing Facts About Kraft Macaroni and Cheese and Heinz Ketchup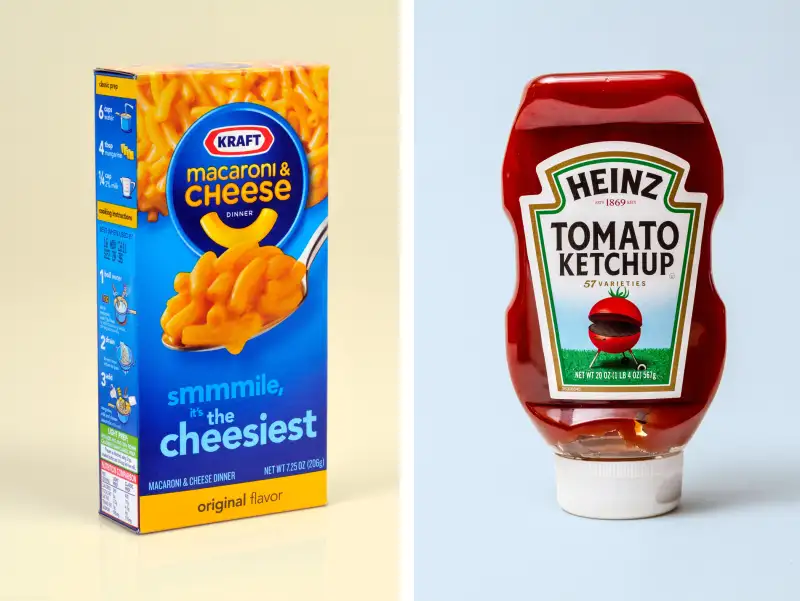 When you heard about the new merger of Kraft Foods Group and H.J. Heinz Co., chances are you thought about each brand's best-known product—Kraft Macaroni and Cheese and Heinz Ketchup, respectively. Well, here are a handful of things you might not know about these two ubiquitous items, which have been mainstays in American pantries and supermarket shelves for decades.
Heinz sells more single-serve ketchup packets annually than there are people on earth. The Heinz Company's trivia page reveals that it sells 11 billion single-serve ketchup packs per year. "That's 2 packets for every person on earth," the site explains. The company also sells 650 million bottles of Heinz Ketchup annually in 140 countries, and uses two million tons of processed tomatoes per year, more than any other business in the world. (It uses tomatoes not only for ketchup, but in tomato sauces and other products.) Oh, and the famous "57 Varieties" on ketchup bottles? It means nothing. Henry Heinz thought it was a lucky number, so he used it in advertising and put it on the company's products, which now number into the thousands.
Kraft Macaroni and Cheese has always been dirt cheap. Kraft began selling boxes of macaroni and cheese in 1937, during the heart of the Great Depression, and the main sales pitch was that you could feed a family of four for 19¢. Consumers bought eight million boxes in the first year, and 50 million boxes were sold during World War II, when meat and dairy were in short supply, and when one food ration stamp was valid for two boxes of mac 'n cheese. At Ranked, Kraft Macaroni & Cheese is currently listed at #3 among voters weighing in on "The Crap You Eat in College, Ranked" (after pizza and Ramen noodles), in which this is the criteria: "Must be cheap, fast and easy. Bonus points for gross." It's also been described as "One of America's Favorite Drunk Foods."
The fastest recorded time for eating each is about the same. The unofficial record for downing a box of Kraft Macaroni & Cheese (once it's cooked and mixed, of course), is 33.8 seconds, while the Guinness world record for drinking a full bottle of ketchup is only slightly quicker, at 32.37 seconds.
Kraft Macaroni and Cheese is sold in at least 50 varieties. The company's current product list shows at least 50 macaroni and cheese varieties sold in stores, including 18 different flavors that come in the classic blue box format, including SpongeBob and Star Wars shapes, Garlic & Herb Alfredo, Three Cheese Jalapeno, and Cheddar Explosion. That's just in the U.S., mind you. Different products are sold in other countries, or at least they're sold under different names, as in Canada where macaroni and cheese is marketed as Kraft Dinner. Speaking of which …
Canadians love both iconic products—especially together. Among the thoughts that the beloved Canadian band Barenaked Ladies had when creating a certain crowd-favorite song about striking it rich:
And what goes with Kraft Dinner? That's right: ketchup. In the song, the band jokes that if and when they have big bucks they'll "buy really expensive ketchups… That's right, all the fanciest Dijon ketchups." But everyone knows the ketchup of choice up north, and all over the world for that matter, is Heinz.
The classic (Canadian) comedy troupe "Kids in the Hall" also played up the curious food combo in the sketch below, in which a pair of poor street performers are rewarded for their dedication to macaroni and cheese and ketchup with several years' supply of both:
https://www.youtube.com/watch?v=_W2fDGM1IRU
One exasperated Canadian writer even declared Kraft Dinner "our de facto national dish" a few years back because it is so popular in the country. Finally, today, in light of the Big Food merger, the Canadian press was compelled to point out that many people "like Heinz ketchup with their Kraft Dinner." So the deal especially has some natural synergy to it north of the border.