The U.S.'s Most Expensive House Hits the Market for $159 Million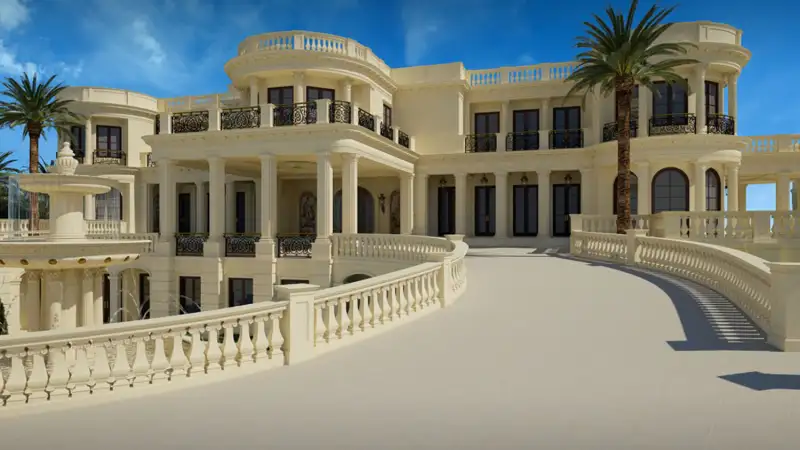 [videoid=4577967316001] It's not exactly shocking that home prices keep soaring. What's a little more surprising is that a house that didn't sell for $139 million last year is back on the market for an additional $20 million this fall. Should it sell for its new $159 million listing price, it would be the most expensive sale in the U.S. ever.
Modeled after the Palace of Versailles, the 65,000-sq.-ft. Le Palais Royal is located on 4.5 acres in Hillsboro Beach, Fla., and comes with six waterfalls (one of which is 25 feet tall), a $2 million marble staircase, a heated plunge pool, a 30-car subterranean garage, a 3,000-bottle capacity wine cellar, and a 1,300-gallon built-in aquarium, according to the Wall Street Journal. There are also two 3,000-sq. ft. guest houses, which share a pool and are still under construction. The current owner is Robert Pereira, the founder of a construction company.
If you're considering the property but need just a little bit more to justify the $20 million increase, take note: "the property includes 465 feet of beach on the Atlantic Ocean, with a 492-foot private dock that can accommodate a 185-foot yacht," according to Forbes. Would you really trust your superyacht to a lesser dock?
The current recordholder for the most expensive U.S. home is the $147 million East Hamptons estate that hedge fund manager Barry Rosenstein bought last year. But that's nothing compared to the $455 million asking price of Pierre Cardin's iconic Bubble Palace in the south of France or the projected $500 million mega-mansion currently under construction in Los Angeles.
Read Next: The World's 10 Most Expensive Homes