LendingTree VA Loans Review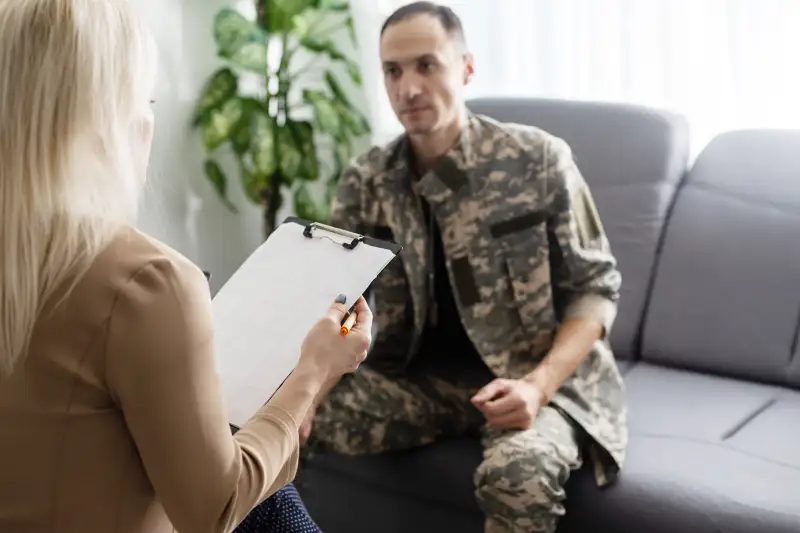 LendingTree is an online loan marketplace for all your VA loan needs. Its website makes it easy for customers to compare mortgage rates and offers from over 1,500 lenders offering U.S. Department of Veterans Affairs (VA) loans in just minutes.
If you're a home buyer, you can get quotes for purchase loans, refinancing loans, jumbo loans, home improvement loans and other types of VA financing through LendingTree's mortgage marketplace. If a VA loan isn't a good fit, you can check out conventional and Federal Housing Administration (FHA) loans on the website.
Read on to learn more about LendingTree, its VA loan offerings, the loan request process and more.
Best for Low Credit Scores
LendingTree is a great option for veterans or service members with low credit scores. A wide range of options are available for those with credit scores averaging around 585. There are fewer qualifying requirements for VA mortgage loans than for regular mortgage loans, making them accessible to service members with low credit scores. Veterans, active-duty service members and eligible surviving spouses can access VA loans through the LendingTree marketplace.
LendingTree VA Loans Pros and Cons
Pros
Shows many loan options
Provides loan resources
Cons
A lender will perform a hard credit check when you apply for a loan through LendingTree
Possible spam and hidden fees
Pros explained
Shows many loan options
LendingTree is a go-to site for comparing VA loan mortgages from over 1,500 lenders, including the best mortgage lenders.
With so many options for potential lenders, LendingTree's online platform makes it easy to find the best loan to meet your specific needs. You can get great loan deals and take advantage of competitive rates and terms offered by various companies.
With LendingTree's streamlined application process, borrowers have a greater chance of getting approved in less time than it would take via traditional channels.
LendingTree matches borrowers with lenders that can provide the most suitable loan and rate options. It works by analyzing and sending out your information to up to five options. Next, you'll get their offers so that you can compare rates and terms.
Provides loan resources
By using LendingTree, you get access to several loan resources to help you manage your finances and pay back what you owe responsibly. For instance, you'll get a free credit monitoring service that tracks your creditworthiness and alerts you about the potential misuse of your personal information. You can also access mortgage payment calculators and personalized budgeting insights, helping you save money.
Cons explained
Hard credit checks from lenders
Like other online loan marketplaces, LendingTree does a soft credit check when matching you with potential lenders for VA loans. However, when you apply for a loan through the website, the chosen lender will perform a hard credit check, which can cause a slight dip in your credit score and remain on your credit report for up to two years. If multiple lenders do a credit check within a 45-day window, these checks will show as a single inquiry on your credit report as creditors realize you are only buying one home.
Possible spam and hidden fees
When you give your information to LendingTree, you may receive unwanted emails and calls from various companies and lenders. According to online reviews, once the company shares your contact information, you will receive an influx of spam calls from third-party lenders.
Additionally, mortgage lenders from LendingTree may offer promotional rates that are only valid for a brief period or only for certain types of loans. Be aware that some lenders may charge processing or closing fees, which can add up. It's also important to consider other factors, such as payment flexibility and customer service when comparing loan offers on the platform.
LendingTree VA Loans Plans and Offerings
LendingTree offers several types of VA loans. Below are the loan types available to VA-eligible borrowers:
Purchase loans
Energy-efficiency improvement loans
Land and construction loans
Home improvement and renovation loans
Refinancing loans
VA loans offer several advantages over conventional loans, including the ability to secure up to 100% financing with little or no down payment. These loans also do not require private mortgage insurance and can have lower interest rates than conventional or FHA loans. That feature can be especially beneficial when Freddie Mac mortgage rates edge up. The average mortgage rate for 30-year VA loans closed in the 30 days leading up to April 6, 2023, was 6.21%, according to ICE Mortgage Technology. That compares to a rate of 6.66% for 30-year conventional loans closed in the same period.
Active-duty service members, veterans and eligible surviving spouses can use LendingTree to find competitive VA loan rates from leading lenders, such as Mutual of Omaha Mortgage, AmeriSave and North American Savings Bank.
Loan terms for VA loans are typically 15 to 30 years. The VA loan funding fee, a one-time fee charged by the Department of Veterans Affairs, ranged from 1.25% to 3.3% in 2022.
For homeowners who want to lower their interest rate by refinancing their existing mortgage or want additional cash by borrowing money from the equity in their home, LendingTree can provide them with a variety of the best mortgage refinance and home equity loan options, as well.
LendingTree VA Loans Pricing
LendingTree lenders offer a wide range of VA refinance mortgage programs, including the interest rate refinance loan (IRRRL) program and VA cash-out refinance. LendingTree works exclusively with lenders experienced in working with VA loans so that borrowers can take advantage of some of the most competitive rates available on the market.
Loan rates fluctuate daily, so gather the top quotes on the same day to ensure you compare the correct rates. When you find a home, get a mortgage rate lock and keep track of the expiration date to avoid a costly extension or relock fees. You can use LendingTree's mortgage calculator to estimate the monthly payments and total interest you would pay by entering the home price, loan term, down payment amount and interest rate.
LendingTree VA Loans Financial Stability
If you choose to request a loan through LendingTree, keep in mind that you should research the financial stability of each lender you get offers from. Some of LendingTree's main partners include Rocket Mortgage and Flagstar Bank, which both have a rating outlook of "Stable" from the business credit rating agency Fitch.
LendingTree VA Loans Accessibility
LendingTree's site offers an array of helpful materials, such as comprehensive educational content, FAQs and video tutorials that help customers understand different types of loans. Also, customers can take advantage of live chat support or phone assistance if they have any questions or concerns regarding their loan application.
Availability
LendingTree's customer service team is available Monday through Thursday from 8:00 a.m. to 5:00 p.m., 8:00 a.m. to 9:00 p.m. on Friday, 8:00 a.m. to 8:00 p.m. on Saturday and 10:00 a.m. up to 7:00 p.m. on Sunday (all times are EST). However, LendingTree does not offer in-person assistance, so if you want to meet with a loan officer, you may want to work with a local bank or credit union.
Contact Information
LendingTree can be reached via the secure messaging platform on its website, or you can speak with a representative at 800-813-4620.
User experience
You can create an online account with LendingTree to request quotes for financial products and get money management advice. However, once you've chosen a lender and secured a mortgage, you cannot manage your mortgage using its platform. To make payments or view loan statements, you must work with the lender that issued the loan.
LendingTree VA Loans Customer Satisfaction
LendingTree is accredited by the Better Business Bureau and has an A+ rating. However, LendingTree was not included in JD Power's mortgage satisfaction studies because it is an online marketplace rather than a lender.
LendingTree has received positive reviews from customers. However, there are several customer complaints regarding getting non stop spam calls and unsolicited emails after trying to get a quote for VA mortgage rates.
On a positive note, the company has high ratings on trusted online review sites. Customers have praised the responsiveness of agents and how quickly their loans were processed.
LendingTree VA loans FAQ
What is the minimum credit score required for VA loans?
There is no minimum credit score required for a VA loan. Whether you will be accepted for a loan depends on each lender's requirements. However, LendingTree lenders may offer less competitive interest rates or loan terms for borrowers with lower scores. Some lenders may be more flexible than others regarding credit score requirements. Research potential lenders for their criteria before applying for a loan to increase the odds of finding a good fit.
Why are VA loans not preferred by some consumers?
Due to the complex nature of the underwriting process on VA loans and the requirements associated with them, they can present a challenge in terms of closing time. According to Tony Davis, Chairman and CEO of Atlantic Home Mortgage, underwriting can take longer, making VA loan offers less competitive for cash or conventional buyers.
VA loans also require a one-time funding fee. But this fee can be financed into the mortgage if you don't want to pay it upfront.
Will LendingTree hurt your credit?
Different lenders have their own procedures as to when they request a credit report, so it's a good idea to check with the lender in advance to find out what their policy is. Mortgage lenders from LendingTree perform hard credit checks for mortgage loan applications, which will lower your credit score slightly. Furthermore, these hard inquiries can stay on your credit report for up to two years.
Unlike banks and credit unions, marketplace lenders, such as those on LendingTree, may not take into account any financial circumstances that an individual customer may have when offering loan rates. This could create further complications down the line.
However, there are steps you can take to help protect your credit score, such as monitoring your credit report regularly and paying down debt. Taking these precautionary measures can help you maintain a healthy relationship with lenders and ensure you get the best terms possible.
How We Evaluated LendingTree VA Loans
We considered the following factors when reviewing LendingTree for VA loan options:
Number of lenders available for VA loans
Ease of using the LendingTree marketplace
Customer service ratings from online reviews
Summary of Money's LendingTree VA Loans Review
When shopping for a VA loan, LendingTree can be an excellent resource for gathering multiple quotes and comparing rates from leading lenders. But keep in mind that not all lenders are included in their network. To ensure you get the most competitive rate, conduct research beyond what is available on LendingTree.
We found that lenders on LendingTree offered competitive rates and fees for VA loans. Furthermore, LendingTree lenders also featured flexible repayment options. Their customer service reviews were among the highest rated in our comparison group, with many customers citing their helpfulness and attentiveness throughout the process.
We recommend checking out our list of the best mortgage lenders as a starting point for your research. Once you have done your due diligence, you can use the rate comparison information gathered through LendingTree to make an informed decision and select the loan that best fits your budget and needs.