LightStream Auto Refinance Review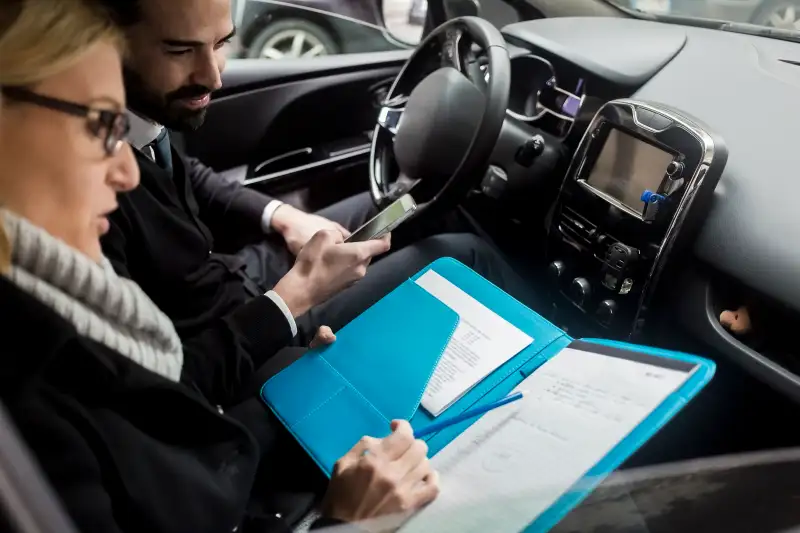 If you're looking to refinance your car, especially a classic or high-mileage vehicle, you'll find many auto lenders have restrictions on the age and types of vehicles they'll finance. LightStream, the online lending platform of Truist Bank, provides auto loan refinancing, lease buyouts and loans for new and used auto purchases for any type and age of vehicle. This overview explains everything to know about LightStream auto refinance, including the perks it offers, its features and how it works.
Best for classic cars
Whether you want to refinance an existing classic car loan or buy a new classic ride, you can secure financing regardless of the age of your vehicle or the number of miles it has if you meet LightStream's lending requirements. LightStream places no restrictions on the cars it will finance and doesn't require an appraisal. Once you secure LightStream financing and receive your loan proceeds, you can pay off your existing classic car loan or pay cash for your new classic car.
LightStream auto refinance pros and cons
Pros
No loan origination fees
Same-day funding is possible
No vehicle restrictions
Cons
High minimum credit score requirement
A hard credit inquiry is required
Pros explained
No loan origination fees
Some auto refinance lenders charge an origination fee as high as 1% to 8% of the loan to cover the cost of loan processing. The lender typically deducts the origination fee from your loan proceeds before dispersal. LightStream doesn't charge an origination fee or other fees, including late payment fees or prepayment penalties.
Same-day funding is possible
If you need immediate funding, it's often possible with LightStream. Complete your application and sign your loan documents by 2:30 p.m. EST on any bank business day, and you may receive your loan proceeds that same day, depending on your bank.
No vehicle restrictions
Some lenders restrict the types and ages of vehicles they'll finance. If you qualify for a LightStream refinance, you can secure funding for any car, regardless of make, model, age or mileage. LightStream won't request an appraisal, even for classic or high-mileage vehicles.
Cons explained
High minimum credit score requirement
LightStream only considers applicants with good to excellent credit and several years of credit history. New credit and fair-to-poor credit borrowers will probably need to look to other lenders.
A hard credit inquiry is required
LightStream doesn't offer a soft credit inquiry for preapproval like some lenders do. A hard credit inquiry is made during the application process to determine your creditworthiness.
LightStream auto refinance offerings
LightStream lends for almost any auto financing need if you have good-to-excellent credit. You don't have to worry about an appraisal, restrictions or paying any loan fees.
If you qualify, you might be able to borrow up to $100,000 for any of LightStream's auto loan offerings, a higher limit than many other lenders. However, you might also have a slightly higher annual percentage rate (APR).
Before choosing a lender, you should compare the rates, loan terms and lending requirements and restrictions of the best auto refinance companies.
Auto refinancing
LightStream provides refinancing of any car loan. The only requirement for refinancing a new auto loan is that the loan be reported to the major credit bureaus and appears on your credit report.
Auto purchasing
LightStream offers financing for any new or used vehicles, whether you're buying from a dealer or a private owner. Brushing up on how to buy a car before beginning your new car search can save you money on the car price and financing.
Auto lease buyout
Whether you're nearing the end of your auto lease or somewhere in the middle and want an early buyout, LightStream will lend the funds to buy out your lease contract. You can get an auto lease buyout loan, pay off your lease contract and make payments to LightStream on a car you own rather than continue making payments for a vehicle the dealership owns.
LightStream auto refinance pricing
LightStream doesn't charge any fees, including origination, late or prepayment penalties. You also don't have the cost of an appraisal since one isn't required. The only cost you have with a LightStream refinance is loan interest. LightStream's auto refinance APRs are slightly higher than some other lenders, but some of those lenders charge loan origination fees or have restrictions on the type and age of vehicles they will refinance.
The APR you receive will depend on several factors, including your credit profile, the loan amount, whether you elect auto-pay or monthly invoicing and the loan length. The shorter repayment terms often come with the lowest rates. You'll also receive a 0.50% APR discount if you choose auto-pay as part of your loan terms.
LightStream's Beat Rate Program may also help you get an APR discount. If you're approved for a better APR from another lender, LightStream may offer you an APR that's 0.10% lower than the offered rate. The other loan must be an unsecured loan with the same terms and based on the same credit profile.
LightStream auto refinance financial stability
LightStream is the online lending division of Truist Bank. Initially owned by SunTrust, LightStream lending became part of Truist in 2019 when its parent company merged with BB&T Bank to form Truist Bank. According to the Federal Reserve, Truist is one of the 10 largest banks in the U.S. It has an A+ Better Business Bureau (BBB) rating.
LightStream auto refinance accessibility
LightStream may refinance any car loan, but it doesn't lend to all borrowers. Below, we outline some of LightStream's borrower requirements and what you can expect from the LightStream loan process if you apply.
Availability
LightStream refinancing is available for any vehicle in all 50 states and Washington, D.C. You won't have to get an appraisal regardless of the car's age, make, model or mileage. However, you must have good-to-excellent credit and a credit history that shows the following:
A mix of major loan types in addition to your auto loan, such as a mortgage, installment loans and major credit cards
On-time repayment of all debts with few delinquencies or other problems
A good debt-to-income ratio
The auto loan you're refinancing must appear on your credit report. If you're refinancing a brand new auto loan through LightStream, you must wait until the original loan has been reported to the credit bureaus and appears on your credit report. However, there is no other waiting period when refinancing a new auto loan.
Contact information
You can only apply for LightStream auto refinancing on the LightStream website. If you need customer service, you can reach out via email with questions or to schedule a phone call. A LightStream customer service representative will respond during business hours Monday through Friday, 9:30 a.m. to 7:00 p.m., and Saturday, noon to 4:00 p.m. EST.
User experience
You may be familiar with how auto loans work. Borrowing from LightStream is different from traditional auto lending since LightStream provides unsecured rather than secured loans. You won't be putting your car up as collateral, so there is less paperwork to complete.
The only way to apply for a LightStream auto loan is online, and you can't get LightStream pre-approval. Its simple application process reportedly takes just a few minutes to complete as long as you have your social security and driver's license numbers, employment history and income information handy.
If approved, you'll receive a loan offer based on your creditworthiness, requested loan amount, your vehicle and other factors. If you accept the loan offer, you can e-sign all required documentation. By signing up for auto-pay during the loan approval process, you'll receive an APR discount of 0.50%. You may receive same-day funding if your application is approved and you complete all required loan documentation by 2:30 p.m. EST on a business banking day.
You'll repay your loan per the terms of your loan contract. If you want to pay down your loan principal, you can do so without penalty, but you must make the extra payment on the same day as your regular monthly payment. Since the loan is unsecured, if you default on your loan, LightStream can't repossess your car.
LightStream auto refinance customer satisfaction
LightStream wants to ensure every customer has a favorable loan experience, as demonstrated by its Loan Experience Guarantee. If you apply for LightStream auto refinancing and aren't completely satisfied with the experience, you can complete a questionnaire to help LightStream improve its service. You'll receive $100 for completing the questionnaire if you submit it within the first 30 days after receiving your loan proceeds.
If you read through customer testimonials on the LightStream website, you'll find an overall 4.9-star rating (out of 5 stars) based on more than 26,000 reviews. LightStream also has an A+ rating with the Better Business Bureau.
Most LightStream reviews aren't specific to auto refinancing, but the lending process is the same for all of LightStream's loan offerings. Many positive reviews refer to LightStream's quick, hassle-free application and funding process and lack of fees. Negative reviews are often from denied applicants rather than approved borrowers reporting a bad experience, although some borrowers reported unresponsive customer support.
LightStream auto refinance FAQ
Is LightStream a reliable lending company?
SunTrust bank formed its LightStream online lending platform in 2012. It has an A+ BBB rating.
Does LightStream offer a pre-qualification process?
You can't get pre-approved for LightStream loans. You must go through the application process to determine if you qualify. LightStream will perform a hard credit inquiry to determine creditworthiness as part of the application process.
If you're in the market for a new or used car rather than an auto refinance, it can help to
get preapproved for a car loan
from another lender before you begin car shopping in general, especially if your credit isn't great.
Can I only refinance an older car through LightStream?
LightStream has no lending restrictions on the age of a car or its mileage. So, whether your vehicle is old or new, if you qualify for LightStream refinancing, the car will too.
Is a refinance auto loan from LightStream worth it?
You'll find that although LightStream might not offer the
best car loan rates
, it does have competitive rates. Also, its lack of fees, appraisal requirements and lending restrictions make it an affordable option for many borrowers. If you have a classic car or a high-mileage vehicle, LightStream might be your best lending option despite its higher APRs.
How we evaluated LightStream auto refinance
We reviewed LightStream auto refinancing based on the following features:
Accessibility: We researched loan requirements and lending restrictions to determine which borrowers and types of vehicles are likely to qualify for LightStream auto refinancing.
Loan details: We evaluated the types and terms of LightStream auto refinance loans, including repayment terms, maximum loan amounts, fees and APRs, compared to those of other lenders.
Customer satisfaction: We looked at LightStream's BBB rating, ratings on trusted third-party consumer review sites and reviews on the LightStream website.
Financial stability: We considered the number of years LightStream has been an online lender and the stability of Truist, the company that owns the LightStream lending platform.
Summary of Money's LightStream auto refinance review
LightStream is an online lending platform that provides auto refinancing, new and used auto loans and auto lease buyouts in addition to its many other unsecured loan offerings. It finances any vehicle regardless of its make, model, age or mileage, making it an ideal lender for classic car owners with good credit.
Its APRs may be slightly higher than some other lenders, but it doesn't charge any fees and provides same-day for many borrowers. With a good-to-excellent credit profile, you might qualify for up to $100,000 with a 36- to 84-month repayment term. LightStream's term flexibility and lack of fees and lending restrictions make it an auto refinance option worth considering if you own a car that other lenders won't finance despite your good credit.
You also want to get a great rate on your auto insurance. Carefully research the best car insurance companies and compare options for the best deal.