What Is Lindsay Lohan Doing for Lawyer.com? Here's What She Told Us About Her New Side Gig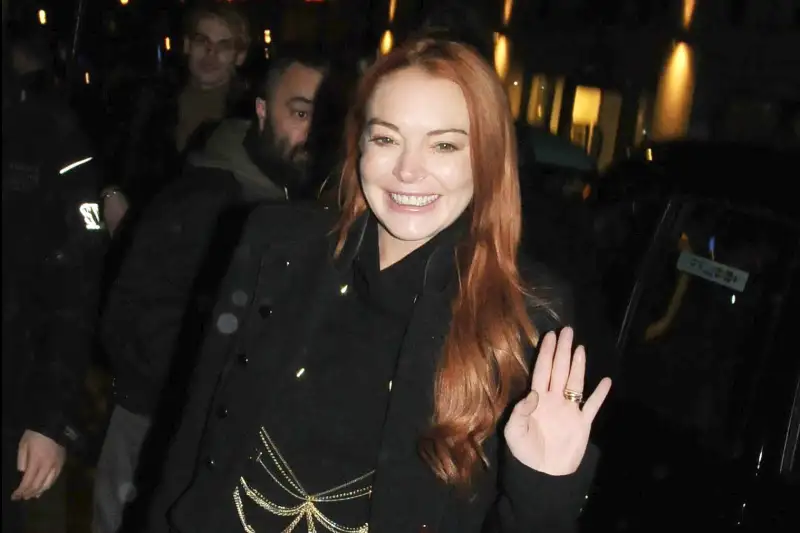 Wearing oversized sunglasses and a red-and-white headscarf, Lindsay Lohan is throwing her hands in the air as she careens over a mountain of sand in a dune buggy. She blows a kiss to her cell phone camera while people dance around her, music blaring.
You'd be forgiven for thinking this is all part of a movie, that Lohan is on set filming the next Parent Trap or Mean Girls. She's not. She's promoting Lawyer.com—and having some serious fun doing it.
Lohan debuted as the official spokeswoman for the little-known attorney service last month. Lohan, who has been involved in more than a few court cases, is embracing the partnership.
"Being a spokesperson for a tech company had a nice ring to it," the 31-year-old actress tells Money in an interview, admitting she'd never heard of the firm until last year.
But now, she's devoted to the venture. "I realized there was an angle here where we can make some really great content and do it in the name of helping people," Lohan adds.
So what is Lawyer.com?
If you don't know anything about Lawyer.com, you're not alone.
Don't confuse it with Lawyers.com, a totally different website that's associated with the 150-year-old Martindale-Hubbell brand. The one we're talking about was launched in 2009 by dot-com entrepreneur Gerald Gorman. Today, the site has fewer than 2,000 likes on Facebook. Although it has an A rating from the Better Business Bureau, it only has two reviews. And, perhaps most confusingly, it doesn't actually provide legal services.
It functions like a dating site that connects people with attorneys. There are subscription plans for customers on both sides, but the basic gist is that people describe their case, provide contact details and get matched with available lawyers. (The site appears to be mostly legitimate: When Money spot-checked 20 New York City attorneys, 18 of them were registered with the New York State Unified Court System.)
The site's CEO, Gorman, previously headed up Mail.com and founded EasyLink Services. The U.S. Securities and Exchange Commission investigated the latter in 2004 and settled a charge against the company for not correctly reporting ad revenue.
Gorman also co-founded Lawyer.com's parent company, World Media Group. Its president is Gorman's longtime business partner Gary Millin, a controversial figure who has come under fire for sitting on in-demand domains like engineer.com, europe.com and calendar.com.
But now, Gorman is focusing his efforts on a new coworker.
Lindsay Lohan is the spokeswoman? How did that happen?
About a year ago, Lawyer.com decided they needed a celebrity to help raise its profile. The company wanted a spokesperson like William Shatner—whose Priceline campaign you may remember for its troubadour performances or catchy "Price-line Neg-o-tia-tor" jingle.
The team compiled a list of 100 celebrity candidates, but Gorman says Lohan was always the top pick. When they contacted her about the idea, she invited the team to Greece—which, judging from the plethora of paparazzi photos, is one of her favorite vacation spots. Lohan owns a dance club in Athens and recently told Wendy Williams she's preparing to open another on Mykonos ("I figured I've gone to enough [nightclubs], I should have my own," she told the talk show host.)
The Lawyer.com team arrived on the Greek island, took a guided tour, and sealed the deal.
Um, isn't that kind of awkward, given her past?
Well, yes. And Lohan knows that.
"I always knew there was an ironic, tongue-in-cheek element to the partnership, but I never could have expected the reaction we've received," Lohan tells Money.
For better or for worse, she does have years' worth of experience with lawyers. Since 2007, Lohan has been arrested at least four times, been to rehab at least six times and appeared in court more than 20 times, according to CNN.
To hear Lohan tell it, this actually makes her a better representative for Lawyer.com. "I think that people can look at me and recognize that it's possible to come out the other end on top," she says.
Alright, so what exactly is she doing for Lawyer.com?
Most recently, teasing Trump.
She tweeted at the president on April 4—right after one of his personal attorneys resigned—asking if he needed a lawyer. She cracked another politics joke on April 8, when another White House staffer announced his departure.
And Lohan isn't just regurgitating whatever Lawyer.com feeds her. Once a month, Gorman and his team meet up with Lohan wherever she is to brainstorm viral ideas. Lohan pens some of the content herself, but she also gets help: She tells Money two writers from her recent project Sick Note have also worked on the project.
Lohan stars in Lawyer.com's YouTube videos, filming in places like Dubai, Turkey, London and New York City. After the group wraps, they cut loose—something CEO Gorman brought up while speaking with Money, saying he just got back from "skydiving with Lindsay."
They're paying her, right?
For sure. But the way it works is a little different than normal.
Lohan is no stranger to endorsement deals—she's been the face of Dooney and Bourke, Proactiv, Miu Miu, Fornarina and Esurance. With this partnership, though, Lohan decided to take "a large part of compensation" in company equity. Lohan, whose net worth is between $5-8 million according to her representative, tells Money she believes in Lawyer.com and thought she "could really help make it huge."
It's unclear exactly how much money Lohan could earn from the business. Gorman tells Money that "if everything goes as planned," Lohan will become "a very large investor."
How's everything going so far?
The campaign has been successful in terms of media coverage. Although some social media users scolded Lohan for mocking DUIs, BuzzFeed wrote that the commercials were "already iconic." The Wrap called Lohan's deal with Lawyer.com the "perfect gig."
She's really leaning into it. She changed her bios on Instagram and Twitter to just the URL: Lawyer.com. Her grin greets visitors to the company's Facebook and Twitter profiles; her face and flowery autograph are plastered all over the company's website.
"The reaction has been overwhelmingly positive, and if we can use all of this exposure to help more people, I am happy to do it," Lohan tells Money.
No matter whether Lohan-for-Lawyer.com ever reaches Shatner-for-Priceline levels, the sponsorship has at least changed Gorman's life in one way.
"I loved Freaky Friday and only recently realized that was Lindsay Lohan," he laughed.
This post has been updated to include a net worth figure provided to Money by a representative for Lindsay Lohan. The previous estimate came from website CelebrityNetWorth.com.