This Small Catholic College Ranks No. 1 in Improving Students' Economic Outcomes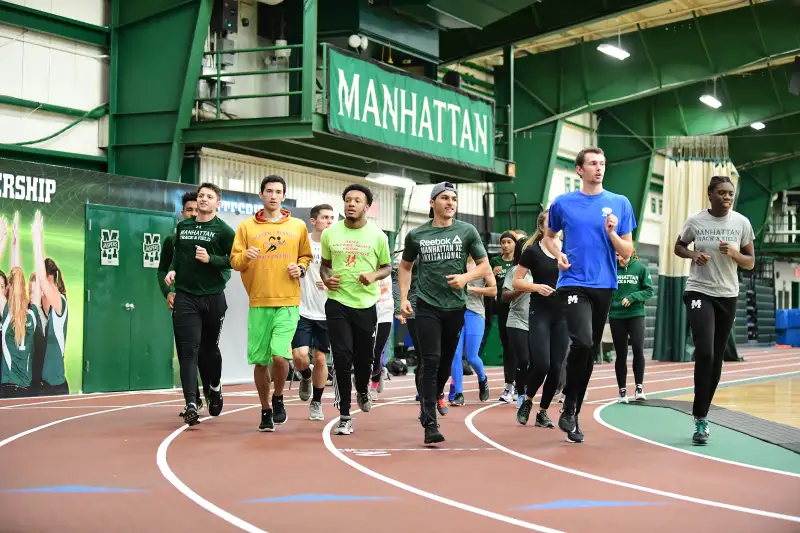 Courtesy of Manhattan College
Plenty of universities help their students succeed. But the best colleges are the ones that truly transform the economic trajectories of their graduates.
One of those standout schools is a small, under-the-radar private college in the Bronx.
Manhattan College, a Catholic school that combines a liberal arts background with popular business and engineering programs, landed at No. 1 in Money's annual ranking of the most transformative colleges in America—thanks to its proven ability to change the lives of its students.
Money's rankings use a unique "value-add" analysis to identify which colleges do an exceptional job at helping students perform better than they would if they enrolled somewhere else. Students from wealthier backgrounds or those with high grades and tests scores are already likely to succeed; the colleges on our transformative list help students succeed regardless of their backgrounds, and they do so at rates higher than schools with similar student bodies. Manhattan College's graduation rate, for example, is 37% higher than predicted for schools that enroll students with the same academic and socioeconomic backgrounds.
More than six out of 10 Manhattan College graduates who come from low-income backgrounds reach the top income quintile by their early 30s, according to data from Opportunity Insights, a research and policy institute based out of Harvard University.
"We tend to attract a student with a grittiness and focus about their careers that comes with them day one," says William Bisset, vice president for enrollment management at Manhattan College.
Alumni from Manhattan College report average salaries of $62,600 three years after graduating, according to PayScale.com. That's compared to $56,400 at Fordham, $60,800 at NYU and $69,200 at Columbia. Those salaries help push graduates to middle-class lifestyles.
Other transformative colleges on Money's list include: Mount Saint Mary's University in Los Angeles, California; MCPHS University in Boston, Massachusetts; and the University of Illinois at Chicago. See the full ranking here.
'A Grassroots Commitment'
Joshua Cuppek/Courtesy of Manhattan College
What is the key to Manhattan College's success? Deeply individualized attention to every student, according to faculty and staff. Manhattan College gets involved in students' academic life early and stays engaged through graduation.
"There really is a grassroots commitment to students before they begin their studies here," Bisset says.
Support starts with summer bridge programs, designed to assist underserved, economically disadvantaged, or first-generation students, coming to college. Students in these programs come and take courses over the summer to help ease the transition from high school to college. The program is free for students who qualify.
Over the summer, students get extra academic resources such as personal tutoring and more concentrated advising. Additionally, students receive workshops on time management, financial literacy, and how to look for internships. Students even take the Myers-Briggs Type Indicator personality assessment to better assess their individual needs.
"It's not just academics, we are educating the whole person, and we take that very seriously," says Marisa Passafiume, assistant vice president for academic success.
Once the school year beings, students are guided through the college process with the help of career advisors, peer mentors and alumni. They help students with everything from scheduling classes and managing loans to preparing for internships and choosing a career path. The school's Center for Academic Success offers supplemental academic support to any student who needs it. The center trains graduate students and upperclassmen to tutor their peers.
These resources were especially helpful for Angely Morillo—who is a rising junior at Manhattan College—in navigating her academic experience.
"As a first-generation college student, you don't really know how these things work," the 20-year-old, finance major says.
First-generation students and others in need of extra support — for example, students whose primary language spoken at home isn't English — have access to additional advisors who address student's specific needs, Bisset says.
An Early-Alert System
Joshua Cuppek/Courtesy of Manhattan College
When students struggle, Manhattan College intervenes as early as possible; it doesn't wait for students to come for help or fail a course. The college has an early alert system in place where students get extra support when they need it.
"The students laugh... they make fun of me because I will find you," Passafiume jokes. "We care enough that we will come and find you and we'll meet you where you are," she says
The alert system can go into effect for many reasons, Passafiume says. A student may be falling behind on their homework or have missed one or more classes. A faculty member could have had a conversation with a student that raised concern. Professors can also submit referrals for a student that they believe may need extra support. The school sends emails out to faculty on the first and fourth week of class to check in.
The first month is the school's "early alert" period, according to Passafiume. "If we catch any issues during the first four weeks of the semester, the chances of a student recovering and still being successful are much higher than if we wait until after those first four weeks," she says.
Since many students work during the day, the tutoring center stays open until 8 pm. Students also have access to online tutoring.
"We had a student who was being tutored while she was on the bus through her cell phone," Passafiume says.
A Focus on Careers
Chris Taggart/Courtesy of Manhattan College
Manhattan College also utilizes its Center for Career Development, alumni network and location in New York City to its advantage to place students at competitive internships, research and job opportunities at companies such as American Express, Google, NBCUniversal, Tesla and IBM.
One program, Women Inspiring Successful Enterprise (W.I.S.E.), aims to empower women by helping them with professional development. W.I.S.E. places participating students in internships that match their career goals. They offer stipends when internships are unpaid and provide students with free, on-campus housing for the duration of their internship. Morillo, who is a part of the program, is at American Express for her internship this summer.
"I've been successful because Manhattan College has been so helpful and so resourceful," she says.
This story has been updated to clarify that while Manhattan College has a large School of Liberal Arts, it also offers business, health, and engineering degrees.