Mark Zuckerberg's Net Worth — Before and After Facebook's Privacy Scandal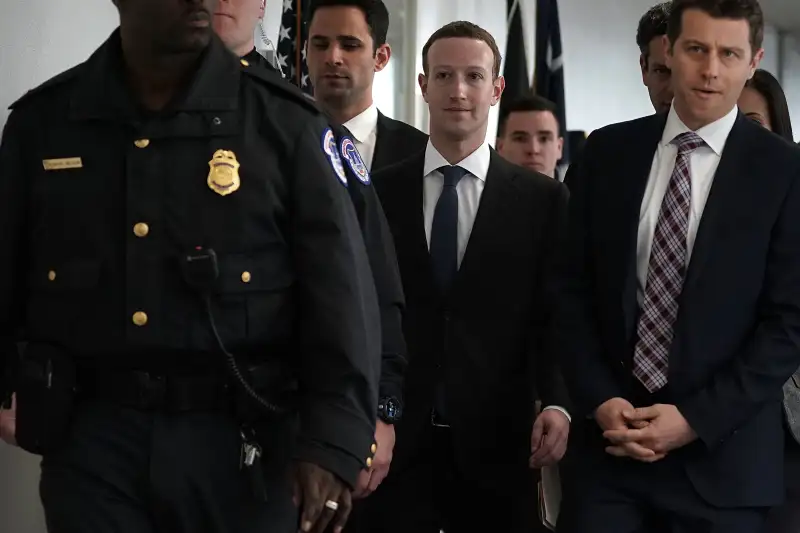 Mark Zuckerberg's net worth is down a whopping $15 billion from its recent peak, according to Bloomberg. Could congressional testimony put him even further in the red?
That's the question this week as the Facebook founder and CEO prepares to testify before Congress about his company's handling of its users' online data and privacy. Whatever happens, investors in Facebook and other tech companies are likely to be affected—as could Zuckerberg's personal net worth, which has already decreased by billions in recent weeks.
Zuckerberg is appearing before the Senate Judiciary and Commerce committees on Tuesday and the House Energy and Commerce Committee on Wednesday. Lawmakers called the 33-year-old Facebook CEO to testify in the wake of the Cambridge Analytica scandal, in which millions of Facebook users unwittingly had their data leaked to a UK analytics firm hired to help elect Donald Trump as president in 2016. It's expected that Zuckerberg will be asked about a wide range of Facebook practices, including the recent revelation that the social media platform reviews all private messages by users.
Mark Zuckerberg's net worth fluctuates based on the price of Facebook stock, and according to the Bloomberg Billionaires Index, his wealth peaked on February 1 at $79.5 billion.
The dive in his net worth began several weeks later. As of the close of the stock market on Friday, March 16, Zuckerberg's net worth was estimated at roughly $75 billion. Over that weekend, though, Facebook became embroiled in the Cambridge Analytica scandal. Facebook shares have plunged in the aftermath of the alleged data breach. (Other tech stocks, including Amazon, Google owner Alphabet, Netflix, and Twitter, also declined over the past month.) Zuckerberg's net worth dropped steeply as a result: He lost $10 billion on paper in a single week.
At last check, Zuckerberg's net worth was $64 billion, according to Bloomberg. That means the Facebook CEO is down roughly $11 billion since the Cambridge Analytica scandal occurred—and $15 billion since Facebook shares peaked at the start of February.
The New York Times reported that Facebook has been coaching Zuckerberg on how to appear humble, forthright, and charming during his testimony before Congress. Zuckerberg will be trying to convince lawmakers—and the general public—that Facebook is taking all the proper steps to ensure user data is safe. In his opening statement to Congress, Zuckerberg will start by admitting Facebook—and Zuckerberg himself—has made mistakes and hasn't done enough to protect users' privacy. "I started Facebook, I run it, and I'm responsible for what happens here," Zuckerberg will say in his prepared statements.
Much is on the line: If Zuckerberg comes up short, the #DeleteFacebook movement could pick up steam, and the company's stock price could tank further.
As Facebook shares soared in 2017, Zuckerberg's net worth rose by $24 billion. But it could be a very different story in 2018 for Zuckerberg and Facebook, depending partly on how investors perceive his testimony this week.