All the Odd Jobs Meghan Markle Had Before Her Royal Engagement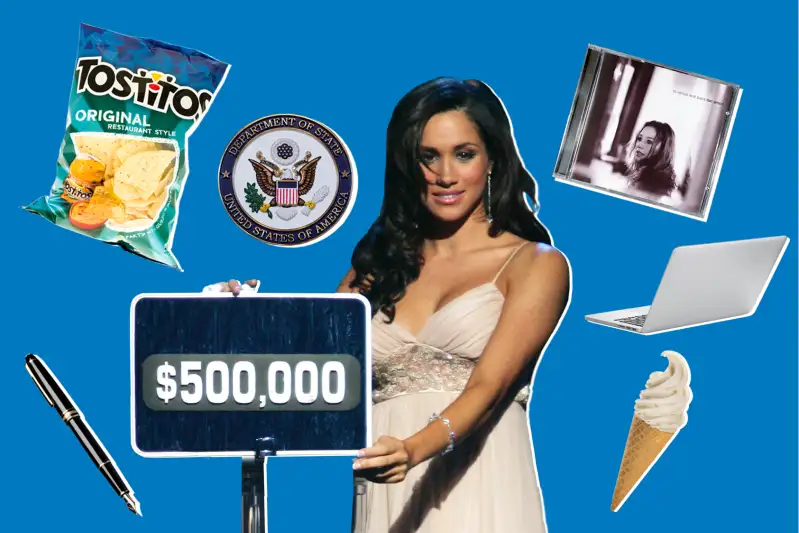 Shutterstock (2); Alamy (1); Getty Images (4)
American actress Meghan Markle will become British royalty on May 19 when she marries England's Prince Harry, but she wasn't always an international star.
In the newly released biography Meghan: A Hollywood Princess, author Andrew Morton notes that Markle struggled for years to make money, jumpstart her career and become famous. She eventually succeeded — aside from her relationship with Prince Harry, Markle is best known for playing Rachel Zane on the TV show Suits — but held several odd jobs along the way.
Here are 12 gigs from the early days you might not have known Markle had. Put on Drake's "Started from the Bottom" and take a look:
Frozen yogurt seller
As a 13-year-old, Markle worked at Humphrey Yogart, a hilariously named fro-yo store in her native California. She made minimum wage. The store's owner, Paula Sheftel, told the Mirror that "it takes a special personality" for young employees to be able to deal with the pressure of working at the dessert shop, and "Meghan had that early on." Markle also had her first celebrity encounter at that store when she spotted actress Yasmine Bleeth.
Soup kitchen worker
Markle volunteered at a soup kitchen in Los Angeles called the Hippie Kitchen. According to the book, she pulled shifts as a server and cleared tables.
Tori Amos fan
One of Markle's first gigs was in the Amos music video for "1,000 Oceans." She made $600 to wistfully watch the singer perform in a giant glass box in a Los Angeles parking lot, and yes, it's as weird as it sounds.
Junior press officer
While still in college, Markle used her uncle's connections with the U.S. government to land an internship at the State Department, according to the book. She spent six weeks as a junior press officer at an American embassy in Argentina, where her boss Mark Krischik said she showed "she had all that it takes to be a successful diplomat." Markle even intended to become a foreign service officer but failed the test.
'Hot girl'
Markle played a character identified in the credits only as "hot girl" in the 2005 Ashton Kutcher film A Lot Like Love. Originally, she was only supposed to have one line — "hi" — but she pushed the director to expand her dialogue to five lines, according to the book.
Wrapper
While juggling auditions in 2004 and 2005, Markle had a part-time job at Paper Source in Beverly Hills. The CEO, Winnie Park, told People that she "advised customers on projects — from wedding invitations to creating personalized stationary to gift-wrapping."
Calligrapher
In addition to leading two-hour calligraphy classes at Paper Source, Markle hand-lettered invitations for various gigs. She told Esquire in 2013 that it was her equivalent of being a waitress while trying to land a Broadway role, saying, "I would sit there with a little white tube sock on my hand so no hand oils got on the card, trying to pay my bills while auditioning." Markle even wrote the invitations for Paula Patton and Robin Thicke's (admittedly ill-fated) wedding.
Briefcase model
In 2006, Markle joined game show Deal or No Deal as a briefcase model, or women who stood and held numbered briefcases that contestants selected while trying to find the $1 million prize. Markle made good money — a colleague once said she brought in $800 an episode, which could lead to $23,000 a week while filming — but didn't like other aspects of the job. "I would end up standing up there forever in these terribly uncomfortable and inexpensive five-inch heels just waiting for someone to pick my number so I could go and sit down," she told Esquire.
Hostess
Just before auditioning for her breakout role in Suits, Markle worked as a hostess at a Beverly Hills restaurant. Unfortunately, there are no details on which one — just that she told Vanity Fair in 2017 it was one of the many "odds-and-ends jobs" she took while "trying to make ends meet."
Blogger (twice)
According to the book, Markle was the anonymous writer behind the blog the Working Actress, where she discussed her not-so-glamorous life. ("I'm not gonna lie. I've spent many days curled up in bed with a loaf of bread and some wine," she once wrote. "A one-woman pity party.") Markle later publicly started the Tig, a lifestyle blog she said she wanted to use to share her passions for food, travel, beauty and fashion. Markle penned posts on the Tig herself, telling Ebony in 2016 that she hoped readers saw the site as "a friend that's always there for you; a great place that makes you feel good." She shut down the Tig — by posting a goodbye note signed in calligraphy, naturally — in 2017.
Tostitos fan
In 2009, Markle appeared in a commercial for Tostitos tortilla chips. Markle's voice is not used in the narration, but it's definitely her who stands in the grocery store aisle comparing ingredients lists and thinking about Gary's short shorts.
Fashion designer
Markle collaborated with the Canadian retailer Reitmans in 2016 to launch the Meghan Markle Collection. She wrote on her blog that she "toiled over design and print" for four spring dresses, each of which cost less than $100, according to the book. She also headed up a workwear line for Reitmans. "I'm super involved with the design process, and I'm sure that it drives [the designers] crazy," she said. "But how could I not? It has my name on it."