Inside Meghan Markle's Journey to Become a U.K. Citizen After the Royal Wedding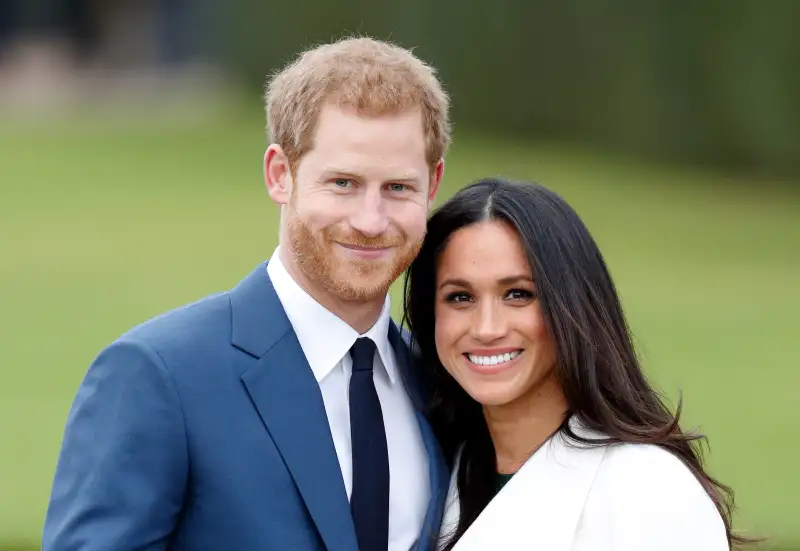 Max Mumby - Indigo/Getty Images
Gaining citizenship to any country you weren't born with can be a complicated process no what matter what. But for Meghan Markle, who will become the newest member of the British royal family when she marries Prince Harry on May 19, becoming a U.K. citizen will be a bit trickier. Especially because the whole world is watching.
As the finaceé of Prince Harry, 36-year-old American actress Markle's citizenship status has become a topic of intrigue, even though a royal official confirmed last year that Markle will undergo the process of becoming a U.K. citizen. Prince Harry's communication's secretary, Jason Knauf, told the BBC that Markle would be "compliant with immigration requirements at all times. I can also say she intends to become a U.K. citizen and will go through the process of that, which some of you may know takes a number of years."
Eddie Mulholland -AFP/Getty Images
That means Markle has to follow the same process that ordinary people must go through, with no royal exceptions.
Like everyone else, she will have to pass the "Life in the U.K. test," a 45 minutes test comprised of 24 questions about British traditions and customs, according to the government's website. The test is based on the official Life in the U.K. handbook called "Life in the United Kingdom: A Guide For New Residents."
Victoria Jones - WPA Pool/Getty Images
There are a handful of other general requirements for becoming a U.K. citizen if your spouse is British, according to the government website. You must:
be over the age of 18
be of sound mind, able to think and make decisions for yourself
have no serious criminal record
been in the U.K. for at least three years before submitting your application
meet the residency requirement
been granted indefinite leave to stay in the U.K. or have a permanent residence card or document showing you have permanent residence
One requirement Markle gets to skip: passing an English test. Those like Markle who are seeking U.K. citizenship and aren't from an official English speaking country must pass an English test (coming from the U.S,. Markle won't have to take the English test).
Another requirement Prince Harry and his bride won't have to worry about is getting married within a certain time frame. Non-EU citizens who enter the U.K. as the fianceé of a current British citizen are required to marry within six months of entering the country. But that's not an issue for the couple, who are set to wed on May 19 at St. George's Chapel at Windsor Castle in Windsor, a short train ride away from London.
And Markle is on top of her citizenship changes. She was seen in Chicago in mid-April at the VFS Global UK Visa Application Centre, according to People, presumably for her U.K. visa application.
The most complicated issue for Markle in becoming a U.K. citizen has nothing to do with England or royal traditions. Rather, it's the issue of whether she'll have to file U.S. taxes and what that means for the royal family. The U.S. is one of two countries in the world that taxes citizens even when they do not actually live in the U.S. (the other country is Eritrea, a small African nation). So if Markle does not give up her U.S. citizenship, she has to file her taxes to the IRS every year, just like the rest of us.
Chris Jackson - WPA Pool/Getty Images
Markle will also most likely have more than $300,000 in assets at any time, given her acting career and Prince Harry's wealth, which means she would have to file Form 8938, which is used to specify foreign financial assets to the IRS annually. Having to file that form would "reveal the detail of these assets, which could include foreign trusts," according to the Washington Post.
Revealing intimate details of royal finances might not be ideal for the world's longest ruling monarchy, which has tens of billions of dollars in assets and cash from revenue streams and investments all over the world.
Saamir Hussein - Pool/WireImage/Getty Images
Even if Markle and Prince Harry choose to file U.S. taxes as married but filing separately, certain U.S. regulatory bodies like the IRS or the Treasury Department would be able to scrutinize Markle's royal bank account.
But you don't need a to apply for a visa or avoid filing taxes to get a taste of the royal life for yourself. If you want to take a quick trip to the U.K. to scope out the royal wedding, just book a plane ticket.
Samir Hussein—Samir Hussein/WireImage