Prince Harry and Meghan Markle Are Royally Rich. Here's Everything We Know About Their Fortune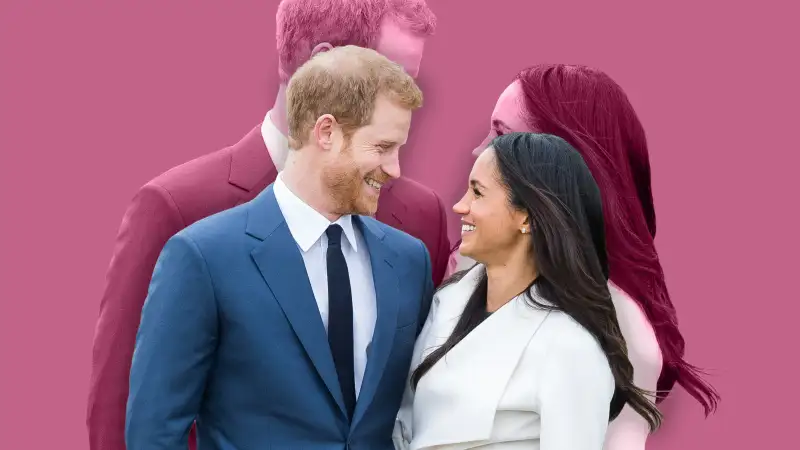 Getty Images; Photo Illustration by Kim Bubello
Prince Harry, Duke of Sussex, and Meghan, Duchess of Sussex, made international headlines this year as their fairytale wedding was broadcast around the world. But one thing we still don't know for certain is what the royal couple's combined net worth is now that they've tied the knot.
The 36-year-old former Suits actress met Prince Harry back in 2016 after being set up on a blind date by a mutual friend. After dating for 15 months, Harry, who is sixth in line for the throne, popped the question during a quiet night in at Nottingham Cottage, the royal residence he calls home on the grounds of Kensington Palace. Six months later, the world-famous couple got married on May 19 at Windsor Castle. Meghan and Harry live together at Nottingham Cottage, though according to Architectural Digest, "Nott Cott" is only their temporary digs. And while the newest royal couple is living at the cottage rent-free, being philanthropic, jet-setting newlyweds doesn't come cheap.
Here's everything we know Prince Harry and Meghan's net worth, and how much money they have as a married couple:
What is Meghan Markle's net worth?
Prince Harry's net worth far exceeds his wife's, but Meghan made a good living as an actress.
She was reportedly paid $50,000 per episode on the USA Network legal drama Suits, raking in a salary of about $450,000 per year, according to Fortune, with some additional income from film roles.
While's Meghan's net worth was relatively easy to estimate before she married Harry, her finances are more complicated now that she's married to her prince.
"She will continue to pay U.S. income tax on her income even after marrying Prince Harry, as the U.S. is one of two countries that taxes expats," said Marlene Koenig, a royal expert. "She cannot start the process of becoming a U.K. citizen until she is married three years, and when she has acquired British citizenship, she will need to make a decision on whether or not she renounces her U.S. citizenship."
Royal spouses are often encouraged to pursue philanthropy full-time, meaning Meghan will most likely not have any personal income to report in the future, especially since she already gave up her acting career to relocate for Harry.
Jane Barlow - PA Images/Getty Images
What is Prince Harry's net worth?
Prince Harry — whose official title is now His Royal Highness Duke of Sussex — is royally rich, though his net worth is hard to nail down because some of his family's fortune is kept private from the public.
While there are a lot of guesses out there about the 33-year-old prince's wealth, global wealth insights firm Wealth-X estimates Prince Harry's 2018 net worth is about $25 million — at the very least. Other reports speculate his net worth is as high as $40 million, but $25 million is the conservative estimate, Wealth-X told Money.
Both Prince Harry's private income and the money he receives to take care of official royal obligations come from the same place — The Duchy of Cornwall, a private estate that funds the public, private and charitable activities of the Prince of Wales — Prince Charles, Prince Harry's father — and his family. The estate has served the financial needs of the royal family since 1337, according to the estate's website.
In 2017, all official expenses incurred by Prince Harry, his brother Prince William and his sister-in-law Kate Middleton — including official state visits, royal staffing and wardrobe costs — cost around $4.9 million, and were paid for by The Duchy of Cornwall, according to official documents.
Harry has even more in the bank when you look at his inheritance. Both William and Harry inherited half of their late mother Princess Diana's estate — which is estimated to be worth about £20 million, or about $28 million — and the money was given to them when they each turned 30. "It has been suggested that William and Harry each received about £10 million ($14 million) from their mother's estate, with Harry getting more because the money was invested longer for him," Koenig said.
The inheritance also included Princess Diana's personal jewelry collection, though it is unclear how much the jewels are worth.
In addition to Prince Harry's wealth from his inheritance from his mother's estate and his pay for royal obligations, he also earned a steady paycheck while serving 10 years in the British Royal Air Force — where he rose to the rank of captain before retiring. While he was working for the military, he made about $50,000, according to Forbes.
Jane Barlow - PA Images/Getty Images
Will Meghan inherit Prince Harry's fortune now that they are married?
While Meghan and Prince Harry were legally married in May, the royal pair will likely wait to combine their finances, Koenig said.
If Markle and Harry open a joint bank account, their financial information could be open to scrutiny by U.S. regulatory bodies because Meghan is a U.S. citizen, according to Ryan Ellis, former tax policy director at Americans for Tax Reform. For that reason, the couple will probably keep their finances separate unless Meghan decides to gives up her U.S. citizenship.
Now that they've tied the knot, Queen Elizabeth — whose net worth is estimated to be around $490 million — has anointed Meghan and Prince Harry as the Duke and Duchess of Sussex, just as Prince William and Kate Middleton became the Duke and Duchess of Cambridge, Koenig said.
Meghan initially received the official title of Henry of Wales — it is common to literally take the prince's name and title. But now that Harry is a duke, Meghan's title is Her Royal Highness Duchess of Sussex. Meghan will also take on any other titles the Queen bestows upon Harry. But because neither Meghan nor Kate Middleton come from royal blood, they will never officially be called "princess," according to CNN.
What were the details of Meghan and Prince Harry's wedding?
The newest royal romance became official this spring when Meghan and Prince Harry tied the knot at Windsor Castle, just outside of London, on Saturday, May 19.
While we don't know the exact cost of their wedding, it is estimated to be around the same as Prince William and Kate Middleton's April 2011 nuptials. Luckily for them, the newlyweds did not foot the bill. Instead, their wedding was paid for by the royal family. The chapel they got married in, St. George's, is smaller than Westminster Abbey where Will and Kate got hitched, holding only about 800 guests compared to Westminster's 2,000.
Aimee Dunne, a London-based wedding planner, told CNN Money that she expected Meghan and Harry's actual wedding — excluding security costs — to total nearly $1 million. But security is where the real costs add up: Prince William and Kate Middleton's entire wedding reportedly cost $34 million with security alone totaling $32 million. The security costs for Harry and Meghan's celebration ere unclear since it wasn't an official occasion like the Duke and Duchess of Cambridge's wedding.