How Not to Get Accused of Plagiarism Like Melania Trump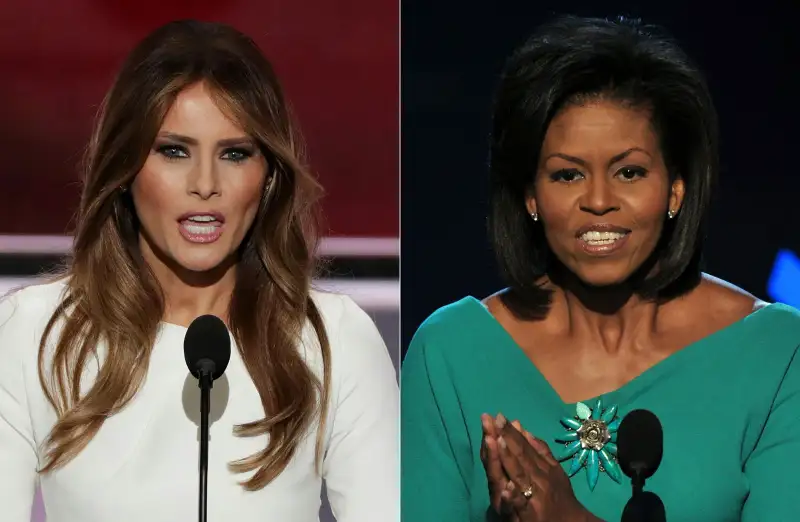 Alex Wong—AFP/Getty Images
On Monday, Melania Trump, wife of presumptive Republican presidential nominee Donald Trump, gave a speech at the Republican National Convention in Cleveland. Her remarks were well-received by convention-goers and media observers alike—at least initially. It quickly came to light that an entire paragraph of the speech was strikingly similar to remarks Michelle Obama delivered at the Democratic National Convention in 2008. So close, in fact, that Trump has been accused of plagiarizing Obama's words.
Which raises the question: What constitutes plagiarism? In this case it's fairly obvious: Whole sentences were the same, verbatim, as those in Obama's 2008 speech. According to Kelly McBride, a media ethicist on the faculty of the Poynter Institute, there's no doubt whoever wrote Melania Trump's speech copied Michelle Obama's speech without crediting it. (Trump campaign manager Paul Manafort denies that the speech was plagiarized.)
Here's the passage in question:
"In general, when we've looked at it over the years, it's impossible to exactly copy more than seven words without intention," says McBride, who has advised dozens of editors on plagiarism cases and teaches a course on the subject. "There's no way [Trump's speech] could not have been plagiarism."
The definition of plagiarism
In creative fields like journalism and writing, plagiarism involves stealing other people's words and ideas without proper attribution. McBride says it tends to happen when people are not knowledgeable enough about the topic or haven't mastered the argument they're making.
"There is this critical thinking step that a lot of writers skip," she says. "What they're doing is they're using their notes as a crutch. What that tells me is that you have not figured out what you want to say on your own."
Katy Culver, director of the Center for Journalism Ethics, also cites note-taking as a common way for writers to mix up and misattribute ideas and quotes. Not that that's any excuse: Culver notes it is the writer's professional obligation to clearly document where certain ideas and quotes are coming from, and to instill that transparency into their reporting.
And while Trump may not have actually written the words she delivered, Culver and McBride agree that responsibility for the plagiarism lies with the person whose name is attached to the speech or article.
"When you have other people writing for you, you need to edit for plagiarism," McBride says. "You can take seven to 10 words that are particularly distinct and you can Google them and you will almost always be able to figure out if someone wrote this or said this before you."
What should you do if it happens to you?
In professional writing, plagiarism is pretty easy to spot; in other fields, it's less clear-cut. Fashion designs, for example, cannot be copyrighted, and designers are routinely "inspired" by each other. Script writers often borrow from or influence each other (or themselves—just ask Aaron Sorkin). And attribution in the design field in general can be particularly difficult to navigate, according to Culver.
Culver suggests that writers and other creatives take a proactive approach to ensuring their work isn't being copied: "It's important for people who write and do other creative activities to monitor their own work, to make sure they're not getting plagiarized," she says. So what should you do if someone steals your work?
Though not out-and-out plagiarism, if someone else routinely takes credit for your work or ideas, McBride suggests taking them aside to tell them you'd appreciate if they gave you credit in the future. That's appropriate for a colleague at the same level as you or your immediate supervisor.
If a superior is taking credit for your work, McBride's advice is to find someone higher in the power structure, whom you trust, to advocate for you. If it keeps happening, then you can privately bring your concerns directly to those higher in the organization. Just make sure you have clear examples to show them.
If still nothing changes, or you don't receive the level of support from your organization that you had hoped, it may be better to move on to a different work environment.
"Plagiarism is a symptom of a broader culture, especially if it's not dealt with," says McBride. "How the culture responds to the act of plagiarism tells you a lot about that culture."