Retail Therapy? The Unexpected Way Your Mental Health Correlates to Splurging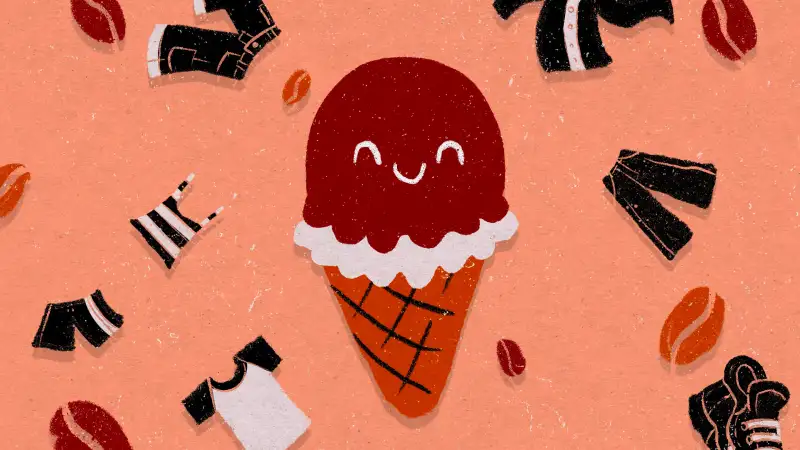 When people get dumped or are feeling down, you might think that's when they're most likely to splurge on a pint of ice cream — perhaps for a crying session on the couch. But new research shows people are far more likely to treat themselves to ice cream or other little luxuries when their mental health is on the up and up.
The phrases "retail therapy" and "comfort buying" have caught on in recent years to refer to the phenomena of splurging to cheer ourselves up when we're feeling blue. Some research shows indulging in a little retail therapy can, indeed, make us temporarily feel better by giving us a quick hit of dopamine.
However, a new study from The Conference Board flips that notion on its head. It suggests we're more likely to splurge when we're already feeling mentally and physically healthy. That seems to hold up even if our finances aren't in a great spot.
The opposite also appears true: We're actually much less likely to treat ourselves to ice cream, a new outfit or a massage when our physical or mental health are on the decline than if they're improving, according to the study.
"People's financial situation plays an important role in their discretionary spending but how well they feel physically, mentally, and socially does, too," wrote Denise Dahlhoff, senior researcher at The Conference Board and author of the report.
What the research says
The Conference Board, a nonprofit business research think tank, released on Monday its report on consumer spending habits for the first quarter of 2023.
The group surveyed 2,000 Americans about their discretionary spending on "small luxuries," such as ice cream, cosmetics, eating out, entertainment and more. The group also asked the respondents whether their physical, mental, social and financial health has improved or declined since the onset of the pandemic.
The big takeaway: People who reported improvements to their holistic health since the start of the pandemic are more likely to treat themselves to those small luxuries — even if their financial situation hasn't seen the same improvement.
"Improved physical, mental, and especially social health seems to encourage spending on small indulgences more than an improved financial situation alone," Dahlhoff noted.
Improved social health is a large driver behind increased splurging, likely due to a more active social life that leads to eating out more frequently as well as buying more clothes, coffee, alcohol and cosmetics.
Similarly, people with improved mental health are much more likely to splurge on ice cream and clothing than those who said their mental health has worsened.
What Americans are splurging on the most
On the whole, Americans say their health and finances are worse off since the start of the COVID-19 crisis. Due to persistently high inflation, people's disposable income has taken a huge hit, severely limiting their ability to splurge on themselves.
Despite this trend, some Americans have been buying certain small luxuries more often lately. Here are the top items they're splurging on:
Ice cream
Clothing and accessories
Coffee on the go
Spa services, massages or beauty treatment
Alcohol
Home decor
Travel
Tech devices
Cosmetics
Cafe visits
However, consumers are much more likely to be cutting back than splurging. The majority of respondents told The Conference Board that they've been spending less on eating out and clothing recently.
More from Money:
Bed Bath & Beyond Bankruptcy: What to Know About Sales, Coupons and Store Closures
'Buy the Dip': Why the Investing Strategy Is Making a Comeback