Bed Bath & Beyond Bankruptcy: What to Know About Sales, Coupons and Store Closures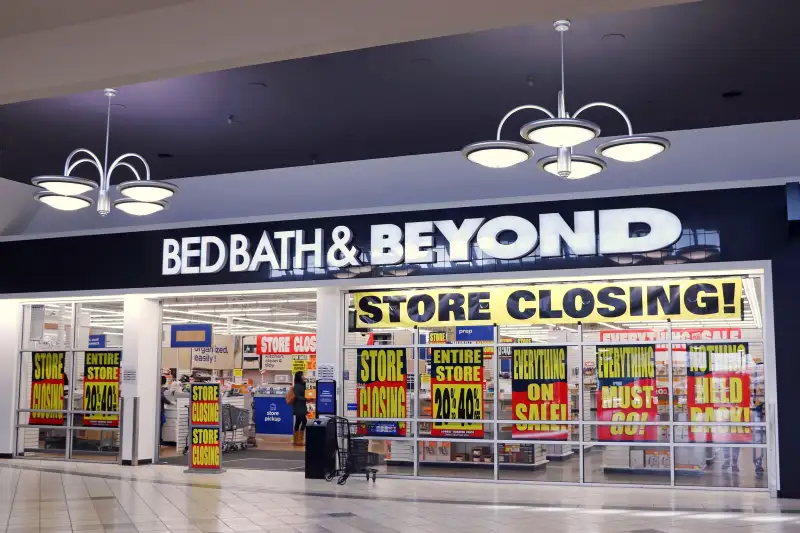 Bed Bath & Beyond appears to be in its final days.
The beleaguered home-goods retailer filed for bankruptcy Sunday and announced that it's winding down operations. The brand currently runs 360 namesake stores and about 120 buybuy BABY locations across the U.S., which are expected to close by June 30.

For years, the company has struggled to remain relevant to customers amid a retail apocalypse. The chain has made several attempts to stage a comeback, including cutting jobs, closing about 400 stores over the past year and raising money from investors. It even became a meme stock last summer, when investors privy to Reddit and social media banded together to pump the price of a share past $23 in August despite its flagging financials.
But the buzz wasn't enough to save the brand. On Monday, shares were trading for 20 cents.
As the bankruptcy process unfolds, here's what you need to know about Bed Bath & Beyond.
Is Bed Bath & Beyond closing down?
The company is expected to close down its remaining Bed Bath & Beyond and buybuy BABY stores by June 30, but it's not guaranteed. Chapter 11, aka "reorganization" bankruptcy, allows a company to sell off its assets to pay its debts under a court-approved plan.
Unless the court rules otherwise, Bed Bath & Beyond is in control of its business operations and assets. In an announcement of the bankruptcy, the company said it could "pivot away from any store closings" if it finds a buyer.
When will Bed Bath & Beyond sales start?
The company is launching liquidation sales at all its stores starting Wednesday, and merchandise is expected to be heavily discounted from then on. No stores will actually close that day. They are expected to remain open as the bankruptcy process unfolds.
Its websites and apps will also remain available as well.
Do Bed Bath & Beyond coupons and gift cards still work?
Coupons will stop working once the liquidation sale kicks off. You can still use them up until Wednesday.
The company says it will accept gift cards through May 8 and store credit through May 15. Existing rewards points are also redeemable until May 15, but purchases no longer accrue new rewards.
Are all sales final at Bed Bath & Beyond?
You won't be able to return any merchandise purchased during the liquidation sale. However, the company says it will accept returns for purchases made before Wednesday up until May 24.
More from Money:
Bitcoin, Meme Stocks and the Psychological Toll of Figuring Out When to Sell
How to Claim Your Money From Facebook's $725 Million Legal Settlement
18 Million Americans Could Soon Lose Medicaid Coverage. Here's What to Do if You're One of Them