Here's Your Chance to Own Michael Jackson's Custom Neverland Ranch Train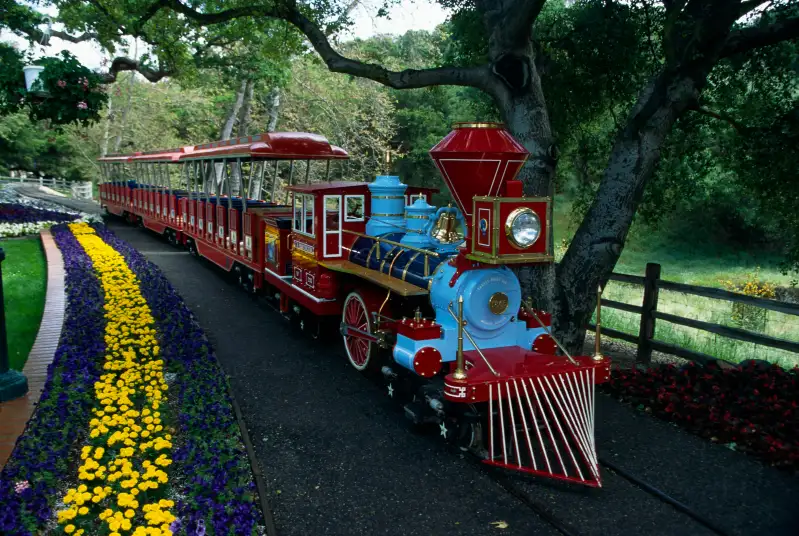 Steve Starr—Corbis/Getty Images
Michael Jackson's Neverland Ranch (now named Sycamore Valley Ranch) has sat on the market for almost three years without a buyer. The contents that once filled the 2,700-acre property, in contrast, have been more fortunate.
Even before his death in 2009, Jackson had slowly begun to sell the estate's decorations, furniture, dozens of bronze statues, and hundreds of toys and arcade games, both privately and (in an abortive attempt) at auction.
One such item was an electric train set, custom-made in Germany, which Jackson originally purchased for his children to ride. (This set should not be confused with the life-size train that ran throughout much of the ranch.)
"It went around a tree," says Brigitte Kruse, owner of GWS Auctions Inc. in Agoura Hills, northwest of Los Angeles. "I'd say there are about 40 feet of track," on which the train and its four cars would run round in circles. Each car fits two children—or one fun-loving adult.
The train was purchased in either 2008 or 2009, Kruse says, by a devoted Jackson fan. "He's been collecting Michael Jackson memorabilia since he was 5 years old. Now he's in his mid-30s."
The collector, she says, has a deep nostalgia for childhood. "He had a child come from the Netherlands who had autism, and he showed him the collection. He does cool things like that all the time."
When the train was purchased, its new owner put it directly into storage. "It hasn't been touched, or run, ever since," Kruse says.
Now it's coming up for auction at GWS with a starting bid of $2,000. The consignor "has health problems, and he wants to exhibit the rest of his collection in a museum," Kruse says, adding that the sale of this and other Jackson memorabilia from his collection is an attempt to raise the funds to do so.
The Memorabilia Market
The works are part of GWS's March 24 Legends of Hollywood & Music Auction, which includes Jackson items such as a Swarovski crystal Billie Jean glove worn during his 1997 "History" tour (starting bid: $2,000), as well as other, more esoteric pieces, like a prescription pill bottle made out to Milton Berle ($25).
While the more personal elements of these items might raise eyebrows, there is, more generally, a thriving market for Hollywood collectibles.
Julien's Auctions, the Los Angeles-based showcase known for its hardcover catalogs and elaborate exhibition displays, is probably at the forefront of the celebrity memorabilia business. (The auction house was enlisted several years ago with selling the bulk of the Neverland estate privately.)
"Michael Jackson's collectibility, since his passing, has continued," says Darren Julien, president and chief executive officer of his namesake auction house. "Asia is a big market, as is Russia. And then there's obviously the United States."
Career and Market Highs
Julien says there's a direct correlation between each item and Jackson's career arc; something from his Thriller period would sell at a premium, especially as his estate makes a concerted effort to repromote it every Halloween. "We sold his Thriller jacket for $1.8 million," Julien says. "And then you look at stage performances—anything he did onstage would be most collectible."
Jackson had hundreds of crystal-covered gloves, for instance, but one he wore doing the moonwalk during his Motown 25 TV special performance sold at Julien's for a record $425,000.
Julien says he expects the train on offer at GWS to far exceed its minimum bid, as does Kruse.
"I've heard numbers from $20,000 to $250,000," she says. "I think with Michael Jackson items, there's fans, and then there's everybody else."