The Most Expensive House in the World Is Up for Sale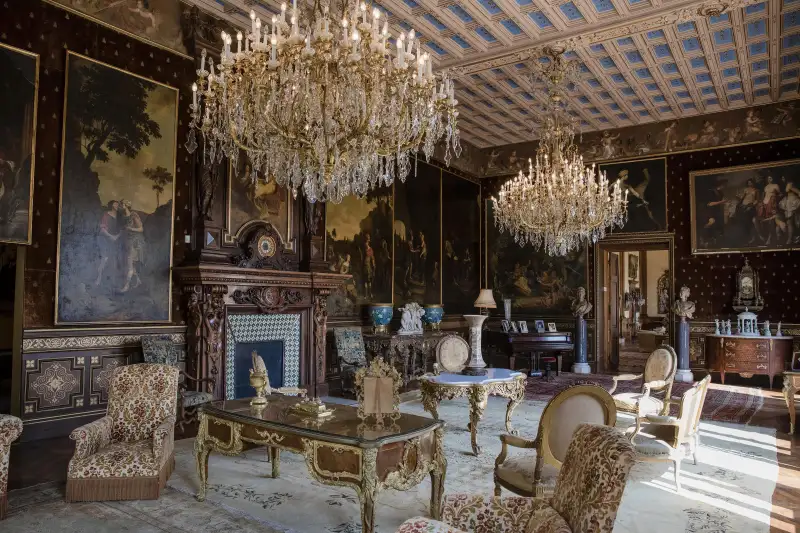 Bloomberg—Bloomberg via Getty Images
A luxurious mansion in the south of France is poised to become the most expensive sale of a residential home in history with a $410 million listing price, according to Bloomberg.
Built in 1830 in the Saint-Jean-Cap-Ferrat near Nice, Villa Les Cèdre sits on 35 acres decorated with 14,000 different species of plants, a man-made pond filled with lily pads, a bronze statue of Athena and 300-year-old olive trees, according to Bloomberg. The 18,000 square-foot mansion also boasts views of Villefranche-sur-Mer near Nice and the Maritime Alps.
Inside, the walls are decorated with portraits and a library in the home houses 3,000 books on plants, according to Bloomberg, which took a tour of the estate.
The property was purchased by the mayor of Villefranche-sur-Mer in 1850, when it was an olive tree farm. It also was a holiday home for Belgium King Leopold II when he bought the property in 1904. After he died, the Marnier-Lapostolle family, who make Grand Marnier Liquer, owned the property, where they grew exotic plants and oranges to help create their product for decades.
In 2016, Italian distiller Davide Campari-Milano SpA acquired Grand Marnier's parent company, thus taking ownership of Villa Les Cèdres. Campari put the property up for sale, which, at one point was reportedly listed for $1 billion — which Bloomberg reports was merely a rumor.
The property is close to others owned by Microsoft co-founder Paul Allen and award-winning composer Andrew Lloyd Weber, Bloomberg said.
Take a look inside the mansion below:
Bloomberg—Bloomberg via Getty Images
Bloomberg—Bloomberg via Getty Images
Bloomberg—Bloomberg via Getty Images
Bloomberg—Bloomberg via Getty Images
Bloomberg—Bloomberg via Getty Images
Bloomberg—Bloomberg via Getty Images
Bloomberg—Bloomberg via Getty Images
Bloomberg—Bloomberg via Getty Images
Bloomberg—Bloomberg via Getty Images
Bloomberg—Bloomberg via Getty Images
Bloomberg—Bloomberg via Getty Images
Bloomberg—Bloomberg via Getty Images
Bloomberg—Bloomberg via Getty Images