See the Stunning Newport Mansion Jay Leno Just Bought for $13.5 Million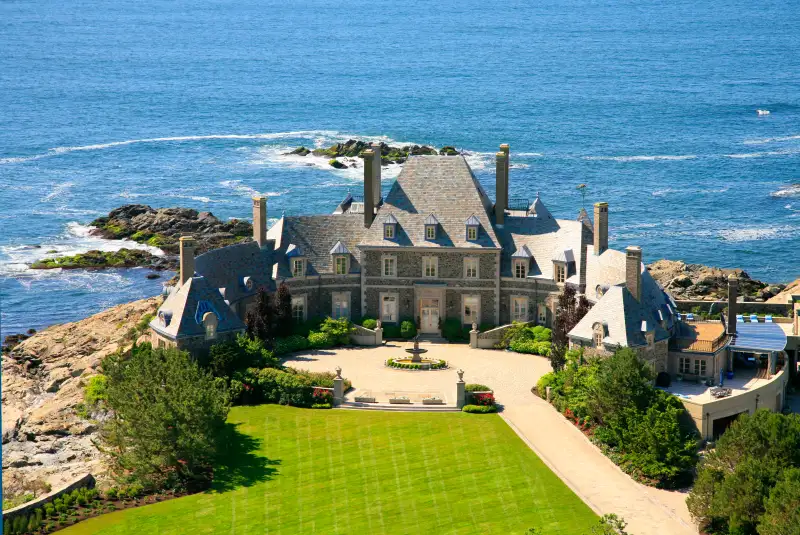 Courtesy of Lila Delman Real Estate
Former Tonight Show host Jay Leno has purchased an expansive seaside estate in Newport, R.I., for $13.5 million.
Called Seafair on Ocean Drive, the 15,851 square-foot property houses a crescent-shaped mansion, infinity pool, private beach, tennis court, carriage cottage and a six-car garage. Built in 1936, the four-level mansion has eight bedrooms and 11 bathrooms, and can be accessed by a winding driveway protected by a gated entrance. The news was first reported by the Boston Globe.
Also of note: the raised sea wall that surrounds the property and protects it from the neighboring ocean. And the six-car garage, along with 20 other spaces available for parking on the property, will come in handy for Leno, who collects antique cars. The crescent shape of the home was designed "to compliment the curve in the peninsula it sits on and create 270 degree ocean views," according to Gustave White Sotheby's International Realty, which held the listing.
Leno appears to have snagged a big discount on the French chateau-style property, which was listed for $17.5 million in 2017, according to realtor.com. The mansion was once home to Verner Zevola Reed Jr., who was an American banker and served as U.S. ambassador to Morocco from 1981 to 1985. According to property records, it was first listed in 2013.
While Sotheby's did not respond to a request for comment from Money, the firm did create this video of the property in October 2016 to show its ocean views, impressive size and French aesthetic.
Lila Delman Real Estate, a company specializing in homes in Rhode Island that once held the listing and is "intimately familiar" with it, told Money the sale is good news for the area.
"We are happy to welcome Jay Leno to Newport," Melanie Delman, the president of Lila Delman Real Estate, said in a statement. "It's wonderful to see more prominent people joining our community. We anticipate a continued interest in Rhode Island, specifically with regard to the many unique real estate opportunities we have to offer."
Take a look at the photos of the estate provided by Lila Delman Real Estate below.
Courtesy of Lila Delman Real Estate
Courtesy of Lila Delman Real Estate
Courtesy of Lila Delman Real Estate
Courtesy of Lila Delman Real Estate
Courtesy of Lila Delman Real Estate