Kendall Jenner Just Bought This $8.5 Million Beverly Hills Home. See Inside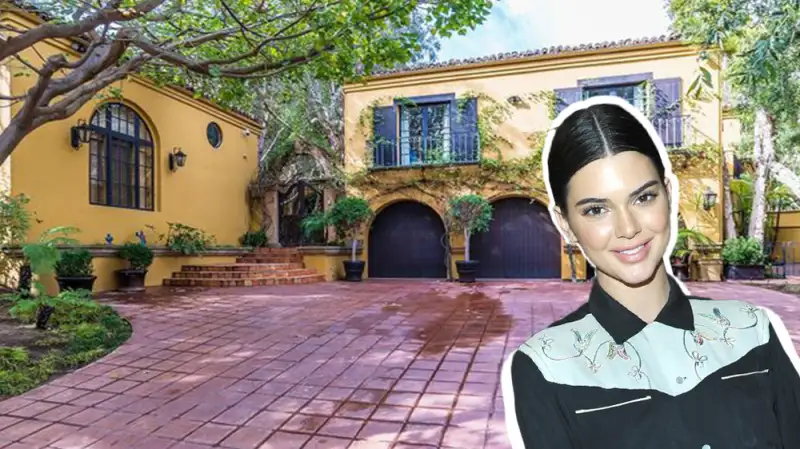 Courtesy of Trulia; Donato Sardella—What Goes Around Comes Around/Getty Images
Model Kendall Jenner just bought a $8.55 million home in Beverly Hills that once belonged to actor Charlie Sheen, according to Trulia.
Jenner, one of the youngest members of the high-earning Kardashian-Jenner clan, bought the stunning home in one of Los Angeles's most exclusive areas after listing her three-bedroom condo in Westwood, Calif., earlier this year for $1.6 million.
Her new estate is a step up from her previous pad in terms of its space, size and value. The newly purchased 6,625-square-foot, Spanish-style home has several rooms for Jenner to accommodate guests, as well as a movie theater, office and kitchen with a marble-topped island. Before guests enter the house, though, they will be greeted by an outdoor fountain, trees and wooden gates that lead to the front door.
In the backyard, Jenner can enjoy an expansive pool, lawn, fire pit, tennis court and a fully equipped playground. (While Jenner herself does not have kids, her older sisters and brothers who live just a few miles away do.)
The gated-off property was once home to Sheen's ex-wife, Brooke Mueller, after the actor bought it for her in 2012, according to Trulia. And it turns out Jenner has a history of purchasing homes from other high-profile celebrities. In 2016, she bought actors John Krasinski and Emily Blunt's West Hollywood home for $6.5 million, and later sold it for $6.85 million.
Jenner's decision to get a larger, more expensive home makes sense as her net worth continues to grow while she continues to make her name in the modeling industry. The 21-year-old model is currently worth at least $18 million and has appeared on the cover of Vogue and is now the face of Estée Lauder.
Take a look inside her new home: