Kim Kardashian West and Kanye West Flipped This Mansion and It's Stunning. Take a Look Inside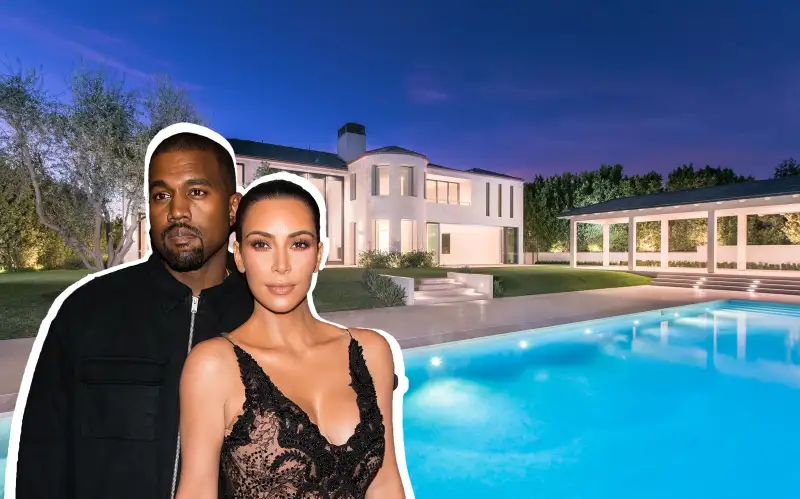 Courtesy of the Altman Brothers; Getty Images
After renovating every inch of their luxurious Bel Air mansion, Kim Kardashian West and Kanye West sold it for $17.8 million, according the realtor responsible for the sale.
The 9,000 square-foot home has six bedrooms and eight bathrooms, along with a pool, massive glass doors and automatic windows. The entrepreneurial couple bought it back in 2013 for $9 million when it had a Mediterranean style. But they meticulously remodeled the space to look more like a minimalistic, modern art museum — one that earned them a sizable price jump from when they bought it just four years ago.
Still, "there was no expense spared on any part of that house," says Josh Altman of Douglas Elliman, who managed its sale with his brother, Matt. Indeed, the couple imported nearly every fixture of the home, and even moved the placement of the pool in the backyard. "They wanted it to reflect their lifestyle and at this moment that they're living in," Altman, who appears on Bravo's Million Dollar Listing, said.
"This is not your typical house, and it's the first Kim and Kanye collaboration when it comes to real estate that's available," Altman added. "There's only going to be so many. It's like buying a piece of art at an auction."
Courtesy of the Altman Brothers
The off-market sale was made just 30 days after the Wests came to the Altman brothers with their property, Altman said. Marion Acton, a Ukrainian philanthropist interested in starting a music career, purchased the home after looking for a place with a studio and "good energy."
"She felt inspired right when she walked in," Altman said. Kardashian West gave them a tour of the house, Altman added. While there isn't one aspect of the house that's stands out as her favorite, Altman said Kardashian West was most pleased with the overall minimalistic style.
Among the minimalistic design and marble flooring includes two 30-feet tall glass doors the grant a view to the surrounding canyons. Those doors, Alterman said, are the largest of their kind in any single family home in California.
And, of course, the home has a "gigantic" closet, Alterman said. (That's something to be expected of the high fashion-focused couple.)
Courtesy of the Altman Brothers
"Kim is so savvy when it comes to real estate," Altman went on. "This is not her first house, this is not the first time she knocked it out of the park, because she constantly does that on every single property she buys. She knows what she's doing, so I sit back and listen."
In 2015, the Wests purchased a $20 million, 15,667-square-foot home in Hidden Hills, Calif. — offering a bit more space for their expanding family. The couple has two children, North and Saint, and another on the way via surrogate.
Courtesy of the Altman Brothers
Courtesy of the Altman Brothers