Jon Bon Jovi Just Bought This $19M Greenwich Village Apartment. Take a Look Inside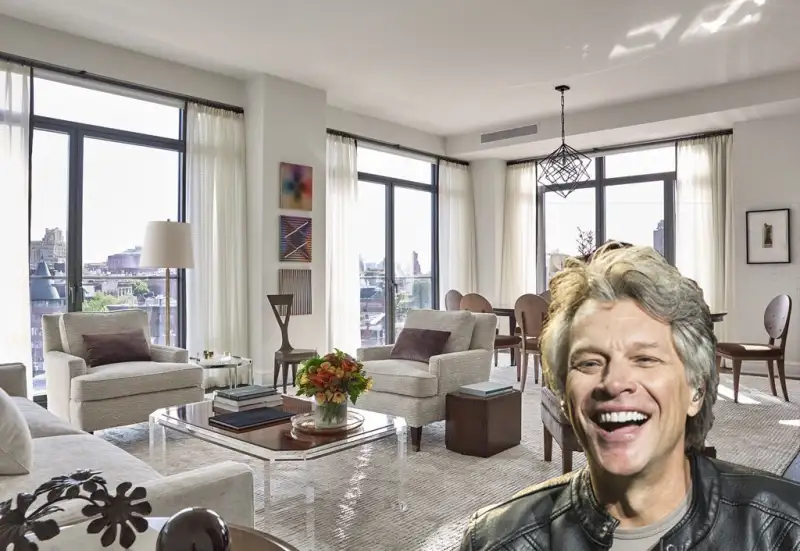 Jon Bon Jovi just purchased a luxurious $18.84 million apartment in New York City's Greenwich Village in a building filled with amenities meant for a rock star.
The 3,951 square-foot apartment has four bedrooms and four-and-a-half bathrooms, with direct access via an elevator — a common amenity sought by the rich and famous to maximize their privacy. With floor-to-ceiling windows, the space has stunning views of downtown Manhattan and the Hudson River, as well as oak hardwood floors and a 44-square-foot balcony, according to Trulia. The master suite has a massive walk-in closet, a marble tub that looks out onto the city below, and heated floors.
Located in the Greenwich Lane condominium project, the apartment also grants access to a host of high-end amenities, including a 25-meter swimming pool, a fitness center, a 21-seat movie theater, steam rooms, a golf simulator, a children's playroom and a garden. The complex is also home to former Starbucks CEO Howard Schultz, according to the Wall Street Journal. Many of the amenities in the building are those often sought by celebrities and high-earners. In fact, a slew of celebrities have moved into a Tribeca apartment building that boasts an emphasis on privacy and luxury just downtown from Bon Jovi's new pad.
Bon Jovi's new purchase comes as he is trying to sell his nearby West Village apartment at 150 Charles Street. He originally listed the apartment for $17.25 million but has since cut the asking price to $15.95 million. Before that, he lived in a penthouse in SoHo, which he sold for $34 million in 2015 to Austrian-American businessman Gerhard Andlinger, according to the Journal.
One of the country's wealthiest celebrities, Bon Jovi had a net worth of $410 million in 2016, which he has gathered after decades of sold-out performances and tours, according to Forbes.