Meet Mukesh Ambani, the Billionaire Owner of the World's Most Expensive Home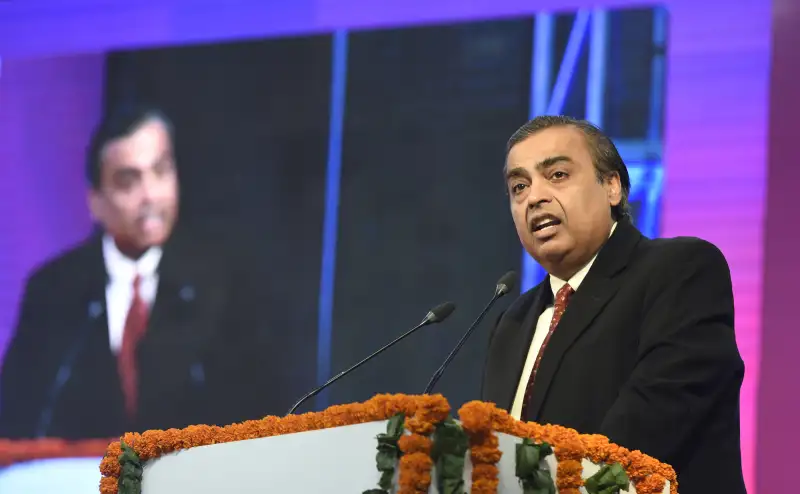 Sushil Kumar/Hindustan Times—Getty Images
India is reportedly home to more than 100 billionaires now, an incredible milestone for a country that just 25 years ago was still among the world's poorest.
But one billionaire in the country stands far apart from the rest: Mukesh Ambani. He has long been India's richest person. Bloomberg puts his current net worth at $39 billion, 20th in the world.
The head of industrial conglomerate Reliance, Ambani, 60, keeps a relatively low profile, at least in terms of public appearances. It's been reported that he has voluntarily capped his annual salary from Reliance at Rs15 crore (about $2 million) for roughly a decade, "reflecting [Ambani's] desire to continue to set a personal example for moderation in managerial compensation levels," the company's 2016-2017 annual report stated. The Financial Times has gone as far as to describe him as a "recluse."
[UPDATE: An earlier version of this story estimated that Ambani's annual salary was the equivalent of $230,000 in U.S. dollars. We have corrected the error.]
But Ambani still casts a long shadow in the subcontinent, something attested to by well-known lines like this one mentioned by the FT: "There are only two Indians for whom Mumbai's great and good will turn up en masse and on time. One is whoever is the sitting prime minister. The other is Mukesh Ambani."
Ambani has in fact given multiple interviews over the years, making known the broad contours of his upbringing and career. He is the eldest son of legendary industrialist Dhirubhai Ambani, who founded Reliance, a company whose rise essentially charts the rise of modern India itself. (A popular joke has it that the history of independent India can be split in two phases: "From self-reliance to Reliance.") Reliance began as a textile concern and today is one of the largest companies in the world. Ambani has said that the company's net profit increased by a factor of 10,000 between 1977 and 2017.
The digital news service Rediff published one of the most expansive interviews Ambani ever gave, in 2007. The younger Ambani said he and his siblings "were left to do what we wanted," as his father built the company, something he credits with helping find himself. "We were not micro-managed." Instead, the Ambani children traveled throughout Mumbai by bus and train, and went camping every year under the watch of a private teacher hired by the family.
"I guess when you are left on your own, you find your true potential. I remember my father never came to our school even once," Ambani said.
Yet Mukesh Ambani also says his father was a great lover of nature, taking them on walks in forests and swims in streams on Sundays. "I have turned into a big nature fan as well," the younger Ambani said in the Rediff interview. "These childhood influences have shaped me into what I am today."
Dhirubhai Ambani's overarching focus was always on business, and he was keen on exposing his children to what he was building at Reliance. Mukesh Ambani says that when he was just in high school, he spent long hours on the weekends at the office with his father.
According to a biography of Dhirubhai Ambani, the Ambanis "lived austerely in surroundings that were crowded, noise and dirty," giving the Ambani children "a hungry ambition unusual in the second generation of a successful Indian business family."
Alex Robinson/ AWL Images Ltd & Getty Images/AWL Images RM
Mukesh Ambani studied chemical engineering in India and attended Stanford Business School. (Reliance created and still supports the Stanford Reliance Dhirubhai Fellowship, which was named in Mukesh's father's honor and gives financial support to Indian students who return to India to work after completing their MBAs.) But he ended up coming back to India in his mid-20s to work on furthering Reliance's polyester output, which had been turbocharged with a new government license.
His life, and his family's, was transformed in the mid-80s when his father began looking for outside private investors for Reliance — something most Indian companies were incapable of at the time.
"In the journey of an entrepreneur, the most important thing is self-belief and the ability to convert that belief into reality," the younger Ambani said, in the interview published at Rediff. "[My father] believed that we could raise money from the capital market and return it with profits. His second belief was that India is a great opportunity."
Shortly thereafter, his father had a stroke, and daily governance of the company was turned over to Mukesh and his brother Anil, forming the seeds of a blistering sibling rivalry that would result in Reliance being split into two different companies.
In the meantime, Reliance continued to diversify, growing its oil and gas division into eventually providing an estimated 2% of the world's petrol, diesel, and aviation fuel. Even so, Ambani recently said he believes renewable forms of energy in the next 20-30 years will replace "nearly all fossil fuels."
To make the company internationally relevant, Ambani literally took up the books of successful American firms. "My reference points were U.S. companies," Ambani explained in the 2007 interview. "We were hugely influenced by large U.S. chemical companies, especially DuPont. It was a very open company and we could take advantage of their learnings. The U.S. is also a very open society. I could to go the U.S. Association of Chemical Engineers and get the standards, data, etc."
In the early 2000s, Reliance launched a telecom business; it is now reportedly the sixth largest telecom operator in India.
He has not been without missteps — and embarrassing ones at that. In 2010, the company failed to merge with Dutch-American refining giant LyondellBasell.
"A former Lyondell executive says Reliance was out of its depth," The Economist reported in 2014. "Though it conducted exhaustive due diligence it had a 'nickel-and-dime' approach to negotiations that might have worked in India but appeared naive and arrogant abroad. Lyondell managers found Mr Ambani tough and charming, but felt his underlings were not up to snuff. 'Their style...would not ever get them serious consideration in the boardroom of Exxon or Chevron,'" the executive said.
People in the West might be more familiar with Ambani's residence than the man himself. Ambani spent a reported $1 billion to $2 billion to build the 60-story skyscraper known as Antilia in downtown Mumbai in 2010. It is thought to be the most expensive home constructed by any living person.
Ambani seems to have never spoken publicly about the estate, which he reportedly now rarely spends time in, as it has been embroiled in controversy from the day the land was purchased. The previous tenant holder was a Muslim foundation, and investors, as well as a parliamentary review committee, have subsequently said the land was sold illegally, though no action has been taken, according to the Financial Times.
"People close to the family said a senior U.S. diplomat visiting Mumbai recently had asked to meet Mr Ambani at the celebrated home but later requested a change of venue when reminded of the controversy," the paper reported.
Some also criticized the government after it chose to give Ambani the same level of security as government officials, the FT reported.
It's a measure of the power Ambani holds — a level many find uncomfortable. Speaking about Ambani, a former cabinet minister in India told The Economist, "His influence is huge. Whatever is happening he knows." A former boss of a giant multinational said of Ambani's dealings with the government: "It was not what you'd normally expect to see between an industrialist and a minister. Normally the industrialist was subservient. This was the other way around."
Ambani himself seems to be keenly aware of his influence in the country, and what that means for Indians.
"We have taken money from ordinary Indians and we are their trustees," he told Rediff. "When this is drilled into thousands of people, you automatically get performance."