My Uber Got Into a Wreck. Can I Sue?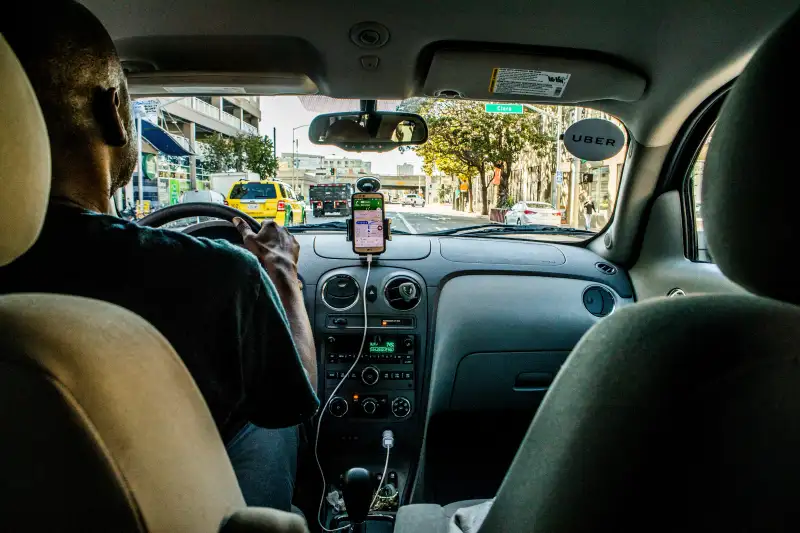 CHRISTIE HEMM KLOK—The New York Times/Redux
On a recent summer evening, I was out for a jog in the Upper East Side of Manhattan, and the perhaps-not-entirely-unexpected happened: I was hit by an Uber driver while crossing the street.
I'm fine, thanks for asking.
But after a few other pedestrians and I were done yelling at the driver, I couldn't help but think about what would have happened had it been a more serious accident. What would my health insurance cover? Could I sue Uber or the driver for damages?
It turns out, if you're ever in an accident involving Uber or Lyft, you likely won't sue the ride-sharing company outright, according to multiple lawyers. Drivers are technically independent contractors, not employees, meaning the company can deny liability for crashes involving their drivers (and have done so in the past, most notoriously when a driver hit and killed a six-year old in San Francisco in 2014).
"It is much more difficult to hold a company responsible for the actions of an independent contractor, as opposed to an employee driver," says Phil Griffis, a Houston, Texas-based civil litigator.
But there is still recourse. Your options in case of an accident, as with all personal injury cases, are largely dependent on the laws in the state in which the crash occurs. But typically, here's what you can do.
If You're a Passenger
Immediately after the crash, Jeb Butler, a personal injury attorney at the Georgia-based Butler Law Firm advises riders to:
Call 911, and then take pictures of the wreck
Write down names, email addresses, and phone numbers of any witnesses
Write down the name of the driver if it's not already in your phone
Take screen shots of your Uber ride and receipt on your phone
Hire a lawyer if you're injured or incurred any kind of medical bills
If the accident occurs during the course of your trip and your ride-sharing driver is at fault, you are covered under a $1 million liability policy that both Uber and Lyft have through James River Insurance, says Butler. If you need to file a lawsuit, you would sue the at-fault driver (not Uber or Lyft directly) and serve copies of the lawsuit documents on that driver, says Butler, as well as on the insurance company. Chances are the driver will not be able to pay your medical bills, which is why the companies offer these policies.
Your lawyer should immediately send preservation of evidence letters (also called spoliation letters) to Uber/Lyft and the driver, to ensure they preserve all the data related to your ride, says Butler. Depending on state law, the ride-sharing company could be sued if it fails to preserve that data.
If another driver is at fault (not your ride-sharing driver), then the other driver's personal insurance policy comes into play first. Assuming they don't have enough to cover potentially serious medical bills, Uber and Lyft both have $1 million underinsured motorist policies that could apply.
You could sue the company directly in certain extreme cases, says Butler. "If Uber had actually done something wrong, like had hired a driver who was a sex offender and he does something awful to a passenger, maybe you could sue Uber," he says. "But for a general car wreck case you're not suing Uber, you're suing the driver at fault."
If You're Not a Passenger
Things are a bit more complicated if you are not a passenger in the car, or the driver is off-duty. Shawn Toor, an attorney at Seattle-based Williams Kastner, says if the Uber or Lyft driver is not on duty and using the car for personal purposes, you can't necessarily make a claim under Uber's $1 million policy, you'd make it on the driver's personal policy. This is also true if the driver is on duty but does not have a passenger at the time of the accident. But if they do have a passenger and injure a bystander, then Uber's insurance will cover the accident.
One wrinkle: Some states, like California and Washington, have ruled that the ride-sharing companies' policies apply even if the driver does not have a passenger in the car. Essentially, their insurance covers drivers as soon as they log into the app and are waiting for a fare, up until they log off. But again, it depends on the state.
Uber did not respond to a request for comment. A spokesman for Lyft said "safety is our top priority and it is our goal to make every ride safe, comfortable, and reliable," and directed users to this page if they are in an accident.
And one more word of advice: Never expect a car to stop for pedestrians in New York City, even when you have the right-of-way.