5 Stunning Natural Wonders You Can See in the U.S.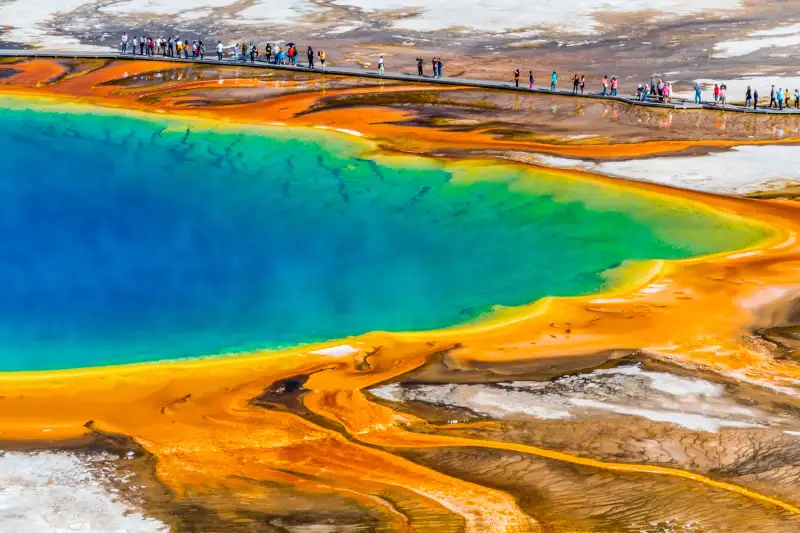 IngerEriksen—Getty Images/iStockphoto
For some travelers, a trip is not complete without a big "wow" moment: a superlative spectacle, an eye-popping natural wonder, a death-defying feat. Many of the world's most mind-blowing spots require round-the-world travel, extreme adventure, or both. (We're looking at you, Aurora Borealis. Brrr.)
Fortunately, you can see quite a few of the world's most dramatic destinations without ever having to dust off your passport—because there are natural wonders right here in the United States.
From the Rocky Mountains to the Pacific Ocean, the American west provides a virtual greatest hits of dazzling spots—many of which are in National Parks, and can be easily paired with activities that will satisfy even the biggest daredevils. With the help of Lonely Planet's 50 Natural Wonders to Blow Your Mind, Money has whittled down the list to find five natural wonders in the U.S. that will deliver amazing adventures without breaking your budget. In fact, all of the following picks cost less than $3,500 for a weeklong trip for two.
To calculate the cost of vacations to these natural wonders in the U.S., we used Money's Best in Travel database, along with flight costs provided by airfare prediction app Hopper and hotel pricing from Hotels.com. Read on for a short list that may help you choose your next adventure.
---
1. Bristlecone Pines
Daniel J Barr—Getty Images
State: California
Total Cost of a Week for Two: $2,548
The bare, twisted trunk of a bristlecone pine tree is a sight to behold, particularly when paired with the beautiful barren mountaintop landscape. These trees are among the oldest recorded living things on earth, and they cluster together in the Ancient Bristlecone Pine Forest, in the White Mountains of California. One tree, named Methuselah, is nearly 4800 years old.
Just an hour's drive east of Bishop, Calif., this natural wonder is the place to go if you want a stunning landscape and a sense of natural history. If you're looking for a few more thrills, take the Silver Canyon Road out of Bishop, a extremely steep drive that winds around a canyon and features several harrowing switchbacks.
---
2. The Grand Canyon
Patrick J. Endres—Getty Images
State: Arizona
Total Cost of a Week for Two: $2,763
Even if you've seen a thousand photos of this iconic landscape, it's worth a trip to the Grand Canyon at least once in your life. You can stretch your legs by walking along the South Rim trail, but to get a bit more adventure, follow the South Kaibab Trail down into the canyon.
This hike generally takes about four to six hours to complete and is best attempted during the winter months, when the air is cooler, but constant sun exposure keeps the trail generally clear of ice and snow. Visitors can take a free shuttle bus from the Grand Canyon Visitor Center to the trailhead.
---
3. Yosemite National Park
bluejayphoto—Getty Images/iStockphoto
State: California
Total Cost of a Week for Two: $2,829
Yosemite National Park is the ultimate destination for adventure hounds—and with a $30 entry fee per vehicle, it delivers great bang for your buck. Across almost 800,000 acres, visitors can scale cliffs, wander through giant sequoia groves, relax on the shores of mountain lakes and take in awe-inspiring waterfalls.
For those up for a challenge, the arduous hike to the top of the iconic Half Dome is a must. (Experienced rock climbers can take it up a notch on the dangerous granite face of El Capitan, or tackle some of Yosemite's more moderate climbing routes.) Just east of El Capitan is Yosemite Falls, the highest waterfall in North America.
---
4. Grand Prismatic Spring
IngerEriksen—Getty Images/iStockphoto
State: Wyoming
Total Cost of a Week for Two: $3,313
Most people go to Yellowstone for Old Faithful, but you'd be missing one of the park's most spectacular sites if you didn't make time to visit the Grand Prismatic Spring. The world's third-largest hot spring, this wonder is about 360 feet in diameter and over 120 feet deep. Its bright colors are actually created by photosensitive bacteria around the outer ring, but the center is practically sterile because of the high water temperature (about 160°F). Hike the Grand Prismatic Spring Overlook trail in summer for great views of the spring and access to the spectacular Fairy Falls nearby.
---
5. Mendenhall Ice Caves
John Hyde / Design Pics—Getty Images/First Light
State: Alaska
Total Cost of a Week for Two: $3,458
Don't delay making the trek to this natural wonder: As temperatures have been warming in the far north, the 13-mile-long Mendenhall Glacier has been rapidly retreating. Just note that getting to these caves is a true adventure in and of itself. While the glacier's Visitor Center sits about 12 miles from downtown Juneau, reaching the caves is trickier: Access is via the 3.5-mile West Glacier Trail, reachable by kayak or a separate road around Mendenhall Lake. Once you reach the caves, you'll be rewarded by luminous walls of pure ice.
The U.S. Forest Service calls the approach "dangerous," so consider a guided tour of the ice caves instead of going it alone: Above & Beyond Alaska, for instance, offers a Glacier Canoe Paddle & Trek for $349 per person in 2018.