Nearly Half of Parents Are Jeopardizing Their Retirement. Here's How to Avoid Making the Same Mistake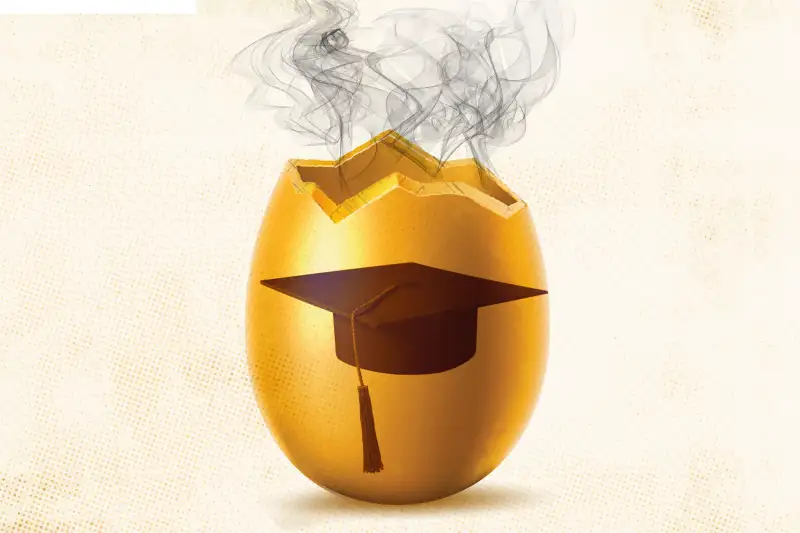 Shutter Stock; Getty Images
Almost half of parents are still paying off their own student loans when it comes time to write their child's college tuition checks, according to a study by private lender College Ave Student Loans and Barnes & Noble College Insights.
What's more, 46% of parents surveyed say they will retire later than originally planned due to this double burden. Of those who foresee themselves delaying retirement, 59% said they would keep working anywhere from three to seven years.
But it's risky to assume you can delay your retirement, since the decision of when to stop working often isn't within your control. A 2016 study by ProPublica that followed 20,000 workers over the age of 50 found that 56% of those employees were laid off at least once or left their jobs under "financially damaging circumstances" — meaning they were most likely pushed out by their employer rather than leaving voluntarily.
Parents who count on being able to delay their retirement may encounter other setbacks: Even if you find another job after being laid off, only one in 10 of the workers surveyed by ProPublica ever realized their full earning potential again. More than 50% of the households that experienced an interruption in employment continued for years with lower incomes than those who did not, and many never recovered their former salary levels. So don't put off saving for retirement until you're in your 50s and possibly making less money than you bargained for — you may end up having to sacrifice the amount you sock away in the form of smaller 401(k) or IRA contributions, forgoing your future quality of life to pay off education debt in the present.
Overall, the ProPublica study found that, thanks to a combination of age-related layoffs, involuntary departures due to deteriorating work conditions (such as being demoted or given less responsibility) and burgeoning health problems, almost two-thirds of Americans over 50 are pushed out of full-time work.
Insecure working conditions and burdensome loans are a tricky combination that could result in many American parents under-saving for retirement.
Finding ways to make your money last is more important than ever as lifespans and health care costs increase . If you're concerned about hitting your retirement goals, do some research on financial products like income annuities and other alternative ways to stretch your hard-earned dollars.
It's easy to get caught up in the emotional aspect of sending your children to college — you want to provide your offspring with the best opportunities possible and may feel guilty if you don't — but there are some basic mistakes to avoid if you plan to pay their tuition or take out loans on their behalf, according to Jill Schlesinger, a financial planner, CBS News analyst and author of the new book The Dumb Things Smart People Do with Their Money. Among them, don't over-borrow to send your child to a brand name school. After all, it doesn't help your kids if you put your family in a risky financial situation. You should also map out what you can actually afford ahead of time. Be honest with your children about what your financial limits are to manage their expectations, says Schlesinger.
Joe DePaulo, CEO and Co-Founder of College Ave Student Loans, advises parents to examine all payment options. "First, take a close look at your student's financial aid award letter," he says in an email message. "If you feel that this doesn't accurately represent your family's financial situation, reach out to the financial aid office. Our same survey found that of those families who received financial aid award letters, 17% appealed with more than half (58%) of them being successful in receiving more aid." And remember, DePaulo cautions, if you co-sign a private student loan, you are equally responsible for that amount.
The bottom line? Financial advisors generally recommend saving at least 10% of your income to adequately prepare for three or four decades of life after work, so try not to shortchange yourself by getting caught in a debt squeeze.