New Airline Brings Business-Class Comfort to the Back of the Plane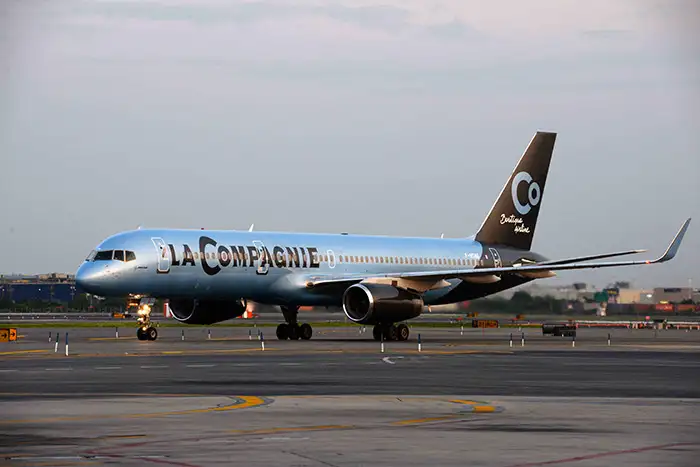 Level 3 at Terminal B in Newark airport is nearly empty when I arrive at 7 p.m. for a 9:45 flight to Paris. Just a few of us are checking in at a new business-class-only airline called La Compagnie. At United's Terminal C nearby, I know from previous experience it's a zoo of anxious humanity—shuffling through the security lines, crowding the bars, bullying each other at the gate so they can stuff themselves onto coach seats only 17.3 in. wide in a 300-passenger jumbo jet for a seven-hour overnight trip. "Have a nice flight" is the emptiest phrase in the airline industry.
The only way around this mess is to fly up front, in business class. Alas, the difference between coach and business class fares—some $5,000 to $8,000 if you are flying from New York to Paris—makes the front of the plane affordable only to the 1% and corporate honchos. One and the same, more or less.
La Compagnie is the latest airline to try to bring a business-class experience to a new class of travelers: people who would be willing to pay a reasonable price premium over coach for a much better experience. La Compagnie runs 74-seat, all-business class, nonstop 757 service from Newark to Paris, but charges less than half that of the big carriers. Next spring it will add service between Newark and London. Fares to Paris range from $1,600 to $2,000 round trip, vs. $6,400 for a recent comparable United flight. In the U.S., JetBlue, once a one-class carrier, has added a value-priced business class, called Mint, on its transcontinental flights, threatening the lucrative premium transcon business of the majors.
How does La Compagnie compare with United's or Delta's transatlantic business class? As far as getting to the plane, the new outfit's experience is superior. After checking in, I spent a quiet hour in the Art & Lounge—an independent airline lounge— where you can gaze at modern art installations while sipping a drink. Very civilized. We were then escorted to security screening, where there was no line and no hassle. One of the reasons things ran so smoothly is that perhaps 40 people were waiting to board our flight—at this point La Compagnie is running at 50% to 60% of capacity. There was no need to rush the gate to make sure you got to the overhead space. There's plenty of it. (Given that most of the passengers were French, they rushed the gate anyway. The French never met any line they won't cut.)
To get the price this affordable, La Compagnie has had to make some compromises, and so will you; and they are more than worth it. No one will hang up your coat for you, and drinks won't be served before takeoff. Then again, because you are not waiting for 250 other people to load, there's not much time for imbibing. The crew can just shut the door and go. And it's a very pleasant and patient flight crew, because the flight attendants aren't overwhelmed by having to deal with 300 screaming people.
La Compagnie's single-aisle 757 is a refurbished, 14-year old aircraft bought from, and maintained by, Icelandic Air. The color scheme for crew and craft is a soft violet; the 74 seats are arranged in 19 rows in a 2x2 configuration. The pitch is 62 in. compared with the 31 in. that you get in a standard airline economy seat, meaning you can't touch the seat in front of you with your feet. You can absolutely relax in this comfortable chair. There's even a message function that works okay.
More importantly, flying to Europe is all about rest. La Compagnie's seats recline 180 degrees, so you can sleep fully stretched out. One small hitch: the seats are angled slightly, so you will be fighting gravity a little bit, but at least you won't be in contact with another human being, at least not involuntarily. The seat controls are a little balky, and the storage so-so—the majors offer a lot more in the way of cubbyholes to stash stuff. This is more seat than suite.
As for entertainment, La Compagnie has opted to include a Samsung Galaxy Pro tablet in each seatback rather than an integrated entertainment system. The tablet offers a reasonable amount of entertainment —a half dozen movies, a few TV shows, a smallish selection of music, plus some American and French newspapers and a couple of books. But it's attached by a couple of wires to the seatback , which makes it a little clumsy. And the audio is not as clear as it could be. The amenities kit is basic but useful: eyeshade, toothbrush, moisturizer, etc.
As for food, La Compagnie touts Paris chef Christophe Langrée as the maître de cuisine. But my meal on the outbound flight—a "chic snack"— was basically an appetizer plus an uninspiring salad with chicken strips. (By contrast, United offers a five-course meal.) My inbound meal was much better— a beef tournedos dish that was nicely executed, something you'd expect from a French caterer. The snack served later in the flight was, in a word, awful. In either direction, you can have Piper Heidsieck champagne or a very nice French red or white, poured into tiny glasses. There's nothing fancy—no tablecloth, no dessert trolley with an assortment of after-dinner drinks. But there's a perfectly nice poire and a calvados for digestifs.
The question is, Do you think those service extras on the majors are worth an extra $4,000 in price? The answer will prove whether La Compagnie can make a go of it. To me, it's an easy one: This is the way to fly. I'm more than willing to pay an extra $400 round trip to avoid the crowds in coach and the privilege of having my knees crushed by the reclining seat in front of me. As our 74-seat 757 taxied into the gate in Newark, we passed a 340-seat Virgin A340. I had a feeling of relief that I wasn't on that widebody. My sense is that there are a lot more passengers like me out there. La Compagnie clearly thinks there are. I hope they're right because we need more airlines like this. A bon voyage indeed.